Turning greenhouse gases into something useful at U of T
Ontario supports U of T researchers competing for Carbon XPRIZE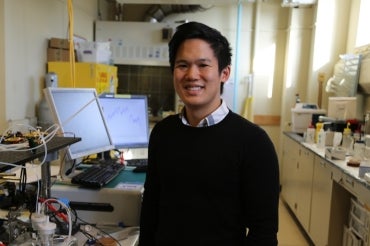 University of Toronto researchers are set to receive nearly $1 million from the Ontario government as they compete in the semi-final round of a $20 million global contest that looks for ways to turn harmful greenhouse gases into useful products like fuels and fertilizers.
The province recently said the team of over 15 multidisciplinary researchers, known as Carbon Electrocatalytic Recycling Toronto or CERT, will receive $833,000 to support the development and demonstration of its concept during the NRG COSIA Carbon XPRIZE competition, which boasts $20 million worth of prizes. 
The U of T team's technology transforms carbon dioxide (CO₂) into formic acid, a colourless liquid commonly used to tan leather or as a preservative for livestock feed.
"We're excited to see the province supporting U of T's Carbon Electrocatalytic Recycling Toronto as it competes in the prestigious XPRIZE competition," said Vivek Goel, U of T's vice-president of research and innovation. "This funding will help CERT in this clean-tech research that will have meaningful impact on environmental sustainability."
CERT is led by Ted Sargent, a University Professor in U of T's department of electrical and computer engineering. The CERT submission builds off previous work using nanoparticle-based catalysts to transform CO₂ into fuels and feedstocks. Now in the competition's second round, the challenge for Sargent's team is scaling up the technology in a laboratory environment to see how much CO₂ can be converted.
"My team and I are grateful for the support from the province of Ontario," said Sargent, who also serves as U of T's vice-president, international and holds the Canada Research Chair in nanotechnology. "I'm very proud of the work by our multidisciplinary team. Their idea for the XPRIZE is truly innovative. 
"The team is converting CO₂ by using nanoparticle-based catalysts to produce formic acid, a substance commonly used as a preservative for animal feed and within the textile industry."
U of T researchers make up one of three teams in Ontario who are semi-finalists. They're qualifying for a total of $2.5 million in provincial funding. The international competition was launched in September 2015 by Canada's Oil Sands Innovation Alliance and the XPRIZE non-profit. There are 25 teams remaining in the competition. It wraps up in 2020.
UTC