Tech guru Mooly Eden to talk at U of T about future of AI, robotics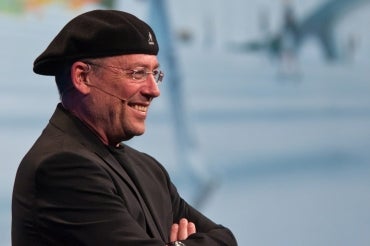 After more than three decades on the front lines of the tech revolution, Israel's Mooly Eden can confidently predict two things about the future: The pace of technological change will continue to accelerate exponentially, and we're not doing nearly enough to keep up.
Take, for example, the suddenly hot field of artificial intelligence, or AI, in which the University of Toronto has emerged as an early leader.
Eden, who spent more than 30 years at chip giant Intel Corp. and until four years ago was in charge of the firm's biggest business unit, says AI and robotics technologies will have a profound impact on industries that range from transportation to medicine.
"I believe it's a tsunami," he says in an interview. "The change is going to be huge – and it won't only be a technological change, but a social change. 
"We have to be smart enough to address it in the right way."
Eden will be at ONRamp on Monday to give a talk on the future of technology. ONRamp is a new collaboration and co-working space for startups at U of T that acts as a focal point for the university's numerous entrepreneurship hubs, while also welcoming entrepreneurs from elsewhere in the province.
At Intel, Eden was credited with foreseeing the popularity of ultra-portable laptops and netbooks at a time when traditional computer sales were falling amid the smartphone and tablet revolution. In 2012, he was named one of Fortune magazine's 10 most brilliant technological minds. 
Now back in Israel, Eden is the chair of the University of Haifa's executive committee and spends his time promoting innovation, STEM education and coaching startups.
He points to self-driving cars to highlight the disruption that lies ahead. In a decade or so, he reasons, it will be "irresponsible" to climb behind the wheel of a motor vehicle. Unlike human drivers, self-driving cars will be able to survey the road in 360 degrees, see through fog and darkness with infrared light and communicate with other vehicles on the road to determine their intentions – all without becoming fatigued.
"We have to be smart enough to address [coming change] in the right way."
Millions of jobs will be changed – some forever, Eden says. And it's not just truck or taxi drivers, warehouse employees or insurance underwriters who will be affected.
"If you look at the world today, including the academic world, the assumption is that you come up with a theory and try to prove whether you're right or wrong," he says. "But in the future, when we have compiled such a huge amount of data, I doubt we will be intelligent enough to ask the right questions so, here again, AI technologies will have to be deployed."
To stay ahead of the curve, Eden says countries will need to embrace constant change. He recommends that businesses, governments and individuals adopt a culture of innovation, which starts with questioning the status quo and not getting trapped by an if-it-ain't-broke-don't-fix-it mentality. 
Eden says the education system needs a rethink, too. "You need to train kids for jobs that don't exist, solving problems that haven't happened, using technology that hasn't been invented," Eden says. 
How does one do it? You teach people to learn, says Eden, "that way when you bump into a new problem, you know how to handle it."
UTC