Study breaks and primates: Check out these April events at U of T
Exam time is looming at the University of Toronto but don't expect the three campuses to quiet down any time soon.
April is full of events worthy of study breaks, from de-stressing workshops to compelling talks and presentations on everything from vampires to the cosmos.   
April 1
There is a little time left to check out this city-themed, student-curated art exhibit, which runs until April 6 at the John B. Aird Gallery. The curators present a different view of the city – beyond its famous skyline – focusing on pieces that tell stories about the city's dense neighbourhoods and immigrant populations.
April 4
Pack up your textbooks, lace up your running shoes and head to Brain Break!, an event hosted by Move U of T at the downtown Toronto campus between April 4 and 6 for fitness activities and healthy snacks.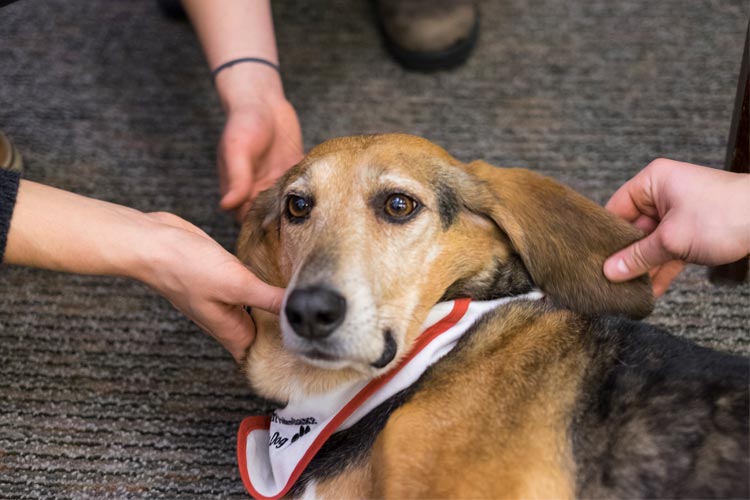 De-stress at exam time with Bella the therapy dog, a regular guest at Gerstein Science Information Centre (photo by Geoffrey Vendeville)
April 5
U of T Mississauga's Exam Jam will help students with study and exam writing prep, unwind with crafts and music, and, best of all – therapy dogs.
April 6
The Centre for International Experience is hosting a Double Jam, providing both exam and tax prep, while the Faculty of Arts & Science has review sessions and fun activities at Sid Smith.  
Philosophy students can attend the Undergraduate Philosophy Research Conference, highlighting the work of students and launching the latest edition of Noēsis, the undergrad journal of philosophy.
April 7
Learn about the history of fugitive slaves in Canada from Charmaine A. Nelson, the William Lyon Mackenzie King Visiting Professor of Canadian Studies at Harvard University, at an event taking place at U of T Scarborough.
For a musical start to spring, see U of T Scarborough's string orchestra and concert band perform at the Spring Awakening Concert.
April 9
Author Jamil Jivani will be at the Rotman School of Management to talk about his book, Why Young Men: Rage, Race and the Crisis of Identity, which explores gender, race and what leads young men to extremism.
Today is also the start of Sneak It In Week, which features five days of fitness-focused activities at all three campuses, from high-intensity training to Zumba classes.
April 10
If you missed it in the theatre, now's your chance to catch the Academy Award-winning film La La Land…I mean Moonlight, screening at U of T's Centre for Ethics, followed by a discussion.
From Dracula to Buffy the Vampire Slayer, we can't get enough of vampire stories. So here's another one: U of T Mississauga lecturer Chris Koenig-Woodyard will be talking about the evolution of blood-sucking creatures, from the spooky to the romantic, at the Mississauga Central Library.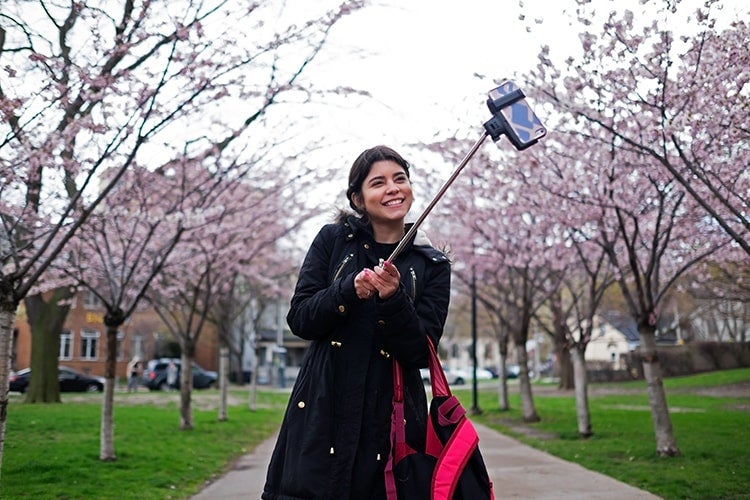 Cherry blossoms will be blooming soon at U of T (photo by Geoffrey Vendeville)
April 15
Starting mid-April, keep an eye out for selfie-worthy cherry blossoms blooming outside of Robarts Library.  
April 19
Hear social entrepreneur Devon Fiddler and business leader Carol Anne Hilton talk about the successes and challenges of navigating the economy as Indigenous women.
April 21
We know a lot about what our solar system looks like – but what does it sound like? Head to U of T's planetarium for a must-see show that explores the sounds of the universe, created by astrophysicist and musician Matt Russo. Read more about the show here.
April 22
On Earth Day, famed primatologist Jane Goodall, whose research on wild chimpanzees made her one of the world's leading wildlife experts, will be speaking at Convocation Hall at an event hosted by the Jane Goodall Institute of Canada.
UTC