Forget the lines at High Park: check out U of T's cherry blossoms
Peak bloom is expected over the weekend or early next week, arborist says
Each spring, large crowds descend on High Park to behold the majesty of its many cherry blossoms – and shamelessly snap selfies. 
For those who prefer quieter surroundings, U of T's Robarts Library provides a welcome option. A path cutting across the grounds from Huron Street to Harbord Street is flanked by 70 Japanese cherry trees, also known as sakura.
The university received the trees through the Sakura Project, an initiative of the Consulate General of Japan in Toronto.

Kristen McLaughlin, a master's of museum studies student, snapping pictures of the cherry blossoms. The trees remind her of Vancouver, she says (photo by Geoffrey Vendeville) 
They have flowered each year since 2005, providing students with a peaceful oasis, especially during exam season. 
Diana Teal, the executive director of the High Park Nature Centre and a certified arborist, told U of T News that the trees near Robarts will reach peak bloom April 23-25. 
They are in the fifth stage in the bloom process, the "puffy white stage," she said, adding, "That is absolutely the scientific name for it." 
"Given that it's going to be warm and a little warmer where you are because you're surrounded by buildings and concrete, you're close to peak bloom for sure," she said. 
The cherry blossoms have a relatively short blooming period. Their flowers are said to last only four-to-ten days. Last year, many cherry blossoms in Toronto didn't flower at all because of erratic weather.

The cherry blossoms cut a stark figure against the brutalist concrete architecture of Robarts (photo by Geoffrey Vendeville)
"I've seen the trees at U of T, and I know it's a beautiful little spot," Teal said. "If you're going to have a moment with the trees and enjoy that rite of spring, going to a different park is a good option because the crowds in High Park can be overwhelming."
Although it may be tempting to handle the trees to snap a perfect picture, Teal reminds visitors to be respectful.
"By their nature, the cherry trees can be rather fragile," she said. "We've seen five people sitting on a limb together, and the limb falls off," she said of the trees in High Park. "If you love the trees, treat them with respect – as you would any living thing." 

Sofia Vitorino, an ESL student visiting U of T, takes a selfie amid the cherry blossoms outside Robarts (photo by Geoffrey Vendeville)
Hager Jahim, an English major, took a study break by going for a stroll among the trees on Thursday.
"It's really pretty," she said. "I've never seen something like this before."
It was a campus visit to U of T that led her to choose to study here.
"I went on a tour and I was like, 'Wow.' I was so fascinated by all the buildings, and it's such a nice campus," she said.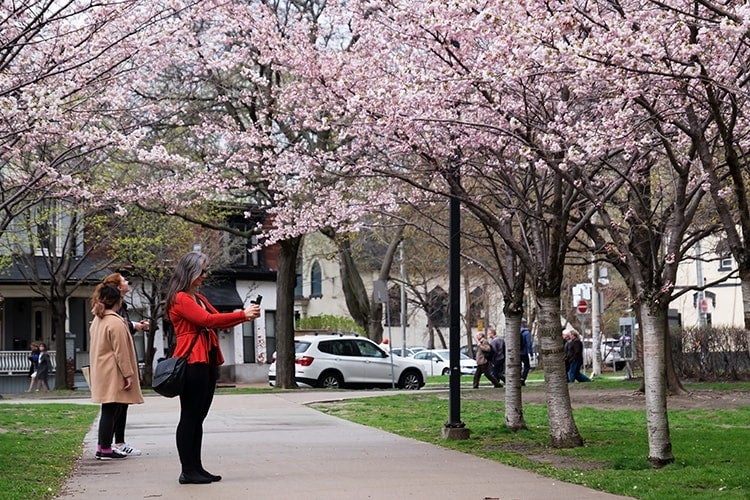 The cherry blossom is meant to be a symbol of goodwill and friendship between the governments of Ontario and Japan (photo by Geoffrey Vendeville)
The trees outside Robarts aren't the only ones at the university.
Another well-kept secret among local cherry blossom-connoisseurs are the 50 trees at U of T Scarborough between the H-Wing and Social Science building.


Avoid the lines at High Park by checking out the sakura grove at U of T Scarborough (photo by Kristina Doyle)
UTC