U of T student-curated art exhibition offers a different view of Toronto's neighbourhoods and people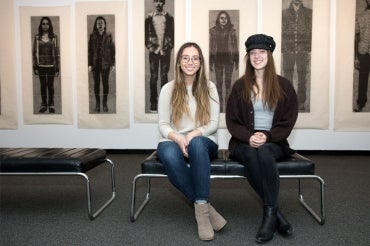 If you search for "Toronto" in Google Images, you'll find endless photos of the city's iconic skyline – with the CN Tower and Rogers Centre front and centre.
But that's not the image of the city Nikita Lorenzo-Vicente and Amanda McNeil want to project in their new art exhibition Toronto: The Views Are Different Here at the John B. Aird Gallery.
The master of museum studies students in the Faculty of Information wanted to tell a deeper story about Toronto for their capstone project – one that snakes through the city's dense neighbourhoods, gets stuck on the DVP and includes the perspectives of a group of artists as diverse as the city itself.
"Anything anybody ever thinks about the city is really just the CN Tower and the city skyline," says McNeil. "It's a very touristic approach to the city, so we wanted to showcase the city in a more representative way of what people living here feel like the city is."
The art on display includes paintings of snowy laneways, intimate photographs of Black Torontonians and works that express the intergenerational challenges of immigrating to a new country. 
Lorenzo-Vicente and McNeil chose 29 artists from 80 who responded to their open call, including painters, sculptors and photographers at varying stages of their careers.
"It was hard for us to narrow it down," says Lorenzo-Vicente.
The exhibition was put together in partnership with the City of Toronto, which connected the student curators with newcomer artists through the Art Connections program.
Art Connections, led by Aleksandra Molnar, works with well-established immigrant artists to help them break into Toronto's art scene. 
"Newcomers have specific sets of barriers but especially so for creative professionals," says Molnar. "All of these very successful, highly acclaimed artists from all parts of the world coming here and not being able to access the art community or market at all in Toronto because of just not understanding the ecosystem and the relationships and who is who and how it works."

The exhibition features photographs from Addae Nurse's Futurism series (photo by Romi Levine)
When Molnar and Devi Arasanayagam, manager of community and labour market at Toronto's Employment & Social Services, found out about The Views are Different Here exhibition from the gallery's executive director Carla Garnet, they saw it as a chance to introduce their artists to Toronto's art lovers – and Lorenzo-Vicente and McNeil were happy to have them.
"They're a key component of the show because part of Toronto is the amount of incoming people who haven't had the chance to ground themselves," says McNeil.
And the exhibition's theme really resonated with the artists, says Arasanayagam.
"[They] had to come here and establish a new home and a different identity and found their art was changing as a result to moving to Canada, and they had a different view of home," she says.
This will be the first time the Art Connections artists involved in the exhibition will be showing their work in Canada, says Molnar.
Matthew Brower, assistant professor, teaching stream in museum studies, and Lorenzo-Vicente and McNeil's course instructor, says he remembers when Toronto was a stand-in for other cities. It's clear through this exhibition that this is no longer the case, he says.
"The two students have been clear from the beginning about their vision which is really grounded in their experience and understanding of the city, which is in some ways different than my understanding and experience because they've come of age at a time in which Toronto has been represented differently," he says. "It's an interesting reflection or expression of a shifting understanding of the city and how it's reflected in the practices of the artists who are participating."
Toronto: The Views are Different Here will be on display until April 6.
UTC