Stem cell conference at U of T to focus on entrepreneurship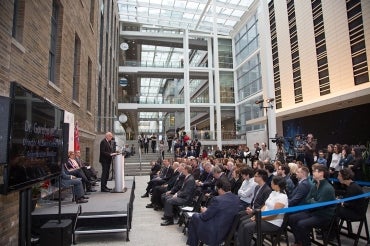 In the world of regenerative medicine, the recent US$225 million investment by drug giant Bayer and health-care investment firm Versant Ventures continues to loom large.
The seven-month old deal to create BlueRock Therapeutics, which involves key University of Toronto researchers and will focus on cardiac and Parkinson's treatments, is viewed by many as a validation of Canada's efforts to commercialize its leadership position in stem cell research.
It's also expected to be a hot topic among the 150 scientists, entrepreneurs and venture capitalists who are expected to attend next week's The Business of Regenerative Medicine: Leadership, Innovation & Entrepreneurship conference at U of T's Rotman School of Management.
"This is really visible in this community and it's playing in two absolutely huge medical spaces," says Will Mitchell, a professor of strategic management at Rotman.
He added the conference will include a case study of BlueRock's formation, which involved one of the largest-ever financings in the biotechnology space.
 
"The question is: 'How on Earth did someone pull this off, and can we do it again, whether here in Toronto or elsewhere?'" says Mitchell. 
BlueRock, co-located in Boston, New York and Toronto, is a calculated gamble by Big Pharma that stem cell researchers can soon turn stem cell science into real-world  treatments – or even cures – for a wide range of diseases, including heart disease, diabetes, blindness and neurodegenerative disorders. 
Bayer and Versant were drawn to Toronto because it's home to top stem cell researchers like Gordon Keller, a professor in U of T's department of medical biophysics and the director of the University Health Network's McEwen Centre for Regenerative Medicine, and Michael Laflamme, a pioneer of cardiac cell therapy who is a senior scientist at the Toronto General Research Institute and an associate professor at U of T's department of laboratory medicine and pathobiology.
Another key attraction: the U of T-affiliated Centre for Commercialization of Regenerative Medicine (CCRM), which launched in 2011 to speed the commercialization of stem cell research in Canada.  
Stacey Johnson, a spokesperson for CCRM, one of the conference's organizers, says this year's event will also include a heavy focus on entrepreneurship, including a startup pitch competition. "Canada is very strong when it comes to the science of regenerative medicine," Johnson says. "But where we're lagging behind is turning those discoveries into products and companies. We're hoping this conference will help."
It's the second time Toronto is playing host to the 10-year-old international conference.
In addition to Mitchell, participants from U of T include: Shana Kelley, a professor in the departments of pharmaceutical sciences, chemistry, biochemistry and the Institute for Biomaterials and Biomedical Engineering, and Ajay Agrawal, who is a Rotman professor and the founder of the Creative Destruction Lab, one of 10 business accelerators at U of T.  
The conference will also tackle thorny issues surrounding intellectual property, financing and regulatory approvals. 
"If you think about going from [basic] research through research and development, pre-clinical work, clinical trials all the way to large-scale production, marketing and regulatory affairs – it's a really complex puzzle in this space," Mitchell says. 
Peter Zandstra, CCRM's chief scientist and the former executive director of U of T's Medicine by Design initiative, says Canada has painstakingly built a "pipeline" for regenerative medicine that runs all the way from basic research to clinical trials. 
"Now is really the time for next steps," says Zandstra, who was recently appointed the founding director of the University of British Columbia's School of Biomedical Engineering and will also be a presenter at the conference. 
"How do we really consolidate these companies and grow them here?"
Manufacturing capacity could be a key ingredient. "It's a fairly unique skill," Zandstra says, noting it can be difficult for regenerative medicine startups to move into clinical trials because of the sheer quantity of stem cells that are needed. 
"That's one of the things that attracted BlueRock. We had solutions to some of the problems they faced in bringing new therapeutics to market."
UTC