A simple, eco-friendly chocolate-hazelnut spread? 'Real food only' startup has you covered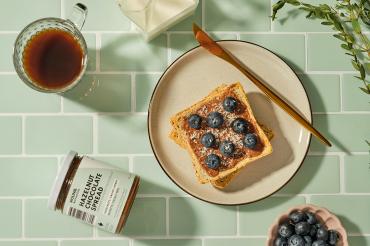 Iman Mounib's chocolate-hazelnut spread – made of just three local ingredients – is a refreshing take on the iconic breakfast topping.
The University of Toronto Scarborough alumna's startup, Mounib Real Food Only, sells a spread made only of hazelnuts, honey (courtesy of local Mennonite communities) and organic, fair-trade cocoa powder – with a vegan option that swaps honey with organic cane sugar.
The company also sells a chocolate and peanut butter spread (with its own vegan edition), and offers an almond-chocolate version at its farmers' market booths. 
"The end goal is to create an alternative that's beneficial for your health and tastes really good," Mounib says. "All of our spreads are good for your health and good for the planet."  
Mounib began developing the skills needed for her business early in life – in part because she grew up in a low-income household.  "We didn't have healthy, affordable options," she says, "and that was big in inspiring me to start making my own foods at home."
In addition to running her startup, Iman Mounib works as a marketing manager at the yogurt company Yogen Früz (photo courtesy of Iman Mounib)
Health issues later forced Mounib to stop eating refined sugar, but she still craved her favourite sweets: Nutella and Reese's Peanut Butter Cups – both of which inspired flavours for her spreads. So, she started making her own versions with what would eventually become her three-ingredient recipe.
Today, Mounib Real Food Only products are sold in almost 20 restaurants, cafes and stores in the Greater Toronto Area, as well as at one location in Ottawa. Most retailers sell the jars themselves, but two locations use the spreads on breakfast items such as bagels and lattes. The company also appears weekly in the Woodbridge, Leslieville and Roundhouse famers' markets in Toronto, and sells the spreads on its website.  
The company's glass jars, lids and labels are all purchased in Canada; Mounib even exclusively hires local graphic designers. Customers can also return the jars for reuse through the company's in-house recycling program. The only plastic is in the legally required food seal, though Mounib is trying to find a workaround. She's also trying to make the label biodegradable.
"As cheesy as it sounds, I really do believe that however you impact the environment impacts your soul," Mounib says.
There are 46 startup companies currently operating out of The Hub at U of T Scarborough (supplied photo)
Mounib's approach has been shaped by Ontario farmers. For six years, she spent every Saturday at a farmers' market, helping sell baked goods from her friend's local bakery. After the pandemic shut the market down in 2020, Mounib began selling her own products on Instagram, where her so-called "healthy Nutella" took off. In December 2021, she officially launched her company.
"Farmers are entrepreneurs too," she says. "That farmers' market taught me that even if you're spending a little bit more to source local, the impact is so much better for the environment and the community."
Mounib initially used her own kitchen and blender to make spreads. Now, she has a facility in Toronto, her own employees and an industrial blender. She's working with The Hub, U of T Scarborough's entrepreneurial incubator, to scale the business up and get into as many GTA cafes, grocery stores and restaurants as possible.
"Mounib has overly impressed me, she's spinning really fast," says Donovan Dill, interim director at The Hub.
Next, Mounib says she wants to expand throughout Canada before tackling U.S. cities such as New York and Miami – and beyond.
UTSC