Salman Rushdie at U of T: celebrating freedom of expression, power of fiction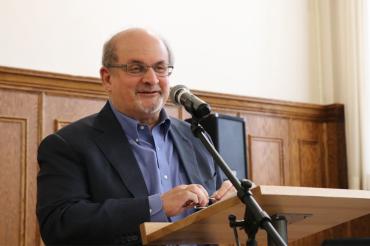 Twenty five years ago, award-winning novelist Salman Rushdie made an appearance at an event hosted by PEN Canada – an organization that seeks to protect writers from oppression around the world and advocates for freedom of expression.
The 1992 event was Rushdie's first public appearance after Iran's then-leader Ayatollah Khomeini issued a fatwa – calling for his death – for his novel, The Satanic Verses. Alumnus Bob Rae, premier of Ontario at the time, appeared with Rushdie at the event, becoming the first Western leader to publicly show support for Rushdie.
Last week, Rushdie returned to Toronto for a PEN Canada event. While in town, he visited the University of Toronto to speak with students, staff and faculty at the University of St. Michael's College.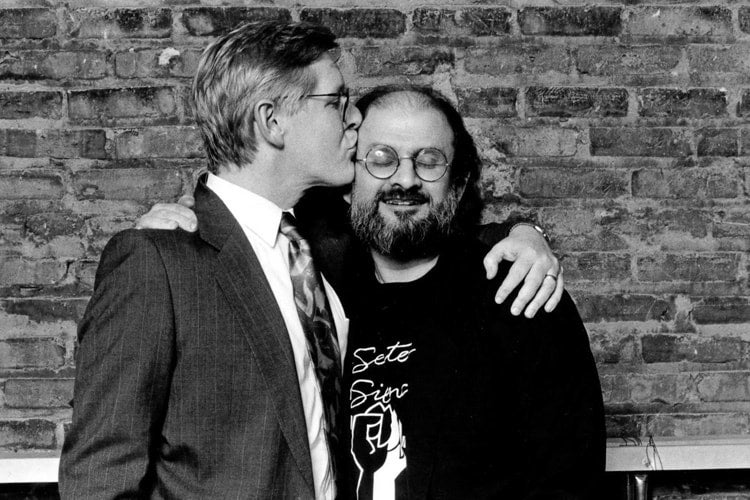 Bob Rae affectionately throws his support behind Salman Rushdie in 1992 (photo by Jean-Marc Desrochers Photography, courtesy of PEN Canada)
Rushdie took the opportunity to read an excerpt from his soon-to-be-released novel, The Golden House, which takes on American life in the age of Barack Obama in the lead up to Donald Trump's election win.
It's an interesting time to be a fiction writer, said Rushdie, when – especially in the United States – truth has become stranger than fiction.
"When the world is so full of lies, what business does one have making things up?" Rushdie asked the audience at St. Michael's Brennan Hall.
While fact usually exists in a realm separate to fiction, it has entered murky territory, said Rushdie.
"The relationship between fiction and lies is distant. Whereas in the real world, the relationship between truth and lies is very important," he said. "I do think we live in a time that's very complicated because of the attack on truth that has taken place."
A lot has changed in 25 years for writers, said Randy Boyagoda, principal and vice-president of St. Michael's and PEN Canada president.
"The big change would be that writers who are imperiled today aren't writers you or I have heard of," he said. "They tend to be people writing blogs in repressive regimes all over the world rather than prominent, global literary stars like Salman Rushdie."
The real challenge today is trying to aid writers who aren't in the public view, said Boyagoda.
Regardless, fiction writers from high-profile novelists to local bloggers need to be protected, he said.
"It is literature, the stories we tell about ourselves and our world in fuller form, that has the most lasting effect," said Boyagoda. "So providing a space for those sorts of voices to keep telling those stories will always be important."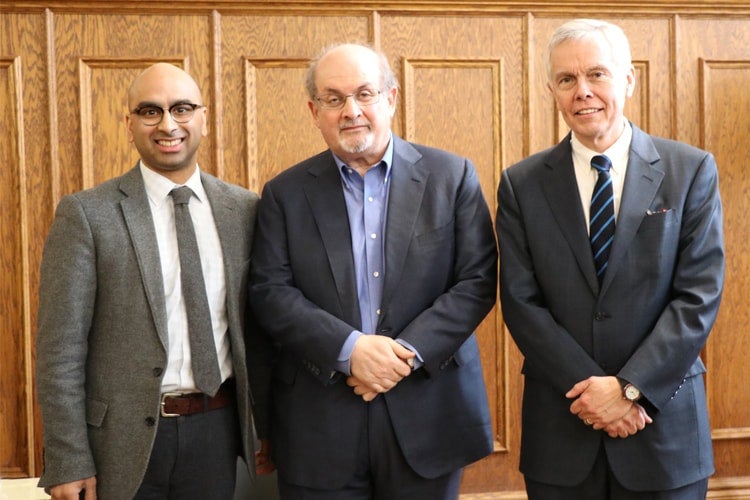 From left to right, Randy Boyagoda, Salman Rushdie, and President and Vice-Chancellor of St. Michael's David Mulroney (photo by Sheila Eaton)
Throughout its history, U of T has played an important role in providing a safe space for writers. In recent years, the Massey College/University of Toronto scholars-at-risk program has sheltered such writers as Reza Baraheni and Martha Kumsa. And, in the late 1960s, writer Josef Škvorecký, fled to Canada from Czechoslovakia during the Soviet invasion. While teaching at U of T, he founded a publishing company, providing a platform for dissident Czech writers. His novels have won a number of awards, and he was nominated for a Nobel Prize in literature in 1982. 
Škvorecký's time at U of T highlights the crucial role universities play in encouraging and promoting freedom of expression, said Boyagoda.
"We live in a divisive, shout-filled world," he said. "Literature takes a longer view and universities should let you take a longer and a fuller view."
U of T regularly brings in well-known authors such as Rushdie for special events. It also hires award-winning writers to teach and mentor students. At University College, this year's Barker Fairley Distinguished Visitor in Canadian Studies, renowned author André Alexis, follows such authors as Miriam Toews, Shyam Selvadurai, and Anne Michaels.
Boyagoda is also an award-winning novelist, and the writer who interviewed Rushdie at the U of T event was Ato Quayson, a University Professor and director of the Centre for Diaspora and Transnational Studies at U of T.
"Students who are studying literature at a university like ours appreciate a sense of continuity," said Boyagoda. "Having contemporary, active, working writers contribute to the work of the University of Toronto is really an important demonstration of continuity between the greatness of the past and the vitality of the present – and the future promise."
UTC