Cardinal Thomas Collins and Randy Boyagoda (photos by James Lucas)
Professor Randy Boyagoda was officially installed today as the principal and vice-president of the University of St. Michael's College (USMC) at the University of Toronto.
Toronto's Cardinal Thomas Collins presided over the installation mass and ceremony at St. Basil's Church. The installation was attended by Chancellor Michael Wilson, Dean David Cameron of the Faculty of Arts & Science and David Mulroney, president and vice-chancellor of St. Michael's. Guests included Adrienne Clarkson, former Governor General of Canada. 
With approximately 5,000 students, USMC is one of the largest undergraduate colleges in U of T's Faculty of Arts and Science. Now the academic head of USMC's undergraduate division, Boyagoda is also an alumnus.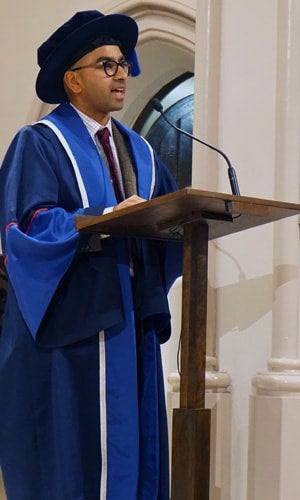 "My first class at the University of Toronto was at St. Mike's, and I also fondly remember attending mass at St. Basil's with my friends," Boyagoda told U of T News. "Given the rich and distinguished history of the college and its important relationships to the University of Toronto, St. Michael's is an institution like no other in North America. 
"As an academic leader, as a teacher, and as a Catholic intellectual, scholar, and writer, I look forward to being part of this community and helping contribute to its exciting future."
An accomplished writer and academic with bylines in the New York Times, Wall Street Journal, Financial Times (UK) and the Globe and Mail, Boyagoda is known for his novels, Governor of the Northern Province and Beggar's Feast.
He has written extensively on human experience in contemporary literature, culture and current affairs, often from a religiously-informed vantage.
Through his recently published biography of the influential Fr. Richard John Neuhaus, Boyagoda established himself as a leading Catholic intellectual voice in North America.
Boyagoda previously held positions as chair of the English department and professor of American Studies at Ryerson University.
At Ryerson, he also served as the director of zone learning, Ryerson's experiential learning program modeled on business incubators that support the rapid creation of new companies and social organizations led by students. 
He was a postdoctoral fellow and assistant professor of English at the University of Notre Dame.