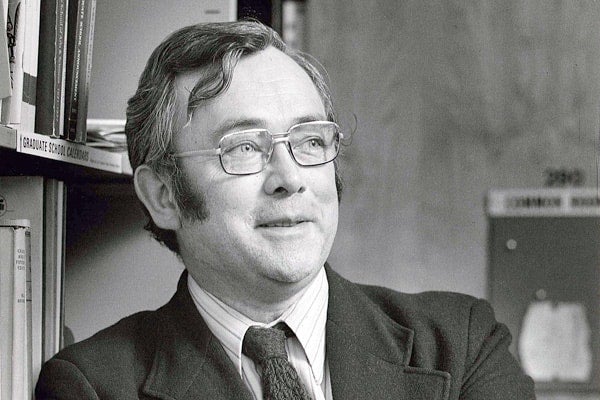 Remembering Josef Skvorecky
Former professor used Erindale College as setting for his work
Celebrated writer and former U of T English and film professor Josef Skvorecky, who used a fictionalized Erindale College (now U of T Mississauga) setting in one of his most famous novels, died Jan. 3. The Engineer of Human Souls (Lester & Orpen Dennys, 1984) is set in the sheltered world of "Edenvale College" in Toronto and won the Governor General's Award for English Language Fiction in 1984.
Skvorecky was nominated for the Nobel Prize in Literature in 1982.
A dissent writer who fled to Canada from Czechoslovakia after the Soviet invasion in 1968, Skvorecky, along with his wife, founded 68 Publishers. The imprint became an important vehicle for dissident writers such as late Czech president Václav Havel and Milan Kundera, whose work The Unbearable Lightness of Being, was made into a movie.
Skvorecky taught fiction, creative writing and film in the Faculty of Arts and Science on the Erindale College campus from 1971 until his retirement in 1990. U of T English professor Sam Solecki, a colleague, wrote Prague Blues: The Fiction of Josef Skvorecky, a discussion and analysis of his work.
In a Globe and Mail obituary, Solecki says, "Skvorecky's writing offers a skepticism about ideologues and ideologies, an insistence on liberal freedoms, an aversion to revolutions and a 'suspicion that capitalism is probably good, liberalism may be right, and democracy is the closest approximation' that we have to an ideal government... His body of work exists within two literary traditions. In his first 40 years, he introduced Czechs to Western literature; in his last four decades he brought Czech writing to the West."
Among his many awards, Skvorecky won the Neustadt International Prize for Literature and the Order of the White Lion, presented by Czechoslovakia president Havel. He was named a member of the Order of Canada and a fellow of the Royal Society of Canada.