Novelist Zoe Whittall is U of T Scarborough's new writer-in-residence
Zoe Whittall has pretty much done it all as a writer. In addition to writing novels, short stories and poetry, she's worked as a journalist and also writes for television.
The Toronto-based, award-winning author can now add writer-in-residence to her impressive resume. She is the new writer-in-residence at U of T Scarborough, the fourth since the program's inception in 2013.
"I'm really looking forward to meeting students and reading their work," says Whittall. "Mentorship is so important because writing is a very solitary vocation and artistic practice, one that is necessarily filled with rejection at every turn."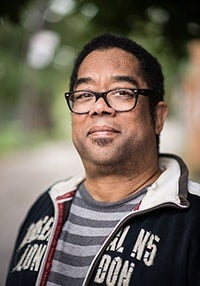 Whittall is not the only writer-in-residence at U of T.
Award-winning Canadian author André Alexis is University College's Barker Fairley Distinguished Visitor in Canadian Studies this year.
The Trinidad-born author's latest novel, Fifteen Dogs, won the $100,000 Scotiabank Giller Prize and the $25,000 Rogers Writers' Trust Fiction Prize.  Alexis (pictured left) says he likes talking to students as part of the program.
"I'm comfortable talking with any age group," says Alexis, "but I love talking with young people. I love the questions they bring to me."
For Whittall, she counts the mentorship she received as a young writer from Marnie Woodrow as an important source of wisdom in guiding her early career.
"Having someone read your work and give feedback is invaluable at every stage but particularly at the emerging stage," she adds.
Whittall brings with her a fount of knowledge for aspiring writers. In addition to publishing four novels, three collections of poetry and several short stories, her writing has also appeared in The Walrus, The Believer, The Globe & Mail, The National Post, Fashion Magazine, Now Magazine and Xtra. She's worked as a writer and editor on season 14 of Degrassi, as a story editor for Schitt's Creek and a writer on the Baroness Von Sketch Show. She's also currently developing an original sitcom with CTV. 
Her most recent novel, The Best Kind of People, explores the emotional journey the family of a man accused of raping a young girl must endure. She was inspired to write the story after listening to a radio program about the stigma wives and relatives face when a man is accused of these types of crimes. The novel made the short list for the Giller Prize.
"The theme was a bit of a departure, and the narrative style was definitely a departure from my previous novels. The whole thing felt like an experiment, and I'm glad it worked out," she says of the novel published this past fall. 
As writer in residence Whittall will be available throughout the winter term to visit classes, run workshops, hold office hours and provide one-on-one manuscript consultations with student writers.