Rescuing crops, reframing history and researching MMIW: 2019 Connaught New Researcher Award winners announced
Insects destroy up to one quarter of global crops each year, resulting in estimated losses of up to $470 billion. Even in greenhouse conditions, pests can still cause damage by making their way inside through vents.
It's a problem the University of Toronto's Eliana Gonzales-Vigil aims to tackle by better understanding the complex relationship between plants and bugs.
The biological sciences researcher at U of T Scarborough is specifically looking at how to protect crops from the cabbage looper, a common pest of tomatoes and other vegetables such as peppers, cucumbers and – of course – cabbage.
"My long-term goal is to understand how plants defend themselves from insect herbivores," Gonzales-Vigil said.
"But to achieve this, we need to understand all the players involved."
Gonzales-Vigil is one of 52 winners of this year's Connaught New Researcher Award, designed to help recipients establish a strong research program and increase their competitiveness for external funding. The award is part of U of T's commitment to fostering excellence in research and innovation by supporting faculty members who are launching their academic careers.
Up to $1 million will be distributed among this year's winners.
"I would like to congratulate all the winners of the Connaught New Researcher Award," said Vivek Goel, U of T's vice-president, research and innovation, and strategic initiatives.
"These researchers are doing exciting, innovative work across many different disciplines. It's the University of Toronto's hope that this funding will help set the stage for world-leading scholarship and important new discoveries."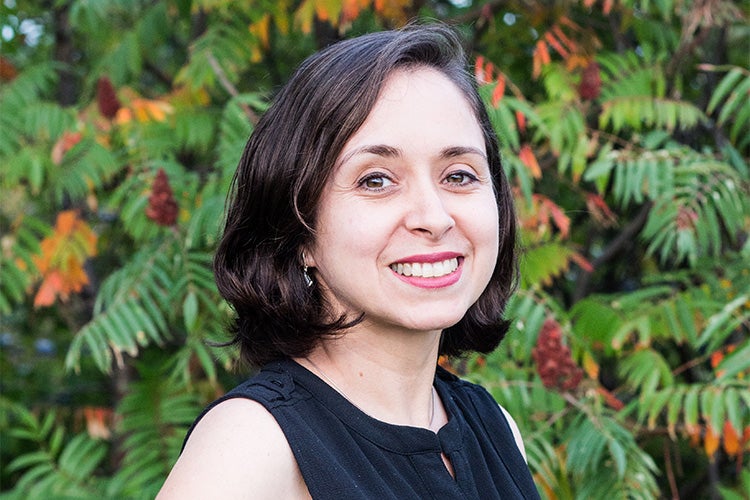 (photo courtesy of Eliana Gonzalez-Vigil)
Gonzales-Vigil is embarking on a study to explore how impacting the gut microbiome of the cabbage looper may help tomato plants be more resistant against the insect's attack.
"We want to test the idea of whether the microbiome of the cabbage looper is being affected by the plant's chemistry. If yes, then can we manipulate the plant's chemistry by adding something like a probiotic that would impede insect growth?"
She added the Connaught award will help kick-start a new line of research after having most recently focused on how poplar trees defend themselves through a waxy compound secretion.
"Having the Connaught has given me the freedom to start something that's new," she said, adding that she hopes her research will eventually lead to insect control methods that can be used around the world.
Shauna Sweeney

(photo by Nick Iwanyshyn)
During her undergraduate studies, U of T's Shauna Sweeney was drawn to Caribbean history courses – in particular the history and the economy of the markets in Caribbean nations. It was an area of research Sweeney, who is herself of Jamaican background, wanted to explore further.
An assistant professor in the department of history and at the Women & Gender Studies Institute, Sweeney is currently working on a manuscript that examines the prominent role of enslaved women in developing an informal economy in the Caribbean.
She said that by selling or trading goods to each other, enslaved women asserted their own economic rights and ultimately laid the groundwork for a free community following abolition.
"In conventional studies of capitalism that consider the deeply violent and exploitative context of slavery, enslaved peoples' own economic lives and politics tend to fall out," Sweeney said.  "So, it's important to me to restore the social and economic importance of trading to enslaved people and their descendants."
"In addition to being commodities on paper, enslaved people actually were agents in their own economies and had economic interests of their own."
Sweeney plans to conduct further transnational research with the Connaught award, travelling to Europe to visit the Archivo de Indias (Archives of the Indies) and the Archives Nationales d'Outre-mer (National Overseas Archives).
The research trips will also help lay a foundation for her second project, which will focus on white female slave owners.
Jerry Flores

(photo courtesy of Jerry Flores)
As a Mexican who was born and raised in Los Angeles, U of T Mississauga's Jerry Flores brings an outsider's perspective to a high-profile research project in Canada: an ethnography of missing and murdered Indigenous women (MMIW) and men in Toronto.
Flores, an assistant professor in the department of sociology, previously published a book about young, incarcerated Latina women.
As he heard more stories about MMIW, he began to notice similarities.
"The experiences of a lot of these women go like this: They're abused at home by a partner or a family member and run away to get away from it," Flores said.
"They end up on the street and participate in high risk behaviour or may end up getting involved in drugs or sex work. They meet a new partner – for young women, it's usually an older man – that brings them home, but quickly spirals into drugs, alcohol and abuse."
Specifically, Flores wants to study the circumstances in which Indigenous people make their way to Toronto. He's asking: What challenges did they face to come here? Have they lost people on their journey to Toronto? What stories have they heard?
Flores is working closely with local organizations, including the Native Women's Association of Canada and the Aboriginal Law Society in Toronto, to gather stories. Funding from the Connaught New Researcher Award will help compensate participants for their time and provide support for the community organizations that are assisting Flores in his research.
"By definition, ethnography is a study of culture. I'm trying to understand the culture of the Indigenous community in Toronto – how they negotiate life, the challenges and the high points. What is it that they need, what do they want to accomplish, and how can we as a collective – U of T Mississauga and U of T in general – support them?"
Flores hopes that the study will be able to provide concrete recommendations for policy, community action and scholarship on MMIW.
---
Here is the full list of winners of the 2019 Connaught New Researcher Award:
Humanities:
Tania Aguila-Way, assistant professor, department of English
Barend Beekhuizen, assistant professor, department of language studies, U of T Mississauga
Brendan de Kenessey, assistant professor, department of philosophy
Catherine Evans, assistant professor, Centre for Criminology & Sociolegal Studies
Cindy Ewing, assistant professor, department of history
Sarah Gutsche-Miller, assistant professor, Faculty of Music
Adam Hammond, assistant professor, department of English
Rosalind Hampton, assistant professor, department of social justice education, Ontario Institute For Studies in Education
Mary Elizabeth Luka, assistant professor, department of arts, culture and media, U of T Scarborough
Luther Obrock, assistant professor, department of historical studies, U of T Mississauga
Shauna Sweeney, assistant professor, department of history and Women & Gender Studies Institute
Katherine Williams, assistant professor, department of English
Life Sciences/Social Cultural
Jennifer Brooks, assistant professor, Dalla Lana School of Public Health
Aaron Conway, assistant professor, Lawrence S. Bloomberg Faculty of Nursing
Marzyeh Ghassemi, assistant professor, departments of medicine and computer science
Quinn Grundy, assistant professor, Lawrence S. Bloomberg Faculty of Nursing
Péter Molnár, assistant professor, department of biological sciences, U of T Scarborough
Olli Saarela, associate professor, Dalla Lana School of Public Health
Molecular
Michael Garton, assistant professor, Institute of Biomaterials and Biomedical Engineering
Eliana Gonzales-Vigil, assistant professor, department of biological sciences, U of T Scarborough
Thomas Hurd, assistant professor, department of molecular genetics
Hyun Kate Lee, assistant professor, department of biochemistry
Baohua Liu, assistant professor, department of biology, U of T Mississauga
Physical Science
Melissa Anderson, assistant professor, department of Earth sciences
Amy Bilton, assistant professor, department of mechanical and industrial engineering
Maryam Mehri Dehnavi, assistant professor, department of computer science
Maria Drout, assistant professor, department of astronomy and astrophysics
Murat A. Erdogdu, assistant professor, departments of computer science and statistical sciences
Tovi Grossman, assistant professor, department of computer science
Fan Long, assistant professor, department of computer science
Semechah Lui, assistant professor, department of chemical and physical sciences, U of T Mississauga
Fabio Pusateri, assistant professor, department of mathematics
Arul Shankar, assistant professor, department of mathematical and computational sciences, U of T Mississauga
Diana Valencia, assistant professor, department of physical and environmental sciences, U of T Scarborough
Stanislav Volgushev, assistant professor, department of mathematical and computational sciences, U of T Mississauga
Joseph Williams, assistant professor, department of computer science
Mark Wilson, assistant professor, department of chemistry
Social Sciences
Monica Alexander, assistant professor, departments of statistical sciences and sociology
Noel Anderson, assistant professor, political science, U of T Mississauga
Jennifer Brant, assistant professor, department of curriculum, teaching and learning, Ontario Institute for Studies in Education
Michelle Cameron, assistant professor, department of anthropology
Laura Cirelli, assistant professor, department of psychology, U of T Scarborough
Fedor Dokshin, assistant professor, department of sociology
Emine Fidan Elcioglu, assistant professor, department of sociology, U of T Scarborough
Jerry Flores, assistant professor, department of sociology, U of T Mississauga
Ethan Fosse, assistant professor, department of sociology, U of T Scarborough
Charles Martineau, assistant professor, department of management, U of T Scarborough
David Price, assistant professor, department of economics, U of T Mississauga
Tahseen Shams, assistant professor, department of sociology
Jennifer Stellar, assistant professor, department of psychology, U of T Mississauga
Jia Xue, assistant professor, Factor-Inwentash Faculty of Social Work and Faculty of Information
Marius Zoican, assistant professor, department of management and Institute for Management and Innovation, U of T Mississauga
UTC