Preventing the next pandemic: U of T's EPIC consortium
The University of Toronto's Combined Containment Level 3 (C-CL3) unit, equipped to safely study pathogens that cause infectious disease, was among the first labs in Canada to enable researchers to work with SaRS-CoV-2 samples.
While similar facilities elsewhere had closed after the 2003 SARS outbreak, the U of T lab remained open – supporting a vast research community including academic, hospital and industrial research needs – and was able to make a significant contribution to understanding and addressing the COVID-19 pandemic.
Now, the 20-year-old lab is also the heart of the Emerging and Pandemic Infections Consortium (EPIC) – a new U of T Institutional Strategic Initiative (ISI) that will unite top university, hospital and global experts in infectious diseases, as well as other fields.
The goal? Prepare for future pandemics.
Scott Gray-Owen, a professor of molecular genetics in the Temerty Faculty of Medicine and academic director of the C-CL3 facility, is eager to bring together everyone from cancer researchers to policy-makers – along with the next generation of student researchers – to study the lessons of COVID-19.
"As the Emerging and Pandemic Infections Consortium comes together, we want [researchers] to be thinking about infection broadly – from molecular biology to aerosol transmission, to clinical intervention, harnessing immune responses and manufacturing," he says.
EPIC's hospital partners include the Hospital for Sick Children, Unity Health Toronto, Sunnybrook Health Sciences Centre, University Health Network and the Lunenfeld-Tanenbaum Research Institute at Sinai Health.
While the next stage in the lab's development depends on investments to make it Canada's primary training and research site for a new generation of work on infectious diseases, it is well-positioned to play a leadership role when it comes to bringing researchers and other key stakeholders together to address future pandemics.
"We want to be a knowledge broker that government agencies, industry and the media seek out for science-based information to educate and/or advise on key decisions – we have the breadth of expertise in our community to bring together the right people to help," Gray-Owen says.
"What we want to do with EPIC is empower people to focus on making changes that they may not have been able to before – so a cardiologist who wants to understand the intersection between infections and [conditions that make patients susceptible] … can work with people who have developed models to study infection.
"We can work with structural biologists and biochemists who develop protein-based vaccines, or molecular biologists to develop mRNA vaccines, or engineers to develop new disinfection methods.
The lab's physical space is bio-safe and bio-secure, with its own air suppy and water effluent controls. It also has capacity to train researchers to handle pathogens and develop protocols to manipulate new microbes, allowing clinicians and researchers from many areas to investigate a disease from different perspectives.
In the case of COVID-19, U of T researchers and clinicians rapidly pivoted from working on HIV and Zika, among other infectious viruses, to focus their expertise on fighting the emerging health crisis through a research project with Sunnybrook Health Sciences Centre.
"We were ready to go because we had the right people in place and the knowledge and an established relationship with the Public Health Agency of Canada to hit the ground running," says Natasha Christie-Holmes, director of strategy and partnerships for EPIC, which is based at U of T's Temerty Faculty of Medicine.
Gray-Owen adds that clinicians, hospitals and researchers came together "with an incredible vigour" and a common goal.
"The community aspect is really what let us run very, very fast," he says.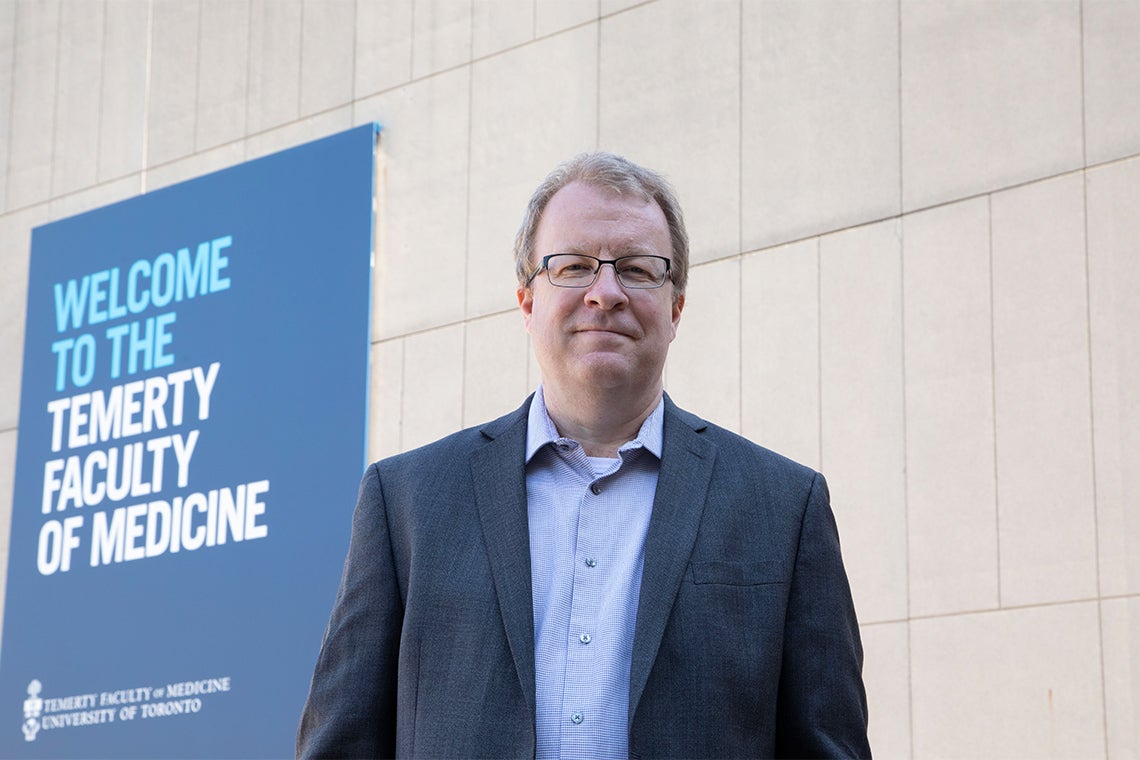 Scott Gray-Owen says EPIC will bring together everyone from cancer researchers to policy-makers to study the lessons of COVID-19 and prepare for future pandemics (photo by Lisa Lightbourn)
The C-CL3 lab also partners with companies who are eager to tap its range of expertise and vast network.
For example, Gray-Owen and the C-CL3 team recently worked with I3 BioMedical Inc. to help them test the efficacy of their TrioMed Active Mask's antimicrobial coating in the C-CL3 facility. The coating prevents the COVID-19 virus from contaminating the outer surface of the medical mask.
Similarly, Michael Brooks, president at Edesa Biotech, was looking for a facility to test the company's new drug aimed at improving the survival rate of COVID-19 patients in hospital.
"For us, it was an obvious place to go: It was Canadian, a world-class facility with world-class researchers and one of our researchers had worked in the lab in the past," he says.
EPIC's hospital partnerships play a particularly critical role in building a network of research expertise.
Watch the full episode of Stopping the Next Pandemic on Nov. 29.
Samira Mubareka is an assistant professor in the department of laboratory medicine and pathobiology in the Temerty Faculty of Medicine and the infectious diseases lead at the Centre for Research Expertise in Occupational Diseases. Her research time is spent at Sunnybrook Health Sciences Centre where she is a clinician-scientist, medical microbiologist and infectious disease consultant. Early in the pandemic, Mubareka and her team partnered with the C-CL3 lab to isolate the COVID-19 virus.
She says she and her colleagues were able to pivot to tackle the pandemic because of their existing relationships and the fact that the C-CL3 facility was able to move so quickly.
"Once the pandemic hit, it was an amazing response from the folks who managed the facility –  they really facilitated our ability to work there from a regulatory perspective because, of course, you can't just start working on a virus like [SARS-CoV-2]  without the proper permissions and approvals in place," Mubareka says.
The facility enables Mubareka to sequence and compare virus samples from thousands of patients, contributing to Canada's surveillance of variants.
"What this means is that we're able to look at the viral genome from beginning to end, which is important for the variants of concern," she says. "We need to have a firm appreciation of virology, to be vigilant and assume that this is not the last pandemic, to always be looking and preparing.
"A multidisciplinary collaboration is critical, when you think about how drivers of this pandemic are everything from how people travelled around the globe, the biology of the virus, transmission factors like aerosols – you can't just have one group look at how to respond to a virus."
She's also thrilled about EPIC's potential to train the next generation of researchers in areas such as bio-containment, which until now had been considered a niche area.
Brooks, for his part, says the network comes at an ideal time.
"We've spent all this time for the last year and a half, building, networking and pulling all these people together, creating a cohesive place where you can make decisions and get the right people together. From my perspective, it's a fantastic idea."
This article is part of a series about U of T's Institutional Strategic Initiatives program ─ which seeks to make life-changing advancements in everything from infectious diseases to social justice ─ and the research community that's driving it.
Freelance