A pager-free zone: U of T startup Hypercare aims to bring hospitals into the 21st century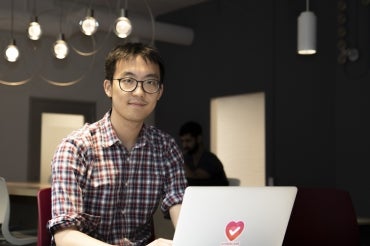 The first thing you see when you go to the website of Hypercare, the startup co-founded by University of Toronto alumnus Albert Tai, is its sales pitch to health-care administrators: "No more pagers. No more phone tag."
Tai says people who don't work in the health-care sector are often stunned to find out that the old-fashioned pager remains ubiquitous in hospitals.
"There's a joke about it," he says. "It used to be only doctors and drug dealers using pagers. Now it's just doctors."
The omnipresent pager is but one symptom of how the health-care sector is behind the times, according to Tai. Other symptoms include the ongoing use of fax machines and dependency on old-fashioned call centres within the hospital to track down doctors on call. "Everyone knows health care is lagging usually 10 or 15 years behind every other industry," says Tai, who completed his bachelor's degree in computer science and medical science before enrolling at U of T's Faculty of Information in 2015.
Tai, who often has two phones and a laptop on the go, says he was bewildered to see doctors using even more devices – sometimes as many as five different pagers. And he learned that when they improvised solutions to get around the pager system – using WhatsApp for group chats, for example – it raised privacy concerns and patient confidentiality issues.
Hypercare, by contrast, aims to bring physicians firmly into the mobile age with a communication and collaboration tool. The app's users know instantly who the on-call doctors and specialists are without having to call the hospital switchboard, arrange a page and play telephone tag. The software incorporates corporate directory and shift information. Hypercare's goal is to allow the phasing out of pagers, fax machines and even email.
Obstacles to innovation in health care include the sector's complexity, an aversion to risk, extensive regulation and the built-in disincentives to economic efficiency that exist in a publicly funded system, Tai says. On the bright side, the fact that there are still so many problems to be solved means there are plenty of opportunities for entrepreneurs.
"It's one of the last industries where you don't have to be very creative because there are still so many problems … every single way it's done now is terrible," Tai says.
The project that eventually became Hypercare began in a computer course Tai took as part of his master's degree in information systems and design. Students were tasked with coming up with an idea to solve a problem in the health-care sector, and then developing a business plan and prototype.
Tai's team was connected to three physician mentors. Robert Wu, the site director of general internal medicine at Toronto's University Health Network (UHN), helped them understand the problem from the administrative end, according to Tai, while doctors Allan Martin and Matt Strickland explained the pain points from their perspective as front-end providers. 
"We quickly realized that, along with WhatsApp not having the security or privacy features required in health care, it also didn't address the bigger problem of connecting with other providers outside of your team to provide collaborative care."
As he completed his degree and then after he graduated in 2017, Tai remained committed to finding a way to solve the pager problem. He teamed up with Dr. Joseph Choi, an emergency physician at UHN and an assistant professor in U of T's department of medicine in the Faculty of Medicine who is now Hypercare's chief operating officer. Tai, meanwhile, devoted himself to the startup full time, using funds from small grants, including one for $37,000 from the Ontario Centres of Excellence, to bring on some part-time employees.
The startup, which now has seven full-time and two part-time employees, was given space at U of T in a startup incubator housed in a deconsecrated church. The U of T Early Stage Technology (UTEST) program provided helpful mentoring advice. Tai also credits the "system-level perspective" he acquired at the Faculty of Information for helping him run Hypercare.
When money was at its tightest, Tai was occasionally forced to sleep in the office. But the pressure eased when Hypercare landed $500,000 in funding from U.S. angel investors in 2018. Then, in February of this year, the startup secured its first paying customer: the ophthalmology department at Queen's University. Not long after, Hypercare closed its first hospital-wide deal with the Michael Garron Hospital, formerly known as Toronto East General Hospital.
Given the magnitude of the hospital pager problem, Tai was not surprised to learn early on that there had already been several attempts at trying to solve it. American companies like Vocera Communications and Spok complemented existing pager systems with their own apps, but faced low adoption from clinicians as the early implementations were often fraught with problems, says Tai. In many cases, hospitals layered the new technology on top of the old, using multiple software systems and devices. While the biggest of the companies have hundreds of millions in revenues, there hasn't really been a dominant player to emerge in the field.
Tai says things really started to pick up for Hypercare began to integrate hospitals' on-call schedules into their proposed software solution. "Now we have a comprehensive solution. That's what's been exciting the hospitals," says Tai. "It's all real time. The switchboard operator can use it and clinicians can also use it without calling the switchboard." What's more, unlike the current practice at many hospitals, when scheduling changes are made, everyone will be aware of them.
Hypercare was one of three companies to pitch to the Michael Garron Hospital. Based on that and positive word of mouth from local doctors, it was chosen to do a small pilot which proved a success. That led to an enterprise-wide adoption of the platform, which is expected to be widely deployed in the coming months.
Hypercare is also being used by seven health-care organizations in Kitchener and Cambridge, Ont. 
Craig Albrecht, a family physician who leads the Cambridge interprofessional care team, a multidisciplinary group of doctors, nurses, social workers and outreach workers who provide community care and services, says the team deals with a relatively high concentration of patients suffering from poverty, housing insecurity, substance use disorders and mental health issues.
"We have a lot of people who are always on the move and can disappear for weeks or months at a time," Albrecht says. "This makes co-ordinating services and providing care for them in the usual way very difficult."
Transitioning to Hypercare has made co-ordinating with both interprofessional care team and other external teams much simpler, adds Tai.
Hypercare hopes to win additional  hospital-wide contracts as its reputation grows.  While his parents wanted him to be a doctor or pharmacist, Tai's passion was always technology. He says he has no interest in orchestrating a profitable "exit" by selling the company he co-founded.  Instead, he aspires to be the "Microsoft of health care" by systematically replacing inefficient hospital software with better products and systems. 
"The work is very motivating," says Tai, "because the clinicians are smart, passionate and there for the right reasons – to make patient care better."
Faculty of Information