U of T's Daniel Drucker celebrated for diabetes research with 'remarkable global impact'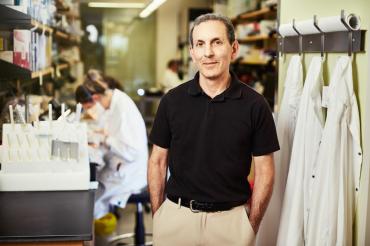 Today, many researchers view gut hormones as building blocks for developing new therapies to confront the obesity and diabetes epidemics sweeping the world.
But when U of T's Dr. Daniel Drucker began his work on the topic more than three decades ago, he was a pioneer. His studies on the molecular mechanisms and physiological functions of hormones, unravelling their biological actions, have led to several fundamental discoveries and the development of life-changing therapies.
Drucker was recognized for his work with this year's EASD-Novo Nordisk Foundation Diabetes Prize for Excellence.
"When we started out 35 years ago, only a few researchers were interested in gut hormones," says Drucker, a professor of medicine at U of T and senior scientist at Sinai Health System's Lunenfeld-Tanenbaum Research Institute. "We could not have imagined that this knowledge would be translated into multiple new therapies that help millions of people with severe metabolic disorders today."
The prize, which is accompanied by 6 million Danish krone (approximately $1.2 million), is awarded for outstanding research or technology contributions that increase knowledge of diabetes, its disease mechanisms or its complications.
"I am ecstatic and honoured to receive the 2019 EASD-Novo Nordisk Foundation Diabetes Prize for Excellence. This is wonderful recognition of the ongoing scientific contributions of my laboratory trainees and will be enormously meaningful for us moving forward as we seek new mechanisms and opportunities for linking gut hormone action to the therapy of metabolic disorders," says Drucker.
The prize is awarded in collaboration between the European Association for the Study of Diabetes (EASD) and the Novo Nordisk Foundation, based in Denmark. 
"Daniel Drucker is universally recognized for his meritorious work on the physiology and pharmacology of glucagon-like peptides and their use for benefiting patients. His discoveries have led to several new treatments that have had a remarkable global impact on the management of people with diabetes and obesity. He is in all respects an extremely worthy and deserving recipient of the award," said Dr. David Matthews, Professor Emeritus of diabetes medicine at the University of Oxford and president of the EASD.
Drucker's work going back to the mid-1980s helped rekindle the interest in the action of gut hormones, principally glucagon-like peptide-1 (GLP-1). Today, the two major incretins, GLP-1 and gastric inhibitory polypeptide (GIP), have become crucial in developing new therapies for diabetes, cardiovascular diseases and obesity. His discoveries describing GLP-1 action in the cardiovascular system were foundational for subsequent clinical trials demonstrating reduced risk of heart attacks, strokes, cardiovascular death and all-cause mortality.
Later, he discovered that GLP-2 – the gut peptide cousin of GLP-1 – might be developed into an effective treatment of short-bowel syndrome – a condition caused by a lack of functional small intestine. People with this condition have constant diarrhea, malnutrition and weight loss, and some even have fatty liver and may need a transplant. By treating patients with GLP-2, their fatty liver reversed and some of them could even lead normal lives without needing intravenous nutrition.
Throughout his career, Drucker has been dedicated to translating his findings into therapies to help people, and in recent years he has devoted himself to searching for new and even better therapies and understanding the detailed actions of peptide hormones.
"I am sure that the enormous potential of new peptide therapies will be further realized and help people with heart disease, liver disease and perhaps even individuals with degenerative disorders, such as Parkinson's disease and Alzheimer's disease," says Drucker.
"The purpose of this major prize is to recognize excellent contributions within diabetes research. Daniel J. Drucker is an expert and a leader in his field, and I would like to congratulate him on receiving the prize and on his outstanding achievements, which have greatly influenced development within diabetes research and improved the lives of people with diabetes," said Birgitte Nauntofte, CEO of the Novo Nordisk Foundation. 
The prize will be officially awarded at a ceremony at the 55th EASD Annual Meeting in Barcelona, Spain on Sept. 18. 
This story first appeared on the Novo Nordisk Foundation website.
UTC