Petter Bruåsdal plans to pursue his startup concept, a motion-steadying pillow for use in MRI machines, when he returns to Norway (photo by Chris Sorensen)
Petter Bruåsdal is about to board a plane back to Norway, armed with a 10-week crash course in entrepreneurship from the University of Toronto and an idea that could potentially save the Scandinavian country's health-care system millions. 
One of two dozen Norwegian students who participated in a summer internship and training program organized by U of T's Impact Centre accelerator, Bruåsdal came up with the idea of a motion-dampening pillow to reduce the number of blurred head scans taken in magnetic resonance imaging, or MRI, machines. 
 "We will definitely look at it when we get back to Norway," said Bruåsdal, 24. "I will look into the market feasibility in Norway and talk about it with my uncle – a radiologist who has a clinic that does MRI and CT scanning."
Bruåsdal delivered an investment-style sales pitch on behalf of the would-be company – called SupPillow – alongside his Norwegian peers as part of the program's final pitch day. 
The event was held inside ONRamp @ U of T Entrepreneurship, a new community and collaboration space designed to connect entrepreneurs across U of T and southern Ontario. Located in the Banting & Best Centre for Innovation and Entrepreneurship, the space is supported by RBC and U of T.
While the startups were meant to be more of a classroom project, the hope is that the students will follow Bruåsdal's lead and use their new entrepreneurship skills to build the next generation of innovative Norwegian companies. 
"Startups are important to a lot of economies because they have the potential to grow and employ a lot of people," said Professor Cynthia Goh, who is the director of the Impact Centre.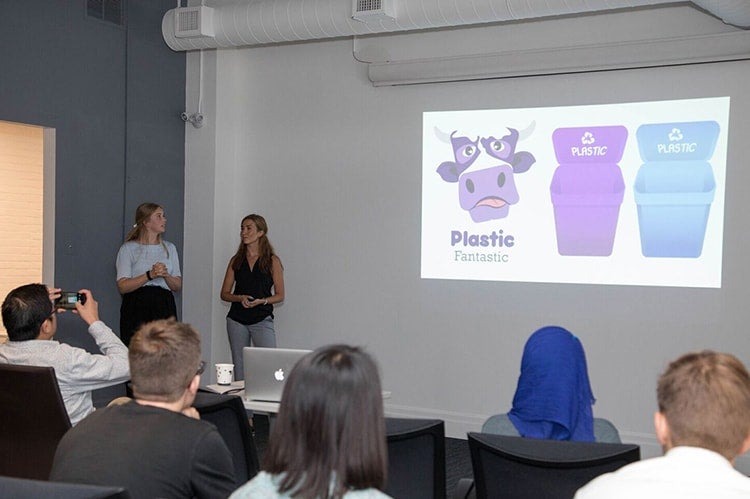 Tina Mordal and Ingrid Kleppe, both visiting from Norway, pitch their plastic recycling startup at ONRamp @ U of T Entrepreneurship (photo by Lisa Lightbourn)
The Norwegian School of Entrepreneurship or Gründerskolen is co-ordinated by the University of Oslo's Centre for Entrepreneurship. Founded in 1999, the program sends students abroad to participate in entrepreneurship-focused internships at U.S. schools such as University of California, Berkeley, Rich University and Boston University. The program has also sent students to the National University of Singapore.
This is the first time a Canadian university has hosted students from the program, which, in addition to providing classroom instruction, pairs students with local startups.
Bruåsdal and his partner, Saira Abbas, developed the MRI pillow concept with the help of Steadiwear, a U of T startup that's developed a motion-stabilizing glove for people with Parkinson's disease or essential tremor. Steadiwear co-founder Mark Elias was on hand to watch Bruåsdal's pitch and offer support.
Other students delivered pitches on everything from scarves that double as pollution-protecting masks to a bike share-like umbrella rental service. 
Anders Tveita pitched an app-based company called Foodio that would deliver recipes and ingredients to the doorsteps of time-pressed customers. 
"Norwegians are the No. 1 consumers of frozen pizza in the world," Tveita noted.
Each presentation was followed by a question and answer session. The audience, which included Impact Centre staff and entrepreneurs, peppered the students with queries about their proposed business models. What was the size of the potential market? How quickly could they scale up the business? Who were the likely competitors?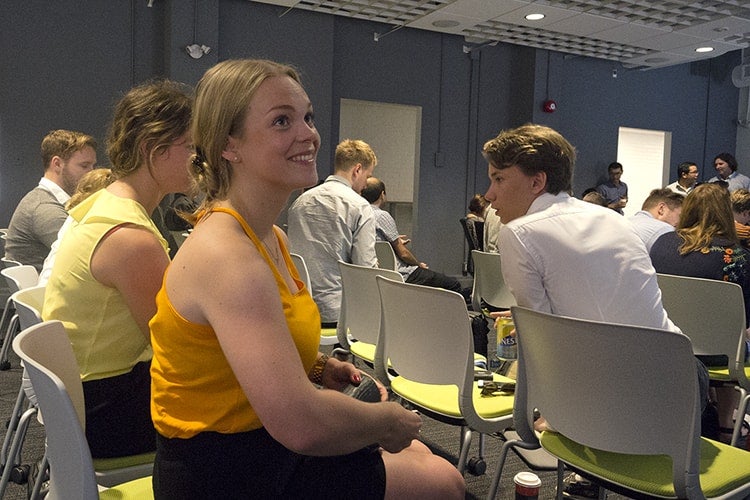 Ingvild Engen Bogetvedt says Toronto has a reputation as "an up and coming" hub for startups (photo by Chris Sorensen) 
Bruåsdal, who has lived in Boston, says he jumped at the chance to come to Toronto because of the city's growing reputation as a fast-growing startup hub. U of T alone is home to more than a half dozen accelerators and has relationships with several others.
"Some people say it's the new Silicon Valley," Bruåsdal said of Toronto's emerging status.
Ingvild Engen Bogetvedt, who pitched a portable phone charger rental service, offered a similar sentiment. "I've been to the U.S. a couple of times and liked it," she said. "But I had heard that Toronto was more up and coming."