Only a few hours before the eclipse - here's where to watch it
U of T astronomers are bringing out telescopes and glasses for rare event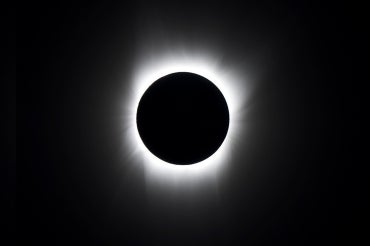 Toronto will be treated to a partial solar eclipse Monday afternoon. University of Toronto astronomers across the three campuses are planning to help viewers safely glimpse one of nature's most awe-inspiring sights. 
Here's a rundown of where to watch it with us: 
Downtown: Stop by the CNE to chat with U of T's astronomy experts, look through a telescope or pick up a pair of eclipse glasses. They will also be streaming NASA's coverage of the total eclipse.
"We'll have some eclipse demos to show people exactly what's going on – where the earth and the sun are, why this is happening, and why it doesn't happen more often," says Michael Reid, an associate professor, teaching stream in the department of astronomy and astrophysics and public outreach co-ordinator at the Dunlap Institute.
Dunlap regularly hosts public events for amateur astronomers, including last month's Star Party, as well as viewing events for the lunar eclipse and the transit of Venus. The Dunlap team also handed out eclipse glasses on Aug. 20 at the Toronto Chinatown Festival.
U of T Mississauga: Check out the eclipse with UTM astronomer John Lester, of the department of chemical and physical sciences. He's hosting a special viewing party from 1:30 to 3:30 p.m. in the open space between the Davis Building and the Kaneff Centre. To protect your eyes during the viewing, he is providing eclipse glasses, pinhole cameras and a telescope fitted with solar filters.
U of T Scarborough: Assistant professor Hanno Rein is hosting a small event for students in front of the science wing at U of T Scarborough. He and his undergraduate students, including Alice Chen, will be helping viewers see the eclipse through three small telescopes. All the while, they will explain what you're looking at. "You will be able to see the moon slowly making its way over the sun and maybe even a few sunspots as well," eruptions on the sun's surface which appear as black spots, he says. The event starts around 1 and ends at 3:30.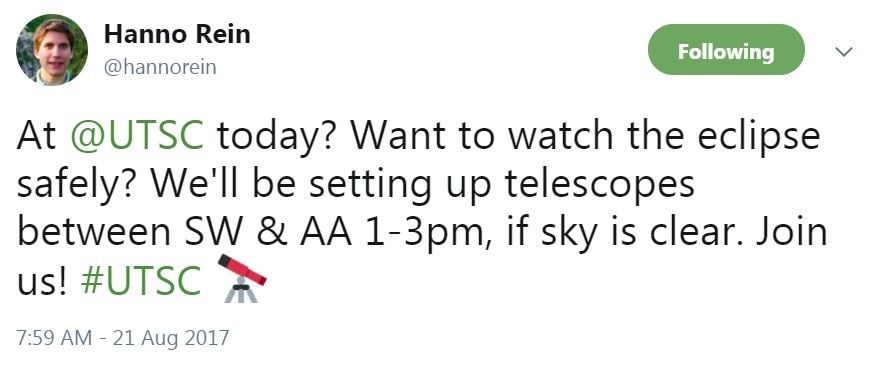 UTC