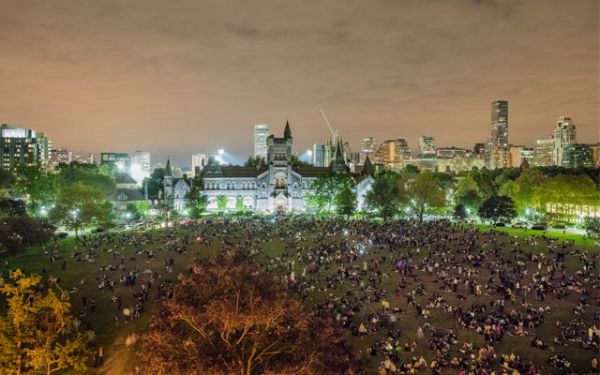 Moon a no-show, but the U of T eclipse viewing party goes on
Big crowds at moon-watching events on downtown, Scarborough campuses
Thousands of aspiring moon-watchers crowded the front campus Sunday night to see the last total eclipse visible from Toronto before Jan. 20, 2019.
Unfortunately, cloudy weather also materialized, leaving the multitudes imagining what the event might have looked like.
"Managed to take a single capture during a 10sec break in the clouds," tweeted one astrophotographer from a parallel gathering at the University of Toronto Scarborough.
"Well done," tweeted another. "Nothing but cloud and light for me."
Despite the weather, visitors stayed to chat with University of Toronto astronomers and take part in activities and games. Some brought moon cakes and set up their own telescopes on the lawn. (Photo below by Chris Sasaki, the Dunlap Institute for Astronomy & Astrophysics)
The Dunlap Institute for Astronomy & Astrophysics originally planned a public event at the observatory atop the McLennan Physical Laboratory building on Huron Street. But more than 13,000 expressions of interest on the institute's Facebook page led the organizers to move the party to the wide open spaces of King's College Circle.
Weather reports leading up to the event were promising.
"It's very exciting to know that so many people are interested in astronomy," said Michael Reid, the Dunlap director of public outreach. "We've been building toward bigger and bigger events over the past few years.
"We were fortunate to reach so many people through the Transit of Venus at Varsity Stadium event in 2012. This is another great opportunity."
Organized in partnership with the department of astronomy and astrophysics and Science & Engineering Engagement, the event offered Torontonians the opportunity to see the eclipse through telescopes, consult with U of T astronomers on the science of the process and get advice on how to photograph the event.
An Oculus Rift virtual-reality headset and the WorldWide Telescope program were also available – conveniently, under the circumstances. (Photo below by Chris Sasaki, Dunlap Institute for Astronomy & Astrophysics)
While lunar eclipses are not extremely rare events, this one was visible across Canada at a convenient time of night and a comfortable time of year.
Adding interest was the fact that the Sunday eclipse involved a "supermoon" – the closest and thus marginally the largest of the year – and a harvest moon, the full moon closest to the autumnal equinox, which fell on Wednesday.
The moon was entirely within the earth's shadow from 10:11 p.m. to 11:23 p.m. – a generous 72 minutes of totality. Partial eclipse began at 9:07. The reverse process, as the moon emerged from the umbral shadow, ended at 12:27 a.m.
Judging by the Dunlap Twitter feed, diehard eclipse fans who stayed past midnight got a few glimpses of the reluctant celestial celebrity. (Photo below: Lorne Bridgman courtesy U of T Magazine.)