Around 500 people came to U of T's downtown Toronto campus to get a closer look at the moon and planets in our solar system (photo by Jennifer West)
Stargazers were in luck on Saturday – clear skies meant unobstructed views of the moon, Jupiter and Saturn at the Canada 150 Star Party at U of T's downtown Toronto campus.
Organizers say around 500 people came to the back campus fields to mingle with U of T astronomers and astrophysicists and to look through the many telescopes on hand.
Experts like Matt Russo, a postdoctoral researcher at U of T's Canadian Institute for Theoretical Astrophysics, were on hand to answer questions and talk about their fascinating research.
We're at the #UofTCanada150 Star Party with @astromattrusso! #UofT pic.twitter.com/h1FuC81LKd

— UniversityofToronto (@UofT) July 30, 2017
Views of the planets left partygoers in awe. 
Impressive! Watching the Moon, Saturn, and Jupiter through the telescopes. @DunlapInstitute #nationalstarparty #uoft #canada150 #astronomy pic.twitter.com/YsflneoWb6

— Anna Räder (@AniaRader) July 30, 2017
Jennifer West, a postdoctoral researcher at Dunlap Institute for Astronomy & Astrophysics in the Faculty of Arts & Science also captured some amazing moments on the field.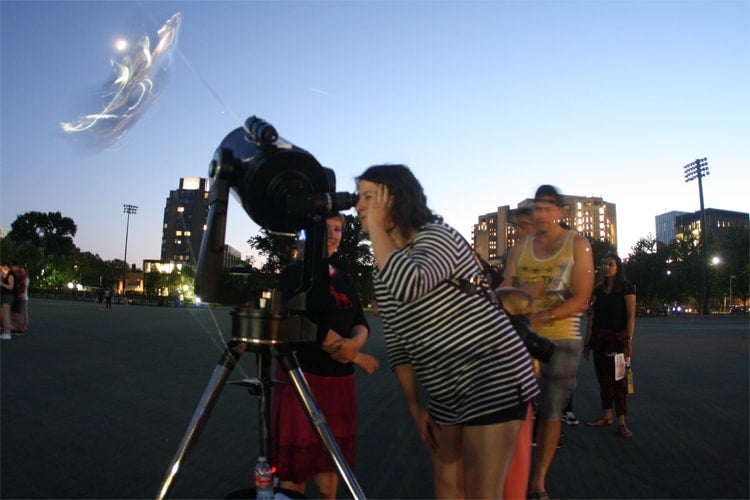 If you couldn't make it on Saturday, or the event sparked your interest in space exploration, head to the CNE on Aug. 20 where Dunlap faculty and students will be giving out eclipse glasses and talking about the science behind the solar phenomenon.