An oasis of green: How U of T keeps campus trees safe and healthy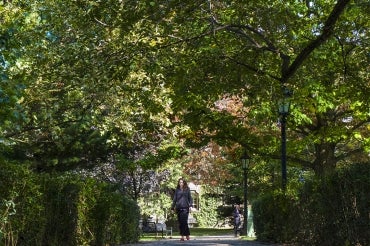 With more than 3,300 trees – including Ontario's largest concentration of elms and the city's healthiest collection of ashes – the University of Toronto's St. George campus is an oasis of green surrounded by Canada's biggest metropolis.
The same can be said of U of T Mississauga, located on 225 acres of protected greenbelt along the Credit River, and U of T Scarborough, which is perched at the edge of the Highland Creek Ravine. In fact, the university's trees are among the most stunning, photo-friendly features of the university's three campuses.
But what most campus visitors never see is the painstaking work that goes into maintaining U of T's considerable arboreal assets – from the grounds services crew who ensure trees are watered, fertilized and inoculated against diseases, to planning and project development experts who find ingenious ways to protect trees during construction and renovation projects.
Stan Szwagiel, manager of grounds services at the St. George campus, says trees require extra-special care if they are to thrive in the city.
"Trees haven't evolved in urban environments," he says. "They evolved in a natural state in a forest environment, and humans have come in and created an urban environment.
"So, we need to take care of all the components they need to survive – like soil, space, air getting to their roots and specific fertilization for certain species."
Caring for U of T's trees goes beyond preserving campus aesthetics. Across the university's three campuses, trees collectively capture more than 5,260 tonnes of carbon dioxide per year, according to U of T's Low-Carbon Action Plan. That's in addition to providing benefits such as trapping pollutants, providing habitat for wildlife, reducing water runoff and supporting human well-being.
Szwagiel says staff carry out detailed inventories at regular intervals to keep tabs on U of T's tree population.
The most recent effort on the St. George campus saw forestry students count trees and categorize them down into species, sizes, age estimations and health condition. They counted approximately 3,300 trees – not including those on the grounds of the federated colleges.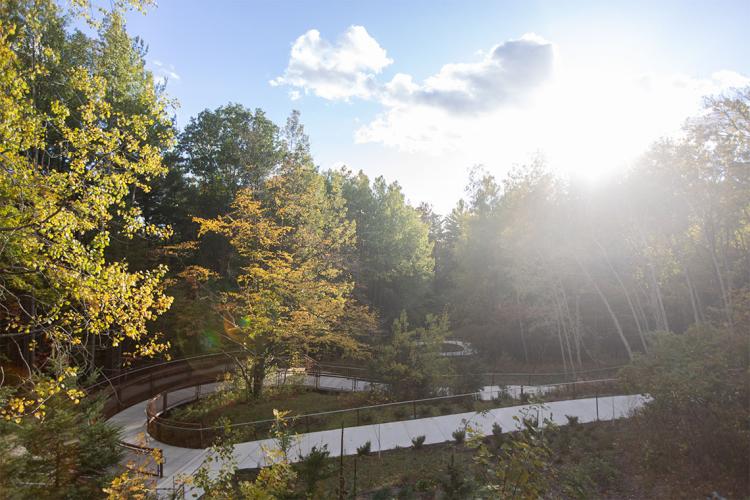 Trees at U of T Scarborough (pictured), U of T Mississauga and the St. George campus collectively capture 5,260 tonnes of carbon dioxide per year (photo by Nick Iwanyshyn)
There have also been efforts to make tree care high-tech.
Thanks to work by Szwagiel and grounds supervisor Peter Johnston, the St. George campus's irrigation systems have been computerized – with 98 per cent of the campus now watered by a state-of-the-art remote water management system.
"We have much better control over watering now, because you can go to a computer and turn all the systems on or off at the push of a button – instead of me running around to 90 different controllers on campus and manually shutting them off," Johnston says.
"If it's going to rain tomorrow, we can shut the system off, so it's a lot more efficient. We used to have to turn off all the controllers if it's raining and then go right back and turn them all on again, which was very time-consuming.
"So, we have much better control over how much water we use."
The irrigation upgrades have reduced annual water consumption from 29 million gallons in 2011 (before the new, computerized systems were implemented) to 13.6 million gallons in 2020 – a savings of over 15 million gallons of water per year.
Johnston noted that his team is always looking to incorporate the most efficient and eco-friendly tools into all aspects of their work. In recent years, this has included transitioning much of the campus grounds equipment, including push mowers, hedge trimmers and chain saws, from gas-powered units to battery-electric ones.
Watering and fertilizing – which is carried out twice a year, in the spring and fall – is just the first step of U of T's tree-care regime.
"That's like going to the doctor, getting a check-up and the doctor telling you to make sure you drink enough water daily and prescribing a multi-vitamin pill," Szwagiel said. "That's fine, it's healthy – and it's a good analogy to what a person would do. But then we needed to go further to see what else we could do to help our trees on campus."
Enter species-specific health-care plans.
At St. George, the campus boasts what's believed to be the province's largest collection of mature elm trees, including in front of Simcoe Hall and on the west side of back campus. Their continued existence is thanks in large part to U of T's program to protect the trees from Dutch elm disease, a highly infectious fungal disease that was first detected in Ontario in 1946 and has killed millions of elms around the world.
The inoculation protocol includes injecting a special fungicide into the trees.
"Dutch elm disease is basically caused by fungi which beetles spread from tree to tree," Szwagiel says. "It then kills the elm within a few years of the tree getting these bacteria. So, we inoculate them every five years."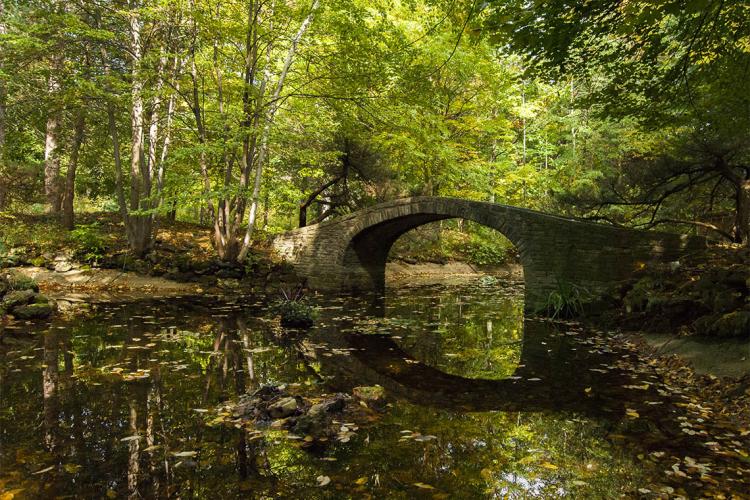 U of T Mississauga is located on 225 acres of protected greenbelt along the Credit River (photo by Randy Landicho)
Szwagiel and Johnston also implemented programs to stave off the emerald ash borer, an invasive species of beetle that was first detected in Ontario in 2002 and has killed millions of ash trees in both forested and urban environments.
"This beetle lays its eggs underneath the bark," Szwagiel says. "When the larvae hatch, they start eating channels into the tree."
The beetle is so destructive that up to 99 per cent of all ash trees are killed within eight to 10 years of the beetle arriving in an area, according to Natural Resources Canada.
"We inoculate our ash trees with a chemical that kills the ash borer before it can do that – while it's still germinating," says Szwagiel. "By doing this, we were able to save all our ash tree inventory."
The white pine is yet another species of tree that has received specialized care.
"In forests, these trees grow in pine groves," says Szwagiel. "Their needles are very acidic, and when they drop to the ground, they sort of fertilize the soil, adding to the bio-system that they live in.
"When we saw that our white pines on campus weren't doing well, we reached out to an arborist to ask them what we can do. The arborist suggested a foliar type of fertilizer, which is applied directly on the needles. That's made a huge difference."
Special attention is also paid to tree condition and maintenance when it comes to planning major campus construction projects. In the case of the Landmark Project – a three-year endeavour to revitalize the historic core of the St. George campus – 43 trees will be carefully removed and 253 new trees planted in their place, resulting in a net positive of 208 trees.
The project includes the installation of a massive underground geoexchange field that will help reduce U of T's greenhouse gas emissions by an estimated 15,000 metric tons per year.
Scott Ling, senior planner at University Planning, Design & Construction, said Landmark's design plans achieve the lowest possible disruption to trees based on studies by arborists and consultants.
For example, a 150-year-old green ash tree in front of the J. Robert S. Prichard Alumni House on the northwest perimeter of King's College Circle was preserved after staff found a way to work around the tree.
"It's always unfortunate to have to remove trees, and a concerted effort was made to keep as many trees as possible based on the space planning requirements, particularly when it came to constructing the underground parking garage and the geoexchange field," Ling says.
"This construction is also crucial to enabling the Indigenous Landscape project just to the north of that area."
Of the trees slated for removal, 29 have trunks with a "diameter at breast height" of 30 centimetres or more – a City of Toronto bylaw requires a 3:1 replacement tree ratio for such trees, meaning each tree felled must be replaced by three new trees. With a total of 208 additional trees – in addition to the planting of thousands of other shrubs – the Landmark Project will go significantly above and beyond city requirements, Ling says.
The planting is expected to begin this summer and will continue as the project moves through the various stages of construction, landscaping and design.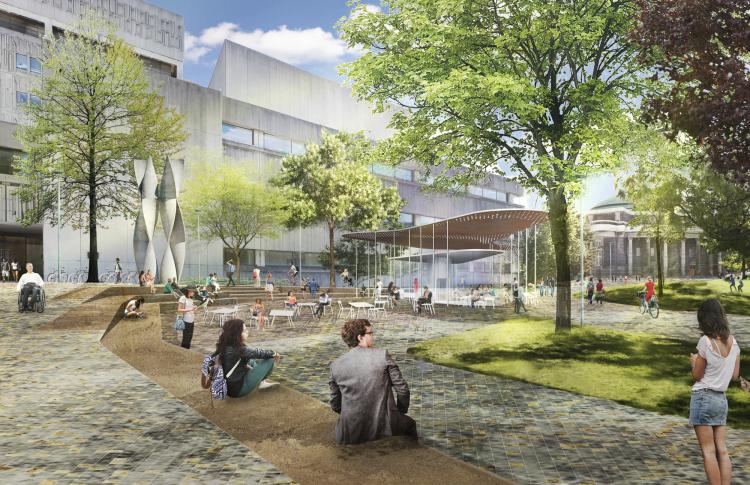 The Landmark Project, which will remove cars from King's College Circle, will see a total of 208 additional trees planted on the St. George campus (image courtesy of KPMB Architects, Michael Van Valkenburgh Associates and Urban Strategies)
Many of the trees are being salvaged, with local company Just Be Woodsy – which specializes in crafting wood products from local Toronto wood – contracted by U of T to repurpose wood for furniture and other features around campus. Blocks of wood will also be offered to students and faculty for personal woodworking projects, ensuring that wood from the trees will be reused wherever possible.
Scott Mabury, U of T's vice-president, operations and real estate partnerships, says removing trees from campus is never a decision U of T takes lightly – and that every effort is made to preserve trees when possible. While some experts recommended the removal of a "regal" but leaning black walnut tree behind Knox College, for example, the university opted instead to prolong its life by cabling it to support poles.
"In the case of Landmark, I believe it's worth it to ultimately pedestrianize the heritage core of our campus, making faculty, staff and students the privileged occupants of that space," Mabury says.
"That's in contrast to the current privileged occupant of that space – the car."
UTC