Indigenous Landscape project at U of T's St. George campus to bring history, culture and learning to Hart House Green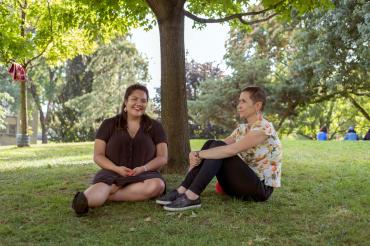 Before the University of Toronto came to be, there was what we now call Taddle Creek – a waterway that began near the intersection of Davenport Road and Bathurst Street, snaked through the St. George campus and then made its way down to Lake Ontario.
The creek was a gathering place for Indigenous groups, including the Huron-Wendat, the Seneca and, most recently, the Mississaugas of the Credit First Nation.
With European colonization, the region became the city of Toronto and continued to grow, leading to the creek's having been buried underground.
Now, a new U of T landscape project looks to pay tribute to the Indigenous nations that lived alongside Taddle Creek, while providing the university's current Indigenous students, staff and faculty with a place to gather, commemorate and celebrate Indigenous history and culture.
The Indigenous Landscape project, which will be installed on 4,500 square metres of Hart House Green, came out of U of T's response to the Truth and Reconciliation Commission (TRC) of Canada's 2015 Calls to Action. U of T's TRC steering committee report called for a "prominent, visible space at the very centre of the St. George campus be dedicated as an Indigenous space," based on consultations with Indigenous stakeholders at the university.
"Indigenous Students will be able to walk through campus and see an outdoor space and know it was created for them, with them and with their needs in mind," says Shannon Simpson, U of T's director of Indigenous Student Services.
Simpson, a member of Alderville First Nation, is co-chair of the Indigenous Landscape project along with Donald Ainslie, principal of University College.
The Indigenous Landscape initiative is part of U of T's Landmark Project – a large-scale revitalization of the St. George campus's historic core. Landmark goes to Governing Council in October for final approval and plans for the Indigenous Landscape Project will be approved through the Capital Project and Space Allocation Committee.
U of T is working with Toronto's Brook McIlroy Indigenous Design Studio, engagement consultant Laurie Hermiston of the Kwewok Nakii Collective and Indigenous plant educator Joseph Pitawanakwat of Creator's Garden. There is also an advisory committee of Indigenous students, faculty and staff, including Lee Maracle, a poet and author who is a member of Stó:lō Nation and a U of T sessional lecturer. Maracle is also a member of U of T's Elders Circle, which has provided input on the Indigenous Landscape project.
"We wanted the landscape to emphasize the significance of land-based teaching and research, to include Indigenous plantings, to include Indigenous designers and contractors in the implementation of the project," says Ainslie, who is also co-chair of the Landmark Project and the advisory committee specific to the Indigenous Landscape project. 
The next step in the planning process is an in-depth consultation with the Indigenous communities at U of T and in the city, as well as the First Nations groups that have historic ties to the land.
"It's really important to hear perspectives from all sides," says Andrea Mantin, a landscape architect and project manager at Brook McIlroy, and a sessional instructor at the John H. Daniels Faculty of Architecture, Landscape, and Design.
As a member of Brook McIlroy's Indigenous Design Studio, fourth-year architecture and Indigenous studies student Kateri Lucier-Laboucan has a unique opportunity to get hands-on design experience while helping to define the future of Indigenous spaces on her campus. 
"To be at the University of Toronto and studying, but also working in an urban environment and making sure that Indigenous presence is felt, I feel incredibly special," says Lucier-Laboucan, who belongs to the Little Red River Cree Nation, and has been working at Brook McIlroy for two years.
While much of what informs the design of the Indigenous Landscape project will come from the consultations, Mantin says there are certain features that will definitely be a part of the vision. These will include references to fire and water – particularly Taddle Creek – as well as areas for gathering and teaching, and an Indigenous garden and plantings.
Situating the Indigenous Landscape in a central location on the St. George campus sends a strong message about U of T's commitment to its Indigenous community, says Lucier-Laboucan.
"This is where U of T began, so for Hart House and University College to be right here, it's pretty impactful that this is where we can place our presence."
For non-Indigenous students, staff and faculty, the Indigenous Landscape will be an opportunity to learn, says Ainslie.
"We think of U of T as a community of ideas, but it's also concretely manifested in the campus, and we can all benefit from Indigenous perspectives on how you have to learn from the land that you're on," he says. "It will be important for U of T to commit itself to a pedagogy that's not de-materialized, that's rather concrete in the place where we find ourselves, a place that has a history, and a place where so many of us are relatively recent to arrive."
Most importantly, the Indigenous Landscape will be a space that reflects the diversity of Indigenous groups across Canada and how that translates to the student experience at U of T, says Simpson.
"We want Indigenous students to see the space and feel like it's a space they want to be in, that they want to sit in, they want to eat lunch in, they want to study in, they want to do ceremony in," says Simpson.
"The most important thing to me is that student voices are heard, so it does really feel like a space that Indigenous students have helped to create, and that they've been listened to."
Students, staff and faculty are invited to learn more about the project and share their ideas with Brook McIlroy on Tuesday, Oct. 8 from 2 p.m. to 4 p.m. at First Nations House, third floor of the North Borden Building, 563 Spadina Crescent.
UTC