Now U of T grads, three Mastercard Foundation Scholars keen to give back to their communities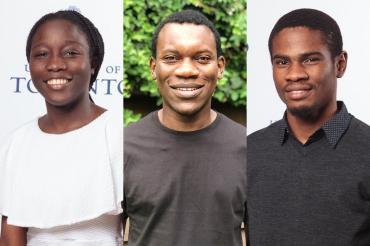 The final cohort of Mastercard Foundation Scholars are graduating from the University of Toronto this spring – the culmination of their journey from Sub-Saharan Africa to Canada. 
Nearly a decade ago, U of T was among the first Canadian universities to partner with the Mastercard Foundation to offer talented students from the region an opportunity to study in Canada on a scholarship covering their tuition, travel, housing and other expenses. 
Over the years, U of T has welcomed dozens of bright young students through the current iteration of the program – many of whom were eager to help their communities both locally and back home. Michael Samakayi, a Deaf student from Zambia, helped launch an American Sign Language Club on campus and successfully advocated for an undergraduate linguistics course in the Faculty of Arts & Science that focuses on ASL and Deaf culture. Emmanuela Alimlim, the first from her village in Kenya to study abroad, founded an initiative to support and encourage students in Kenya who are seeking to access higher education. 
"We are confident that the impact of this inspiring Mastercard scholars' gift will continue to be felt both here in Canada and in Africa for many years to come," said David Palmer, vice-president, advancement. "Bolstered by the education and real-world experiences they received through this visionary program, these talented young students are already making a difference in their communities."
Below, three members of the final, 12-member cohort U of T Mastercard Foundation Scholars – Gladys Opeoluwa Olubowale, Providence Tatenda Mapingire and Modestus Nzubechi Amaechi – reflect on their paths to graduation, from their first impressions of Canadian winters to their post-convocation plans.
---
Gladys Opeoluwa Olubowale
Home country: Nigeria
Studying: Chemical engineering in the Faculty of Applied Science & Engineering
When I first joined U of T in 2017, I already knew I wanted to pursue research, which is one of the reasons I decided to join the chemical engineering program.
I quickly got involved in research by becoming an undergraduate research assistant in food engineering in my second year. I found many aspects of research work very engaging and rewarding – from working in the lab to working on a research poster.
All this culminated in presenting my research work at Undergraduate Engineering Research Day here at U of T. I found my research work so fulfilling that I decided to work on an independent thesis project. Through this, I went through the process of conducting my research independently in the lab, leading a literature review and presenting to a panel of professors.  
All the opportunities I was given to explore my research interests further opened my eyes to the inadequate access to STEM education for so many children in my home country of Nigeria. This led me to develop a project to improve STEM education for elementary and secondary school-aged students in Nigeria. I was able to remotely assemble a team in Nigeria and raise funds to teach coding and buy robotics kits for students. Initially, this was meant to be a one-year project, but it went so successfully that my team and I are currently in the process of registering it as an NGO.
My U of T experience has allowed me to bridge my interest in STEM with my desire to give back – and I'm most grateful for that.
Modestus Nzubechi Amaechi
Home country: Nigeria
Studying: Chemical engineering in the Faculty of Applied Science & Engineering
My U of T journey has been filled with lots of learning experiences. When I came to U of T in my first year, it was quite hard for me to really understand people because it seemed that they spoke too fast and my classes were hard to find. The winter season was very difficult for me, and it was hard to navigate my way to class during the winter semester, but with help of the MCF office and the engineering faculty I was able to get through my first winter semester. 
Another good learning experience for me was running for wellness director of the ChemClub in my second year. I was always reserved in my first year and I didn't engage in any activities as I was getting used to many things, but this role opened me up to many opportunities and connections with people in the chemical engineering department. 
Providence Tatenda Mapingire
Home country: Zimbabwe
Studying: Finance and economics in the Faculty of Arts & Science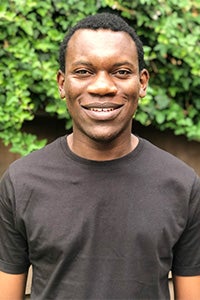 Over the course of my time at U of T as a student at Rotman, I've had many opportunities to learn about the world of economics and finance outside of the classroom. Firstly, I  secured a position as a part-time junior analyst at FirePower Capital, a Toronto-based investment firm. I learned a great deal from the investment team, many of whom have been working in the finance sector for many years.
I was able to parlay that experience into an internship at Credit Suisse in New York on the global market team. Not only did this allow me to further my knowledge of finance and global market trends, but I also got to experience a different culture in New York. As someone who didn't have much experience outside of my home country of Zimbabwe until I joined U of T in 2018, getting to live and work in New York opened my eyes to the different work cultures and social mores. I saw how these customs and behaviours overlapped or differed from my own. In addition, I've learned how to better understand and relate to people of different cultural backgrounds. 
I've also had the opportunity to take all that I've learned as a student and employee and use it to provide more junior Rotman scholars with advice and mentorship as a career peer at the Rotman Commerce Program. This has shown me the importance of sharing the knowledge one gains with others to help them in their career and in life.
UTC