In U of T's new ASL course, students learn how to sign – and better understand Deaf culture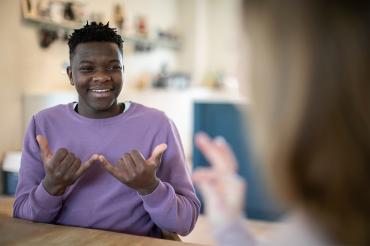 Soon after Ariya Ahona began learning American Sign Language (ASL) at the University of Toronto, she realized that language would be only one of the many things she'd be learning.
That's because in instructor David Wiesblatt's class, students learn not only to sign, but to understand the values, norms and etiquette associated with Deaf culture. "If I hadn't taken this class," Ahona says, "I'd never have had the opportunity to see this whole other side of life."
Demand for sign language classes has been growing rapidly over the last several years: the Modern Language Association reported that in 2016 it was the third most-studied language in U.S. universities, behind only English and French. In popular culture, ASL is seemingly everywhere: from Deaf West Theatre's revival of Spring Awakening on Broadway; to the reality show Deaf U, set at Gallaudet University in Washington D.C., a college for the Deaf and hard of hearing; to the movie CODA, this year's best-picture winner. 
Wiesblatt, a sessional lecturer in the department of linguistics in the Faculty of Arts & Sciences, has taught ASL at campuses across the country and has long worked as an advocate for high-quality instruction and Deaf cultural awareness. This year, Wiesblatt, who is Deaf, taught the Faculty of Arts & Science's first-ever ASL course, LIN211H1: American Sign Language I.
Wiesblatt began tutoring students privately at the age of 14. These days, in addition to teaching ASL at the high school and university level, he also works as an interpreter. "My mom was my role model," he says in a video relay interview. "She was a successful Deaf woman who communicated in ASL, and a real inspiration for me."
His class introduces students to Deaf culture, which is also beginning to be depicted more accurately in mainstream movies and TV shows. "Back in the day, if you saw Deaf characters they were struggling as Disabled people; they were not respected as members of a cultural minority," he says. "The attitude has shifted now that people are more informed, and I think that shift is drawing people to learn the language that is used."
Wiesblatt stresses that learning ASL requires commitment. Students must learn not just vocabulary but also a different grammar and syntax – ASL grammar, in fact, has more in common with French than English. "It's a fast-paced course and I have high expectations of the students," Wiesblatt says. "It takes a tremendous amount of practice to become fluent."
ASL signers use their faces even more than they do their hands. The position of your eyebrows and mouth are key to proper expression – a difficulty that ASL signers have had to contend with as people mask up during the pandemic. "Seventy per cent of ASL is on the face, with only 30 per cent on the hands," Wiesblatt says. "And the grammar is all on the face – so when a mask obstructs that, the grammar is compromised." Still, he notes that COVID-19 has also increased awareness of and interest in ASL, thanks to frequent TV announcements.
Wiesblatt says he isn't surprised so many non-Deaf people have shown an interest in learning ASL. "It really opens up a different sort of processing for students, and shows them a new way of learning," he says, adding that in the workplace "the applications are endless."
In any public-facing profession, ASL could be useful for professionals looking to communicate not only with Deaf clients, but those who cannot communicate verbally. In recent times, there has also been a push toward teaching infants sign language, so they can communicate before they learn to talk. The demand for ASL interpreters is growing, too. 
U of T Scarborough has offered an ASL course since 2007. In the Faculty of Arts & Science, the impetus for the course came largely from the efforts of Deaf graduate Michael Samakayi. The Mastercard Foundation Scholar from Zambia founded an ASL club on campus and approached the faculty with a proposal for an undergraduate class.
Ahona, the student in Wiesblatt's class, says she's learned a lot in the span of a semester. "One of the goals is to be able to have a conversation, and even tell stories," says Ahona, who is majoring in life sciences as a member of University College. 
"With everything being online now, we've become so used to being able to rewind and fast forward. It makes listening hard to process and since it has multiple inputs, ASL feels easier to understand in a way."
Ahona especially appreciates what Wiesblatt's class has taught her about Deaf culture. "When we started, we didn't go straight into ASL," she says. "We spent a couple of classes just talking about the cultural aspect." She says she is much more sensitive to the difficulties that Deaf people experience in a world built to serve the needs of the hearing.
"All these different conversations came up in class, and I was like, "Wow, this entire world has always existed. And now we're finally starting to see it emerge.'"
Arts & Science