Michael Samakayi, an international grad, leaves his mark on U of T with ASL club and course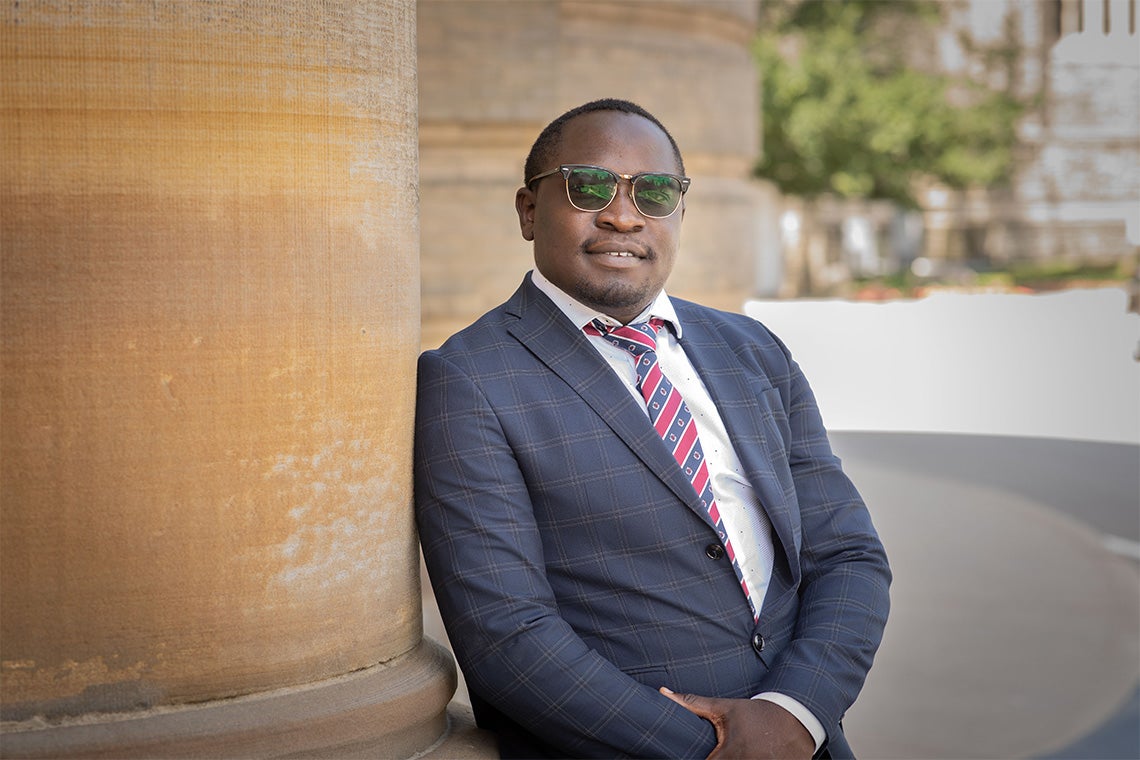 Michael Samakayi will take home to Zambia many fond memories from his time at the University of Toronto following graduation this week: lifelong friendships, the city's diverse food – even its snowy, sub-zero winters.
But he will leave something behind, too: an American Sign Language (ASL) club and an American Sign Language and Deaf culture course that will benefit students for years to come.
In his first year, Samakayi, who is Deaf, not only had to get to know campus, adjust to a new city 12,500 kilometres away and keep up with his courses, he also had to learn a new language since he didn't use American Sign Language in Lusaka, the Zambian capital.
"A lot of people assume sign language is the same no matter where you are and it's universal, but that's not true… I had to get my bearings in new surroundings and learn a new language," says Samakayi, the first Deaf student to come to U of T via the Mastercard Foundation Scholars Program, a scholarship for talented students from Sub-Saharan Africa and socio-economically disadvantaged backgrounds who show leadership potential.
It wasn't long before Samakayi was teaching ASL to other students. In between classes, so many of his peers approached him for help signing basic words or phrases that an idea came to Samakayi to start an ASL club.
"The more students approached me, the more motivated I felt to do something about it," he says.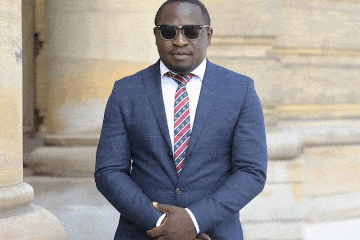 The club held free ASL classes a few times per month during the school year in the Woodsworth College residence. The club was part of an effort to spread knowledge of ASL and reduce barriers for Deaf students, as well as raising awareness of Deaf culture.
Samakayi says the classes drew an average of 60 students each week.
He didn't stop there.
As vice-president, equity of the U of T Students' Union in 2019-2020, he submitted a proposal to the Faculty of Arts & Science for a course on ASL and Deaf culture.
Now, his idea is set to become a reality starting in January 2022, when the linguistics department plans to offer LIN211H1: American Sign Language 1, a course that offers students an immersive introduction to ASL that focuses on basic vocabulary, grammar and conversation in addition to a discussion about Deaf culture and issues facing the Deaf community.
Nathan Sanders, an assistant professor, teaching stream, in the department of linguistics, supported the course proposal, as did Alana Boland, the faculty's associate dean of teaching and learning, who had independently contacted the department about offering ASL courses.
An important piece of the course design was the emphasis on Deaf cultures and issues, according to Sanders. He says many don't realize that Deaf people have a distinct culture and literature, with poetry, stories, jokes and theatre.
"It is not just a language, but one face of a complex way of life for Deaf people," he says, adding the course will also be an opportunity to bust myths about ASL.
For one thing, ASL isn't just a signed version of English. Rather, Sanders says the language has its own grammatical structure, metaphors and references – and there are effectively between 100 and 300 sign languages. So, while Canada and the United Kingdom share a common official language, their sign languages – ASL and British Sign Language – aren't mutually intelligible.
And, just as there are different dialects in spoken languages, ASL contains many regional variations. Case in point: Canadian ASL differs from the one used in Philadelphia, and both differ from Texas ASL.
In addition, while sign language might appear limited to hand gestures to those who aren't familiar with it, Sanders says ASL actually conveys a lot of information through facial expressions, head position and posture.
"Raised eyebrows can signal one type of question (is it raining?), while lowered eyebrows, signal a different kind (where is it raining?)," he says.
Samakayi, for his part, says the course will be crucial for helping to train a body of students who will be able to practise ASL in their communities, with particular emphasis in fields like education, law and medicine.
"When I learned the course was given the green light, I was excited about the positive news after years of consultation," Samakayi says. "I believe sign language will help bridge the gap between the Deaf and the hearing world."
Justina Kanza, for one, wasn't surprised Samakayi succeeded in petitioning for an ASL course.
A fellow Mastercard scholar from Chilanga, south of Lusaka, who's specializing in African studies and minoring in women's studies, Kanza says met Samakayi back in Zambia while they were applying for the scholarship. He helped her get acclimated to Toronto and cooked her Zambian food whenever she felt homesick.
Kanza says Samakayi doesn't often back down in the face of a challenge, particularly when his goal is helping others. When he ran for vice-president, equity of the students' union, she says he faced a communication barrier gathering signatures for his candidacy.
"I remember he had challenges with the process and missed a deadline – and it was a long process," she says. "I know personally, I would have given up, but he was so passionate and resilient."
Today, she looks back on Samakayi's successful run for the executive position on the students' union as an example of what can be achieved through sheer grit and determination.
Similarly, Jennifer Guyatt, the associate registrar at Woodsworth College, says Samakayi was juggling so many extra responsibilities earlier in his degree in addition that she worried he would spread himself too thin.
Samakayi proved more than capable. "He was determined to do it all, and he managed to do it all and showed tremendous strength of character," Guyatt says.
On Wednesday, Samakayi officially received his degree in absentia at U of T's virtual convocation, becoming the first person in his family to graduate from university. And, four years after he moved across the world to attend U of T, his career plans remain the same: attend law school and continue to advocate for the Deaf community.
"I really wanted to show that if Deaf people are given the opportunity, they can accomplish anything," he says.
"I'm proof right here. I had a goal and went after it. Now, I just want to make sure other Deaf people have the same opportunity."
UTC