From a family of 12 kids in a Kenyan village, this U of T grad is working to help other women get an education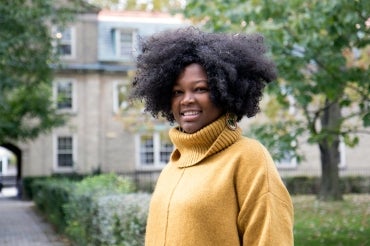 Ubuntu. I am because we are.
This Zulu philosophy has come to define Emmanuela Alimlim's time at the University of Toronto.
The economics major in the Faculty of Arts & Science has spent the past five years building networks of students, staff and faculty who helped her achieve ambitious goals and who have been the light during some of her darkest days.
She's now getting ready to close this chapter of her life – graduating during this year's fall convocation. 
"It's been wonderful and quite surprising," she says.
Alimlim grew up in a tiny village of fewer than 100 people in northern Kenya. The oldest of 12 siblings, she says home life was chaotic – but enjoyable nonetheless.
Though over 12,000 kilometres separate her from her family, Alimlim says she tries to speak with them every day.
"We don't really have internet or Skype to do that so I have to schedule a time when everyone is there so I can talk to them," she says.
Alimlim says she's the first woman in her village to go abroad to study – a feat she doesn't take for granted and serves as inspiration for others there.
"For them to have somebody who has definitely broken the cycle of poverty in the family and somebody who has gone outside to study and embrace education, they see that as something they should also aspire to do," she says.
She's hoping to encourage more women in her village to advance their education through an initiative she founded called Penda Dada, which also works to prevent teen pregnancy.
"With Penda Dada, we make sure we talk to girls about the importance of education, we try to raise as much money here and send it to take a girl to school," she says.

Read the audio transcription here
Alimlim, a Woodsworth College student, came to U of T through the Mastercard Foundation Scholars program, which covers the tuition, accommodation and other expenses for a select group of students from Africa to come to a university in Canada. After she finished her studies in the spring term, Alimlim was hired by the foundation to work on youth engagement.
"Having a community of young men and women who are doing marvellous work through their own education and also building a community of young people – you see in their faces and the work they're doing that they truly want to transform the continent of Africa and especially the communities and the countries they come from," says Alimlim of her fellow Mastercard Scholars. "It's been a really amazing journey."
But Alimlim's path to her undergraduate degree had obstacles. When she first came to U of T, the distance from her friends and family back home in Kenya as well as the food and climate she was accustomed to meant she struggled to adjust to life in Toronto.
"I had to deal with a lot of depression and anxiety. I isolated a lot of myself," she says.
After eventually getting the help she needed, Alimlim became an advocate for those suffering from mental illness – particularly students.
"Mental illness is something we try to hide," she says. "It's something mostly people from the African nations or people from the Black community don't talk about because we've harboured a lot of things that we want to mask," she says.
Alimlim works to raise awareness about the resources students can use when they're in need of help and support – mentally and academically – including the Health and Wellness Centre, the registrar's office and the Centre for International Experience. 
"There are so many resources that exist but if you don't know, it's really difficult to get help," she says.
She also made a documentary film called Invisible Despair about students living with mental illness. 
Alimlim's robust network at the university also helped her accomplish one of the greatest achievements of her university career – founding the Eastern Africa Students Association. Alimlim formed the association in 2017 with a small group of friends who were interested in creating a like-minded community of people from the region.
"We were able to register a club on time and our numbers skyrocketed from three people to 250," she says. "We organized events, we applied for funding sometimes, we organized a gala – we made everyone come for free because we had all the funding."
The Wakanda-themed gala celebrated existing members of the association and recruited new ones, and was attended by John Lepi Lanyasunya, the high commissioner for the Republic of Kenya.
The effort Alimlim puts into all aspects of university life doesn't go unnoticed.
Michelle Mabira, a Rotman Commerce student and one of Alimlim's closest friends, says she's always looking out for other people.
"Her dreams and ideas are always helping other people and helping the community," she says. "The things she's done for her communities at U of T have been incredible."
Alimlim's work will have a lasting impression in Canada, but she hopes to eventually return home to make her mark in Kenya.
"Most of the sub-Saharan African countries have the potential to see themselves grow," she says. "I think young people have the power to transform their communities and their countries and for me, it will be an honour and to be part of the good side of history being able to be part of that."
Days away from her graduation ceremony, Alimlim she had these words to pass on to future international students:
"Man, it's going to be a wild ride for you but it's going to be beautiful. It's going to break you apart but it's going to make you appreciate the beautiful university we have and the beautiful culture."
UTC