Nicole Kaniki talks race, representation and equity in academia with Canadian Business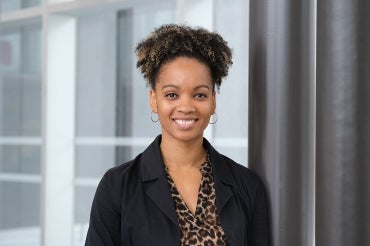 As a person of mixed race growing up in apartheid-era South Africa, Nicole Kaniki was exposed to racial dynamics at an early age.
"I learned quickly that privilege is intimately connected to race. I had more privilege than Black citizens but less than white ones," Kaniki, the University of Toronto's first director of equity, diversity and inclusion (EDI) in research and innovation, told Canadian Business magazine.
In the article, Kaniki explores how she grappled with the complexities of race over the course of her career. Despite earning a master's and PhD, Kaniki said she felt "invisible" as a Black scholar. "I had 15 published studies but watched white peers with far less experience get the job placements I had also applied for," she says.
In 2021, Kaniki was appointed director of EDI in research and innovation at U of T. This past fall, her office launched three platforms that aim to boost representation in research and innovation: the Black Research Network, Indigenous Research Network and Black Founders Network. "My role is an inaugural office and one of the only positions of its kind at a Canadian academic institution," Kaniki told Canadian Business. "Its focus on research is important because research informs evidence and evidence drives social policy. If the research environment is not equitable, it perpetuates inequality widely."
UTC