Indigenous Research Network deepens and extends Indigenous research at U of T and beyond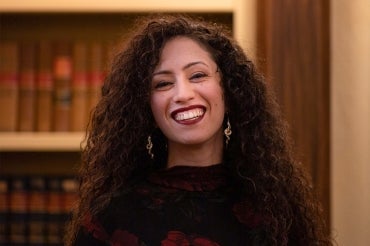 With a PhD in clinical and counselling psychology from the University of Toronto and a position as post-doctoral researcher at the Waakebiness-Bryce Institute for Indigenous Health at the Dalla Lana School of Public Health, Mikaela Gabriel has found her place in academia.
But as a student, she recalls feeling lost as she looked for ways to undertake Indigenous research. 
"I thought it was going to be a lot of heavy lifting, and I didn't know what to do," recalls Gabriel, whose background is Italian and Mi'kmaq (Crow Clan).
Then she met Associate Professor Suzanne Stewart, director of the Waakebiness-Bryce Institute and her academic adviser, who, along with others in the field, helped Gabriel navigate the research world.
"Gloriously, I was able to find out that a lot of people have been putting a lot of work in over time," Gabriel says. "Being with people who are working really hard and being able to take my own undergrad dreams and turn them into this beautiful garden – it was so important for me."
Now, the newly launched Indigenous Research Network (IRN) will formalize those connections, making it easier to find information and share resources – not only for students like Gabriel but for established researchers, partners and communities.
The network is one of U of T's Institutional Strategic Initiatives (ISI), designed to address complex global challenges by harnessing the university's top-quality academic talent across many fields of expertise. Each initiative brings together flexible, multidisciplinary teams of researchers and students from across faculties and campuses, as well as partners from industry, government and the community.
In the case of the IRN, an Indigenous Research Circle leads an interconnected, collaborative and tri-campus network of researchers. At the same time, Stewart, who is also
U of T's provostial academic adviser on Indigenous research, works to improve and increase capacity and support for Indigenous research at the university.
The IRN is the culmination of two years of careful consultation.
In a process that started in spring 2020, Stewart and her colleagues connected with other Indigenous academic research networks to gather and review evidence-informed best practices. They also consulted with 34 U of T faculty and staff from a range of departments and disciplines, and seven Elders from the Indigenous Advisory Council.
The consultations resulted in three overarching themes for the network: community circle, mentorship, and accountability. In practice, that includes providing researcher supports, community supports and hosting events that so far include weekly talking circles and drop-in socials, monthly spiritual ceremonies and a monthly series with a featured researcher.
"Creating the IRN wasn't something off the cuff, but Indigenous evidence-based," says Stewart, a member of the Yellowknife Dene First Nation, director of the Waakebiness-Bryce Institute for Indigenous Health and the IRN's director.
Professor Christine Allen, U of T's associate vice-president and vice-provost, strategic initiatives, says the IRN is an important step in the university's efforts to answer the Truth and Reconciliation Commission of Canada's Calls to Action.
"We hope that growth and future initiatives of the IRN will deepen partnerships with Indigenous communities and help to create a strong, respectful and culturally-aware foundation for Indigenous research and researchers at the university," said Allen, speaking at the IRN's virtual launch this fall.
"It's also vital that we learn from our mistakes, particularly with respect to the cultural harm that academic research on Indigenous communities has inflicted in the past. The IRN is a critical part of that learning as it will bring an Indigenous lens to these activities on our campuses and will work to reform and extinguish harmful and outdated research practices."
Stewart and her colleagues are already moving ahead with important projects for the IRN. 
The first project is to develop a Research Ethics Framework Initiative to help provide autonomy to Indigenous scholars.
"It's wonderful," says Stewart. "Much research has already harmed Indigenous communities and land, so it's our goal to protect autonomy and self-determination. What we are doing now is part of the start of decolonization of research ethics."
Led by an Indigenous Research Circle that includes an Elder, Indigenous and non-Indigenous students as well as the academic adviser on Indigenous research, the framework is a community-informed vision for research service programs and policy that's based on consulting with 67 individuals – including eight Elders and 28 faculty and staff focused on Indigenous research – to determine the ethical research needs of the community. Monthly workshops launched this fall.
Equal care has been taken with another IRN initiative: the U of T Connaught Community Partnerships Research Program – Indigenous stream. The program supports an internal research funding stream based on Indigenous worldviews, principles and community needs. It allows U of T to connect Indigenous community organizations with university researchers who act as a resource to support their work.
The consultation process included reaching out to 700 different Indigenous organizations across Canada. In its inaugural year, nine Indigenous organizations were chosen to receive Connaught funding through the Indigenous stream.
Sarah Clark is executive director of the Arctic Children & Youth Foundation, a Nunavut-based charity that helps children and youth who disclose abuse. She was looking for a partner to help the organization dig deep into a problem: The charity provides counselling services to caregivers or guardians (90 percent of whom are Inuit) of children, but clients weren't using the support. Clark and her colleagues wanted to understand how to better support these caregivers, and by extension, the children. After connecting with the Indigenous Research Network, they began working with Assistant Professor Jeffrey Ansloos, Canada Research Chair in Critical Studies in Indigenous Health and Social Action on Suicide at the Ontario Institute for Studies in Education, whose work focuses on mental health and social policy in Indigenous communities.
Ansloos and his students are now helping the Arctic Children & Youth Foundation design a study and work with focus groups to better understand the community.
"The students working under Jeffrey have been amazing," says Clark, adding that she deliberately wanted to connect with an academic partner so the research could be used as a framework for other communities. "The research that has come out so far has been really helpful to us. And we're all very excited to learn about that population and how we can support them."
Clark calls the IRN's work "very valuable" since there are so many avenues for Indigenous research in Nunavut. She's particularly excited about the network's potential to connect and share upcoming projects and results.
"Just having the support and learning from what other people are doing in their community is fantastic," she says.
As for Gabriel, she is now a member of the IRN, too. Her research explores how traditional knowledge and Elder connections can support Indigenous Peoples' mental health across life transitions such as homelessness to changes in employment.
She says she appreciates having a dedicated research network alongside the more common Indigenous research centres on many university campuses.
"Those Indigenous centres are crucial and invaluable, but different from an Indigenous Research Network that prioritizes Indigenous research itself," she says. "If I had something like this when I was an undergrad …  it's beyond my wildest dreams to have a network of Indigenous researchers and students and community members and Elders all talking about knowledge and how to help the community, and how to do it in a safe, good way.
"That's a beautiful thing."
freelance