Mourners, dignitaries pack U of T's Convocation Hall to remember Flight 752 victims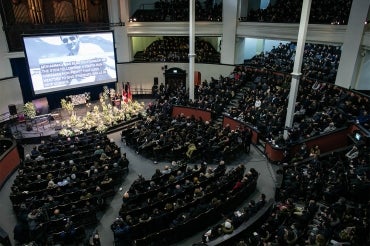 Mourners were united in their grief and calls for justice as they packed a memorial Sunday for the 57 Canadians killed after Iran's military shot down a passenger jet.
"We have lost such incredible people, and we will always bear these scars, but now is the time for all of Canada's cities and towns to come together in our loss," Deputy Prime Minister Chrystia Freeland told an audience of about 1,700 people at the University of Toronto's Convocation Hall while an estimated 2,300 attendees watched the proceedings from overflow rooms in nearby buildings.
"We mourn together and we will seek answers together. We seek accountability together. And we will seek and we will get justice together."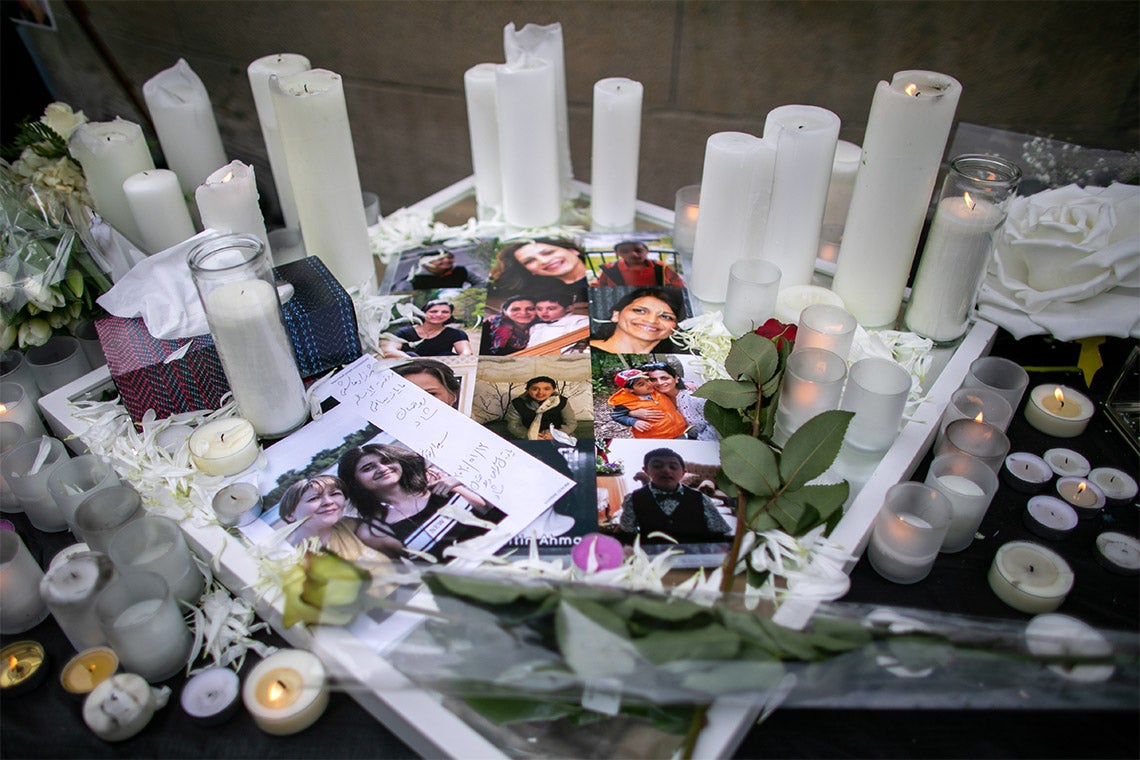 Candles, flowers and handwritten messages surround photos of victims of the downed Ukraine International Airlines passenger jet (photo by Nick Iwanyshyn)
The event was organized by Tirgan, an Iranian-Canadian cultural organization, and was attended by politicians and other dignitaries, including Ali Ehsassi, a member of Parliament for Willowdale, and Michael Parsa, a member of provincial parliament for Aurora-Oak Ridges-Richmond Hill.
Freeland's sentiments were echoed by Ontario Premier Doug Ford and Toronto Mayor John Tory as they rallied behind efforts by Prime Minister Justin Trudeau to hold the Iranian regime accountable.
 "I want you to know you are not alone," Ford told the gathering.
"The people of this province stand behind you. The nation and the world mourn with you."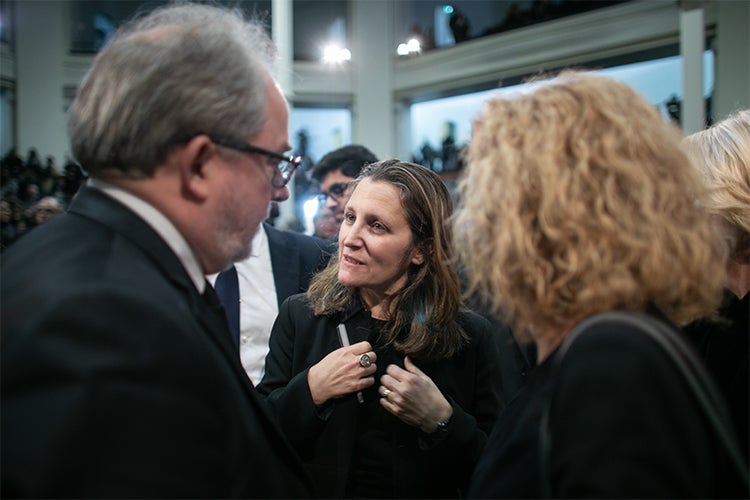 Deputy Prime Minister Chrystia Freeland speaks with David Palmer, U of T 's vice-president, advancement, and Cheryl Regehr, vice-president and provost (photo by Nick Iwanyshyn)
Tory, meantime, pointed to the multicultural nature of Toronto and the nation as a unique strength in the aftermath of the tragedy, even as leaders seek answers about Ukraine International Airlines Flight PS752, which crashed Jan. 8 with the loss of all 176 passengers and crew.
"Although we have not achieved perfection, we offer a way of life based on respect and understanding and love – and now more than ever, our words and actions must keep us on that path," said Tory.
"I think this will not only help in the search for justice and answers but it will help the healing process as well."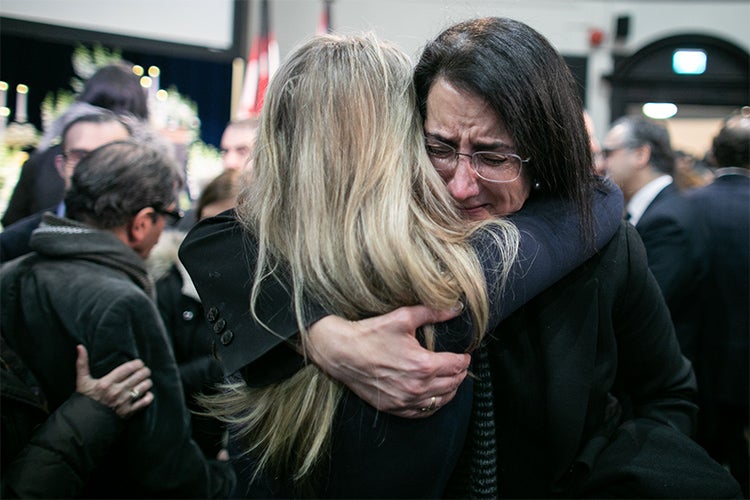 Hundreds gathered to mourn the victims of Flight PS752, which was mistakenly shot down by the Iranian military shortly after taking off from Tehran's airport (photo by Nick Iwanyshyn)
The enormity of the loss Canadian universities share with the nation was clear as the names of the 57 dead Canadians and their stories were recounted during a poignant ceremony marked by cries of grief. The grim roll call included doctors, engineers, entrepreneurs, professors and students from across the country, including eight members of the U of T community – six of whom were students.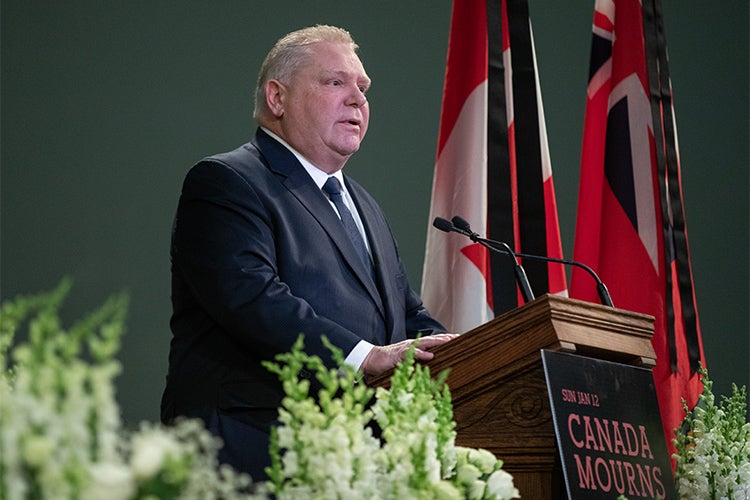 Premier Doug Ford addresses mourners at U of T's Convocation Hall (photo by Nick Iwanyshyn)
Several representatives from U of T, which held its own ceremony on Friday, were in attendance. They included Chancellor Rose Patten, Vice-President and Provost Cheryl Regehr, Vice-President, Advancement David Palmer, Faculty of Applied Science & Engineering Dean Christopher Yip, Translational Research Program Director Joseph Ferenbok, Assistant Vice-President in the Office of the President Bryn MacPherson and Anwar Kazimi, the deputy secretary of U of T's Governing Council.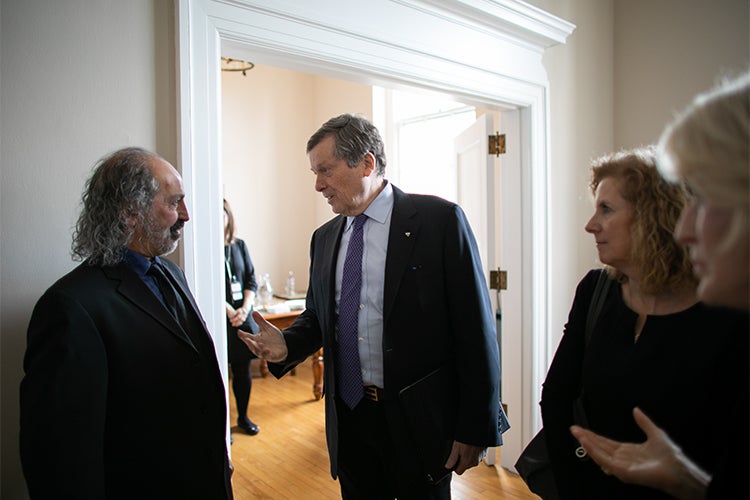 Toronto Mayor John Tory speaks to Mohamad Tavakoli-Targhi, a professor of history and Near and Middle Eastern civilizations at U of T Mississauga, before the ceremony (photo by Nick Iwanyshyn)
Organizers thanked U of T for its history of solidarity with Iranian Canadians, and there were more than a few pointed reminders to those who express anti-immigrant views to re-evaluate the negative stereotypes they promote in the wake of the tragedy.
"As we mourn the loss of our compatriots, I hope that the anti-immigrant populists in North America and Europe take a reflective look at the profiles of our lost friends and community members and think critically about their erroneous assumptions," Mohamad Tavakoli-Targhi, a U of T Mississauga professor of history and Near and Middle Eastern civilizations, told the gathering.
"What is evident is immigrants immensely enrich their communities with their professional talents, skills, dedication and goodwill," said Tavakoli-Targhi, who urged all levels of government to continue their "enlightened engagement" in seeking accountability and compensation for the victims.
"Let us keep their memories and dreams alive."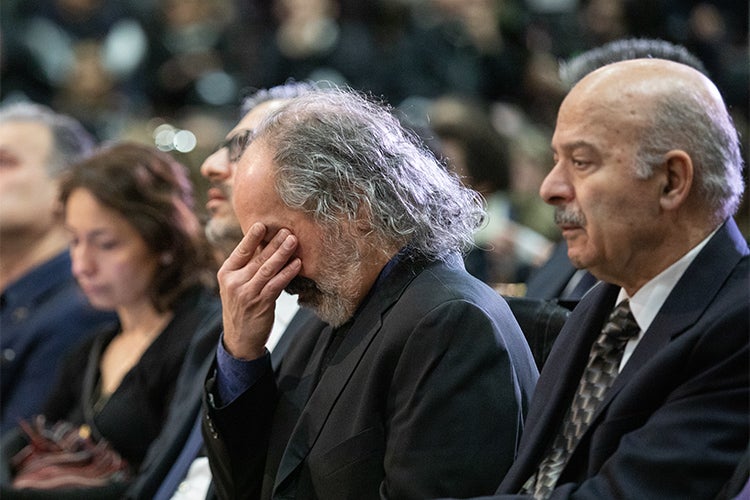 U of T Mississauga Professor Mohamad Tavakoli-Targhi wipes tears from his eyes as former Ontario cabinet minister Reza Moridi looks on (photo by Nick Iwanyshyn)
Sunday's ceremony was one of the latest in a series of vigils and events at U of T and across the country to support that effort.
As the event wrapped up, mourners somberly filed past candle-lit memorials at Convocation Hall and reflected on the victims.
---
Feeling distressed? Find someone to talk to right now – and if there is an immediate risk, call 911.
Round-the-clock support:

Students can speak to a trained crisis worker at any hour of the day.
Other 24-7 supports available to students include:
The following services are available to students on all three campuses:
Faculty and staff have access to 24-7 support through:
UTC