As member of global university alliance, U of T supports call for G7 leaders to prioritize future generations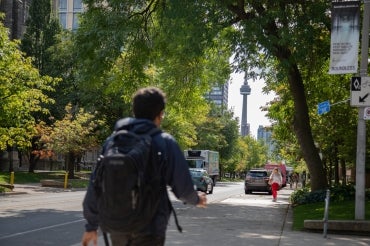 The U7+ Alliance of World Universities is calling on world leaders to prioritize the interest of future generations and recognize universities' capacity to help tackle pressing global issues such as climate change, the economic recovery from COVID-19 and championing social justice.
The alliance – a global coalition of universities, including the University of Toronto, that represents all of the G7 nations in addition to 10 others – released the statement this week as G7 leaders prepared to convene in the United Kingdom, where they are expected to discuss climate issues, vaccines and strategies to halt future pandemics.
It is the first G7 summit to be held since the COVID-19 pandemic began.
"Universities are vital global actors that, through research and scholarship, are deeply engaged in developing solutions to our most pressing global problems, from climate change to the post-pandemic recovery," said U of T President Meric Gertler.
"At the same time, we are educating the future leaders who will be asked to implement those solutions in ways that are equitable, inclusive and just."
Launched in 2019, the U7+ Alliance aims to be an action-oriented network for universities to collectively address major global problems. Its statement stressed that universities are committed to working with the G7 and leaders across the public and private sectors to create new opportunities for mutual understanding and equitable resource sharing across generations.
"As an alliance of universities, we sit at the crossroads of generations – in a space where knowledge is generated and new, bolder visions for the future are imagined – and have committed to serving as platforms for open intergenerational dialogue," the statement says.
The alliance identified three major issues on which universities can work with G7 leaders in taking responsibility and fostering international dialogue: leading the global recovery from the coronavirus while strengthening resilience against future pandemics; tackling climate change and preserving the planet's biodiversity; and championing global shared values.
"As G7 leaders reflect on how to recover from the COVID-19 pandemic and strengthen resilience against future pandemics, the preparation of the next generation of leaders must be a paramount concern, and we recognize our universities have a distinctive responsibility to train and nurture responsible, active citizens who will contribute to society, at the local and global levels," the statement says.
The alliance also expressed a commitment to promoting access to courses related to climate, biodiversity and sustainability, and encouraging intergenerational dialogue on environmental degradation. It noted that leaders from 21 universities in the alliance have developed a framework for taking inventory of what higher education institutions are doing to reduce greenhouse gas emissions. U of T, for example, plans to cut greenhouse gas emissions by 37 per cent from 1990 levels by the year 2030, putting it on a path to becoming a "net-zero" institution.
Further, the group encouraged G7 leaders to foster intergenerational dialogue on issues of inclusiveness and equality, and to promote routes to higher education for youth from marginalized backgrounds. To that end, the U7+ Alliance will host an intergenerational roundtable discussion later this month on how social sciences can be deployed to tackle the global gender gap.
The inaugural summit of the U7+ Alliance was held in France in 2019, ahead of the last G7 summit, which also took place in France. During that initial U7+ summit President Gertler led a discussion on climate change and sustainability and briefed French President Emmanuel Macron at a reception at the Élysée Palace.
Northwestern University hosted a virtual summit for the U7+ Alliance last December, bringing together more than 100 university leaders from institutions in 20 countries. At the virtual meeting, leaders unanimously voted to prioritize intergenerational equity.
UTC