Meet Bonnie McElhinny, the new principal of New College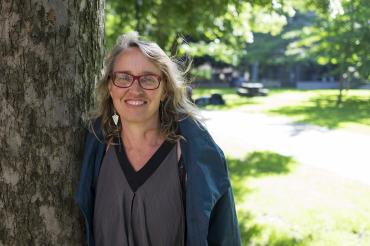 Bonnie McElhinny, an associate professor in the department of anthropology and the Women and Gender Studies Institute (WGSI), has been appointed principal of New College on a five-year term. 
She takes the reins from French Professor Yves Roberge in the Faculty of Arts & Science.
McElhinny, a former director of the WGSI, has written about a broad range of topics– from the integration of people of colour in the Pittsburgh Police to the experiences of Filipinos in Canada.
"Maybe the guiding theme in each of my projects is thinking about how we transform institutions to make sure they are more attentive to questions of gender, racial and economic equity," she said, adding that the same themes would guide her in her new role.
Vice-President and Provost Cheryl Regehr says McElhinny has a distinguished record of leadership within and outside the university. 
"Professor McElhinny has a deep appreciation of the New College community and what makes it unique," Regehr said. "Her research on social justice, equity and inclusion reflect the core values of the college."
McElhinny recently received a New College pedagogical award for a course based on the Great Lakes in which she asked students to share personal stories about their connection to a body of water. The stories were collected as part of a pilot project by Lake Ontario Waterkeeper, a group which advocates for clean water. The curriculum included visits to a water filtration plant and an Indigenous-led restoration project on the Humber River.
"The course was partly about introducing students to notions of territory and indigenous understandings of this place," she said. 
McElhinny joined the U of T faculty in 1995. She obtained her bachelor's from the University of Pittsburgh and an M.A. and PhD from Stanford University.
She can't pinpoint the moment she wanted to become a professor, but says she has loved reading and writing for as long as she can remember. Growing up in western Pennsylvania, she was known as the girl who always had her nose buried in a book while selling corn from her family farm at a roadside stand. She worked on the farm, picking corn and sorting it into burlap bags, beginning in her sixth grade.
"It shaped me in two ways," she observed. "The expectation was that everyone there would do the work that needed to be done, and it blurred gender and age distinctions."
Her aunt, in her 60s, tossed bags of corn onto trucks with the best of them, McElhinny remembered. 
"But there were also moments when one of my uncles would be more likely to point to my male cousins and say 'Back that truck up.'" 
Those moments may have helped push her in the direction of studying gender inequality and other social justice issues, she says.
Her PhD dissertation investigated the impact of a quota-hiring, affirmative action program on the Pittsburgh police department. She was interested in successful strategies for integrating white women and men and women of colour into a previously "all-male and all-white workplace." She patrolled with the police department for a year, interviewing police officers and observing their interactions with the public.
In recent years she's written about Filipino Canadians, Canadian immigration, colonial practice and the global political economy. She received Social Sciences and Research Council funding to examine how "interventions into Filipino child-rearing practices, especially to try to redress high infant mortality rates, were used as an excuse and justification for the U.S. colonial presence, even in the face of sharp criticism from Filipino physicians and politicians," her faculty page says.
"I hope to place my activism on water in conversation with other college initiatives on land and food, and continue to extend New College's long-standing and much-lauded initiatives for community engagement and supporting well-being,"  she said. To this end, she is currently planning, in collaboration with Hart House, a canoe-building initiative with an Indigenous artisan and activist that will be linked to curricular and co-curricular teachings on Indigeneity and water.
She looks forward to providing continuing support for the strong cluster of social justice programs at New College, while building on these programs to include responses to the recommendations in U of T's Truth and Reconciliation report. 
"At the college we're training people to imagine futures," she said. "We're supporting them in imagining how to make the world better."
UTC