By learning Kanien'kéha, U of T grad Andrea Johns launched a journey of self-discovery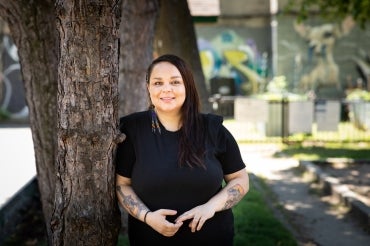 Andrea Johns heard the Mohawk language, Kanien'kéha, for the first time when she took an introductory class on the subject in her second year at the University of Toronto.
Yet, the words somehow felt familiar.  
The experience reminded her of something Murray Sinclair, the Ojibwe former senator, judge, and head of the Truth and Reconciliation Commission of Canada, said during a visit to campus a few years ago: When you speak your language, your ancestors wake up.
"It's a blood memory," says Johns, who is Kanien'kehá:ha/Mohawk, and a student in U of T's Indigenous studies specialist program.
"Your ancestors are speaking through you."
Through hours of practice, homework and oral exams – even a Star Wars-inspired instructional YouTube video, Johns developed a conversational-level proficiency in Kanien'kéha. That makes her the only person in her family to speak the language of her great-grandparents, she says.
The Woodsworth College student's journey of self-discovery at U of T began as a mature student after years of waiting tables and bartending. At age 29, Johns decided to attend university – more than a decade after finishing high school – in a bid to challenge herself and launch a career that involved helping Indigenous communities.
Now, as she prepares to graduate this week, Johns says her time at U of T gave her a deeper understanding of her identity, heritage and the language of her ancestors.
Johns entered U of T through the academic bridging program, which helps students acquire the essay-writing, research and other skills necessary to make the transition to first-year university courses in the Faculty of Arts & Science.
In her first year on campus, she won an award for a paper she wrote about the links between residential schools and the over-representation of Indigenous Peoples in prison. Like countless other Indigenous Peoples in Canada, Johns says she has a personal connection to the residential school system.
"Almost every Indigenous person that I know is in some way connected to the residential school system, whether they're aunts, uncles, parents or grandparents," she says. "They face intergenerational trauma because of the residential schools."
Johns's paternal great-grandfather Gowandehsonh lived in Six Nations of the Grand River. The reserve, near Brantford, Ont., is home to people of the six Haudenosaunee nations: Mohawk, Oneida, Cayuga, Seneca, Onondaga and Tuscarora.
Johns says Gowandehsonh was fluent in all six Haudenosaunee languages, although he seldom spoke any of them after experiencing abuse at the Anglican-run Mohawk Institute Residential School in Brantford, one of the oldest, continuously operated residential schools in Canada.
She says her great-grandfather was forced to attend the boarding school from his childhood to teenage years. Survivors of the school say they were fed oatmeal daily and still call it "the Mush Hole." In 1972, two years after the institute closed, it became the Woodland Cultural Centre, home to a museum, Indigenous art exhibitions and a language revitalization department. After a recent search of the grounds of a residential school in Kamloops, B.C. uncovered the remains of 215 children, members of Six Nations called for a similar investigation in Brantford.
For Johns and her family, one of the many consequences of residential schooling was a disruption in the chain of inheritance of Indigenous languages, traditional knowledge and shared history. She says she began to slowly reconnect with her roots in elementary school in Fort Erie, Ont., by getting involved with the Fort Erie Native Friendship Centre and attending her first pow wow at the former SkyDome (now Rogers Centre), where dancers performed under the stadium's open roof.
But it wasn't until she spoke Kanien'kéha for the first time in Ryan DeCaire's class at U of T that she felt truly in touch with her heritage.
"It's just something inexplicable," she says. "I felt more connected to the worldview and histories of the Mohawk people."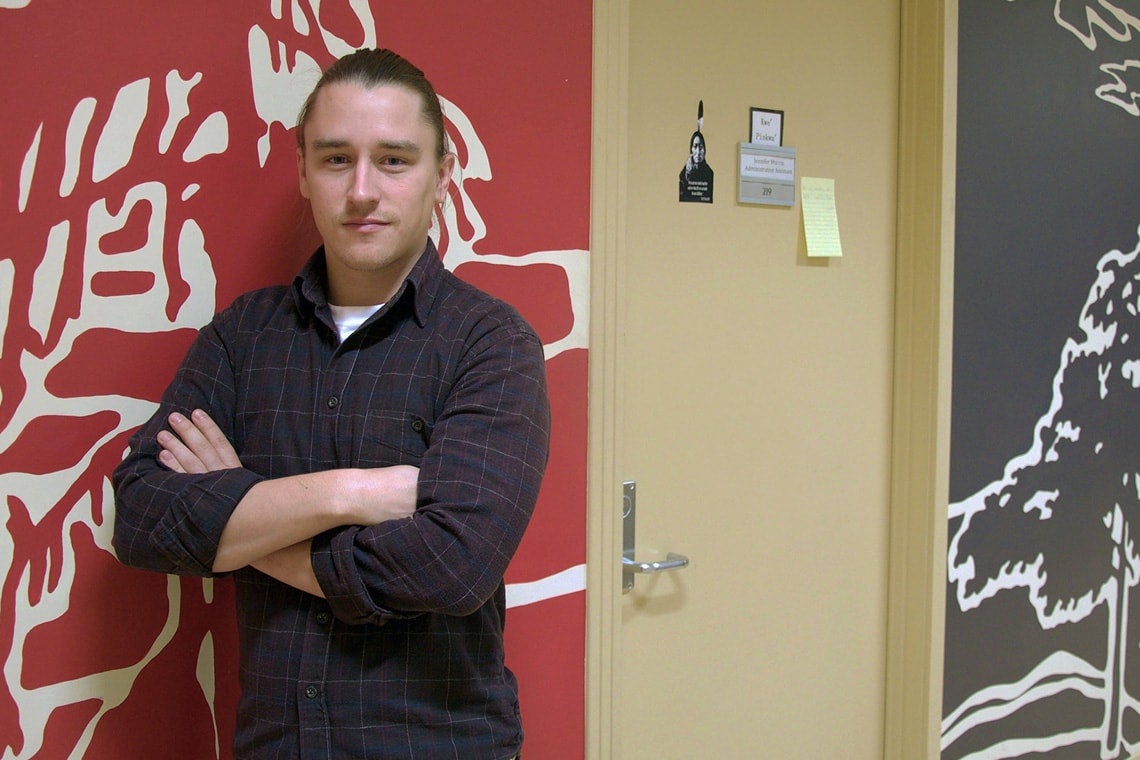 Ryan DeCaire, an assistant professor at U of T's Centre for Indigenous Studies and department of linguistics in the Faculty of Arts & Science, says there are only about 1,000 fluent speakers of Mohawk dialects alive today (photo by Diana Tyszko)
Johns says she was particularly drawn to the imagery of place names in the Mohawk language. For example, Tkaronto, the Mohawk root word for Toronto, translates to "the place in the water where the trees are standing." Johns also notes that there is less of a "sense of possessiveness" in the verb-based Mohawk language than in English. Instead of "my mother," she says, a Mohawk speaker would say, "ake'nihsténha," which literally means "she mothers me."
"When you speak these kinds of languages, and language shapes thought, you stop thinking about the world and how you own things and more about how you relate to things in the world and how they relate to you," Johns says.
In DeCaire, Johns found a teacher who had similarly developed a passion and proficiency with the language as an adult. The assistant professor at the Centre for Indigenous Studies and in the department of linguistics in the Faculty of Arts & Science was born and raised in Wáhta Kanien'kehá:ka Territory, east of Georgian Bay, and became fluent in the language through immersion-style learning and living with Elders. He joined U of T to teach an undergraduate class in Mohawk and help bring the language back from the brink of extinction.
At present, five Mohawk dialects are featured on UNESCO's interactive atlas of the world's endangered languages, with DeCaire estimating only about 1,000 fluent speakers are alive today – many of whom are older. Despite language revitalization efforts dating to the 1970s, "we're still losing speakers faster than we're making them," he says. "To make positive steps in revitalizing the language, we have to concentrate on young adults."
DeCaire's course made such an impression on Johns that she established an Indigenous Languages Club, where students could learn and practise Mohawk and Anishinaabemowin. The group held several get-togethers, including a documentary film screening, before COVID-19 resulted in restrictions on in-person gatherings last year.
In addition to introducing her to the language of her great-grandfather, Johns says the Indigenous studies program at U of T taught her about treaties and other Indigenous Peoples around the world. For three months, she studied at Ngā Pae o te Māramatanga – New Zealand's Māori Centre of Research Excellence – on a Queen Elizabeth Diamond Jubilee Scholarship. In Toronto, she also took an Indigenous music class in which students made their own hand drum from raw hide and deer skin. She was one of two recipients of the President's Award for Outstanding Indigenous Student of the Year in 2019.
Earlier this year, she landed a job with the Ontario Federation of Indigenous Friendship Centres, where she sits on a committee on Indigenous food sovereignty and helps Indigenous clients fulfil educational and employment goals.
Johns says her learning journey is far from over. She's planning a possible return to U of T for graduate studies in Indigenous trauma and resiliency at the Factor-Inwentash Faculty of Social Work. She's also teaching Kanien'kéha to her young niece and nephew.
"My great-grandparents were very persistent in believing that education was the way forward to take control of our own education," Johns says.
"There weren't many opportunities back then. I think they would be very proud to see I used education to improve my life and others'."
UTC