Kelly Hannah-Moffat takes on expanded role as U of T's vice-president, people strategy, equity and culture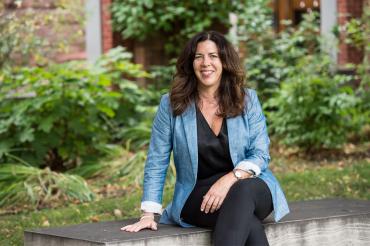 Kelly Hannah-Moffat, the University of Toronto's vice-president, human resources and equity and a professor in criminology and sociolegal studies and sociology, has been appointed to the newly created position of vice-president, people strategy, equity and culture.
The appointment for a five-year term – from July 1, 2021 to Dec. 31, 2026, including a six-month administrative leave – was approved by Governing Council Thursday.
Hannah-Moffat said she is looking forward to her expanded role, which includes an increased focus on equity, diversity and inclusion (EDI), community safety and emergency preparedness, human resources innovation and workplace wellness and culture.
"The prospect of continuing this work in an increased capacity is exciting and humbling," Hannah-Moffat said. "I am looking forward to collaborating across campuses and divisions as well as with the broader community. I'm also looking forward to strengthening our relationships with affinity groups, and our employee union and UTFA partners, who do incredible work on behalf of their members.
"I am excited to have the opportunity to think more about the future of work and explore questions like: How will work be re-engineered and transformed as the workplace evolves over the next five years? How can U of T lead in this area?"
Hannah-Moffat, who has been in her current role since 2016, added that U of T must continue to earn its place as a top employer of choice just as it works to uphold its status as a world-class institution for teaching and research.   
U of T President Meric Gertler said the decision to transform the human resources and equity role followed a review by an advisory committee – which he chaired – and consultations with stakeholders.
"Professor Hannah-Moffat's collaborative and principled leadership, as well as the work of her team, has created an excellent foundation on which to build for the future," President Gertler said.
"Her revised and expanded mandate will make it possible for Professor Hannah-Moffat to continue advancing the key strategic priorities – from promoting equity, diversity and inclusion to addressing more effectively the needs of staff in areas such as learning, leadership and wellness."
Hannah-Moffat said there has been significant progress in the support of leadership and learning initiatives in recent years, including the development of the Centre for Learning, Leadership and Culture, which is dedicated to furthering leadership capacity, staff learning and development, and establishing a workplace culture grounded in leadership excellence.
She said the university's steady adoption of new digital tools and technologies in its human resources, crisis and emergency preparedness and equity practices meant it was well positioned to respond to the COVID-19 pandemic.
"Over the course of a few days, we had to shift a community of 115,000 individuals to a work-from-home and study-from-home situation," she said. "Because we already had a strong foundation in areas like digital transformation, we were able to adapt and quickly start using new technologies to support faculty, librarians, and staff.
"The flexibility and creativity that people exercised under really stressful circumstances was impressive. I am incredibly proud of how all our human resources, high-risk, crisis management, labour relations and equity staff responded to a set of difficult issues that evolved daily – all while balancing their existing responsibilities, addressing new barriers to access and doing so amid global calls for action for social and racial justice."
She also highlighted efforts to strengthen the university's equity teams, including the appointment of Karima Hashmani to the recently created role of executive director of equity, diversity and inclusion.
"Recognizing our responsibilities in responding to the Truth and Reconciliation Commission, the Anti-Black Racism Task Force, the Anti-Islamophobia Working Group and the Anti-Semitism Working Group, we will continue to invest in and strengthen the equity portfolio so they can develop robust institutional supports for our community," Hannah-Moffat said. "Our ability to recognize and acknowledge that we have a lot of work to do – and to watch our community embrace the opportunity to do that work across all of the divisions and central portfolios – is something I'm very proud of.
"We have a strong foundation for continuing equity and diversity work, and I look forward to re-imagining our systems and practices to empower our community to thrive."
Going forward, Hannah-Moffat said her reimagined role will enable more support for employees engaging in complaints processes, create new pathways to leadership for Black, Indigenous and racialized employees, and focus on generating better equity data.
"We need good data to better understand the makeup of our community and look at issues around talent management, recruiting, mentoring, retention and hiring through an equity lens," she said. "Digital analytics and transformation will help us understand our community and provide information to the divisions so they can use it to inform their decision-making.
"I value evidence-based decision making. I think that when you combine a principle-based approach with evidence, you have a really strong foundation for building teams and cultures and moving the university forward in a way that exemplifies our excellence and creates a more inclusive environment."
Prior to being named vice-president, human resources and equity, Hannah-Moffat served as vice-dean, undergraduate and interim dean and acting vice-principal at U of T Mississauga. During that time, she also served as an adviser to the vice-president and provost and the vice-president, human resources and equity on sexual violence and crisis services.
A professor in the department of sociology at U of T Mississauga, Hannah-Moffat is cross-appointed to the Centre for Criminology & Sociolegal Studies in the Faculty of Arts & Science, where she previously served as director. She earned both her master's degree and PhD from U of T.
Alongside her work as vice-president, people strategy, equity and culture, Professor Hannah-Moffat will continue her interdisciplinary research focusing on human rights, criminal records disclosures, solitary confinement, AI and risk algorithms, punishment, risk-based discrimination and institutional risk management practices.
UTC