U of T launches working group to combat anti-Semitism on campus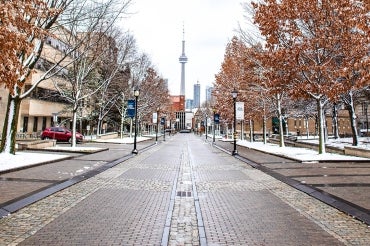 The University of Toronto has launched an Anti-Semitism Working Group to examine and address anti-Semitism on campus – and to ensure the university is an inclusive and welcoming place for Jewish members of its community.
The working group, whose contributions will form an integral part of the university's commitment to addressing systemic forms of racism across its three campuses, including Islamophobia and anti-Black racism, will make recommendations to U of T President Meric Gertler, Vice-President and Provost Cheryl Regehr and Vice-President, Human Resources and Equity Kelly Hannah-Moffat.
Led by Arthur Ripstein, a University Professor in the Faculty of Law and in the department of philosophy in the Faculty of Arts & Science, the working group will review the processes and practices in place to address anti-Semitism on U of T's three campuses and develop a framework to support the university's response to the issue. It will recommend ways to improve education about anti-Semitism and responses to anti-Semitic incidents, as well as propose new programs and initiatives to eliminate anti-Semitism on-campus.
It will also examine best practices at other large, research-intensive universities and consult with students, faculty, librarians and staff about how to create an inclusive environment that welcomes and supports community members who are Jewish.
"Our aim is to see to it that the university not only responds when there are incidents or allegations of anti-Semitism, but is also proactive in creating a culture of inclusion within which various forms of discrimination, including anti-Semitism, are better understood and tackled through education," Ripstein said.
"Anti-Semitism is like other forms of discrimination in some ways, and different from them in other ways. The point of having working groups that examine multiple types of injustice and discrimination in our university is to come up with strategies for dealing with not just the general problem, but also its particular manifestation."
"Anti-Semitism is a source of discrimination, harassment and hatred that undermines our values," Hannah-Moffat said. "U of T recognizes that we need to be more proactive and responsive to address it on our campuses.
"No form of discrimination is tolerated at the University of Toronto."
Ripstein said consultations with the U of T community will be key to the working group's efforts and that information provided by the community will help shape its recommendations.
"Our main work will be, in the first instance, listening to and seeking input from members of the university community. We want to hear about their concerns and instances of anti-Semitism of which they think we should be made aware," he said.
"As a university, the way we deal with problems is to study them. And so, our first task is going to be to study the problem and think about ways to manage it within the context of the university's broader commitment to being a place where difficult questions can be addressed and considered in a respectful and inclusive manner."
Ripstein invited members of the U of T community to share their feedback by emailing the Anti-Semitism Working Group at anti.semitism.working.group@utoronto.ca.
In addition to Ripstein, the members of the working group are:
Miriam Borden, PhD student, Department of Germanic Languages & Literatures in the Faculty of Arts & Science
Shauna Brail, Associate Professor, Institute for Management & Innovation, U of T Mississauga
Ayelet Kuper, Associate Professor, Department of Medicine, Temerty Faculty of Medicine
Faye Mishna, Professor, Factor-Inwentash Faculty of Social Work
Anna Shternshis, Al and Malka Green Professor of Yiddish and Diaspora Studies, Department of Germanic Languages & Literatures, Faculty of Arts & Science; and Director, Anne Tanenbaum Centre for Jewish Studies
Nouman Ashraf, Assistant Professor, Teaching Stream, Rotman School of Management
Anita Balakrishna, Director, Office of Diversity and Inclusion, Temerty Faculty of Medicine
Karima Hashmani, Executive Director, Equity, Diversity & Inclusion, Division of HR & Equity
Jodie Glean, Director, Anti-Racism and Cultural Diversity Office and Project Manager, Anti-Semitism Working Group
UTC