'It's OK to ask questions': Four tips for new and returning U of T students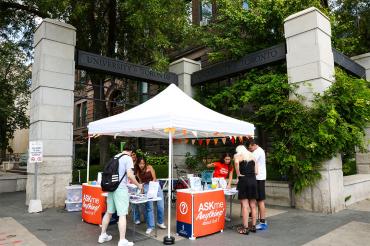 University of Toronto students are kicking off the fall term this week with in-person classes and orientation events across the three campuses.
It's the biggest-ever back-to-school season as incoming students – and some upper-year students who have attended university remotely until now – arrive on campus for the first time.
U of T News has rounded up a back-to-school starter kit of four key things new or returning students should know to help start the 2022-2023 academic year off on the right foot.
---
Need help navigating campus? Just ask!
How and where do I get my TCard? What are some gym and recreational activities at U of T? Where can I meet new people around campus? For new students, navigating campus can initially feel a little daunting. Fortunately, U of T's ASKme Anything booths and ambassadors are here to help.
The program is aimed at creating a friendly and welcoming community for students across all three campuses.
On the St. George campus, there are four booths set up near the Koffler Student Services Centre, the main campus gates on College Street, Sidney Smith Hall and Robarts Library until Sept. 23. There will also be hundreds of individuals on campus wearing an orange ASKme Anything button, who are ready and willing to assist students.
"ASKme has become somewhat of an icon of the back-to-school season," says Ashley Yim, an ASKme program assistant and student ambassador. "Our booths and student ambassadors not only make everyone feel welcomed on campus, but we also make everyone look forward to the new school year.
"The welcoming atmosphere is especially important for new students who are on campus, or even in Toronto, for the first time."
At U of T Scarborough, ASKme Anything booths will be located by the bus loop outside Highland Hall, at the front of the Student Centre and at the front of the Instructional Centre. There will also be ASKme ambassadors with orange buttons around campus to help students out. Some staff and faculty will participate by displaying ASKme signs in their offices.
On the U of T Mississauga campus, there will be individuals wearing ASKme Anything buttons from Sept. 3 to Sept. 23 at orientation and various events. Students are also encouraged to visit the Centre for Student Engagement front desk office to have their questions answered.
AskMe booth outside of the U of T Bookstore, St. George campus (photo by David Lee)
Yim, a U of T alumna of the Faculty of Arts & Science, says the ASKMe Anything booths and ambassadors create an inviting space for students while also sending the message that "it's OK to ask questions and reach out. In fact, we encourage you to do so."
"This way, new students will more likely make connections in the future, whether it's with their peers, instructors, staff or community members."
Students who need help navigating the three campuses can also access U of T's new campus map feature.
Remember to prioritize health and wellness 
U of T is home to a range of services and opportunities that support students' physical and mental health.
On the St. George campus, students have a variety of gym options including the Hart House Fitness Centre, Athletic Centre and the Goldring Centre for High Performance. Across the facilities, students can find swimming pools, strength and conditioning centres, indoor tracks, dance studios, cardio machines, tennis and squash courts and so much more. At U of T Mississauga, The Recreation, Athletics and Wellness Centre offers programs such as yoga to relieve stress, group fitness, women's only classes, personal training session and more. Athletics and Recreation at U of T Scarborough is similarly a hub of activity on campus, which is home to the Toronto Pan Am Sports Centre.
All three campuses offer an intramural sports program – a great opportunity to create or join a team, meet new people and stay physically active.
Self-care and wellness are also a key part of maintaining a healthy student lifestyle – and, across the university, resources include peer support from trained students, yoga clubs, and workshops on managing stress or studying smarter. Programming includes a Community Support Group, Mindful Moments classes, Better Coping Skills sessions and live cooking classes. Check out the Student Mental Health Resource for a tri-campus list of programs and workshops.
For students seeking mental health support, U of T has many virtual and in-person services and programs. Navi, short for navigator, is a chat-based virtual assistant that can be used to search all mental health services and resources offered by all campuses. The tool is accessible 24/7 and communication is anonymous.
U of T My Student Support Program (MySSP) offers 24-hour support for any school, health or general life concern. Students can access it by downloading an app or by calling 1-844-451-9700 (for outside of North America, call 001-416-380-6578). The service is available in 146 languages.
Seek out places to find your community
Making connections at university goes well beyond the classroom. From hundreds of clubs and student groups to volunteer opportunities, events and more, all three U of T campuses are home to extensive programming to help find your community.
At St. George, Student Life is a great first stop for mentorship and peer programs that offer support from upper year students, coaching skills and opportunities to network and make connections. Programs include Latin American Student Engagement, African Black Caribbean Student Engagement, Southeast Asian Student Engagement, First Generation Student Engagement and more.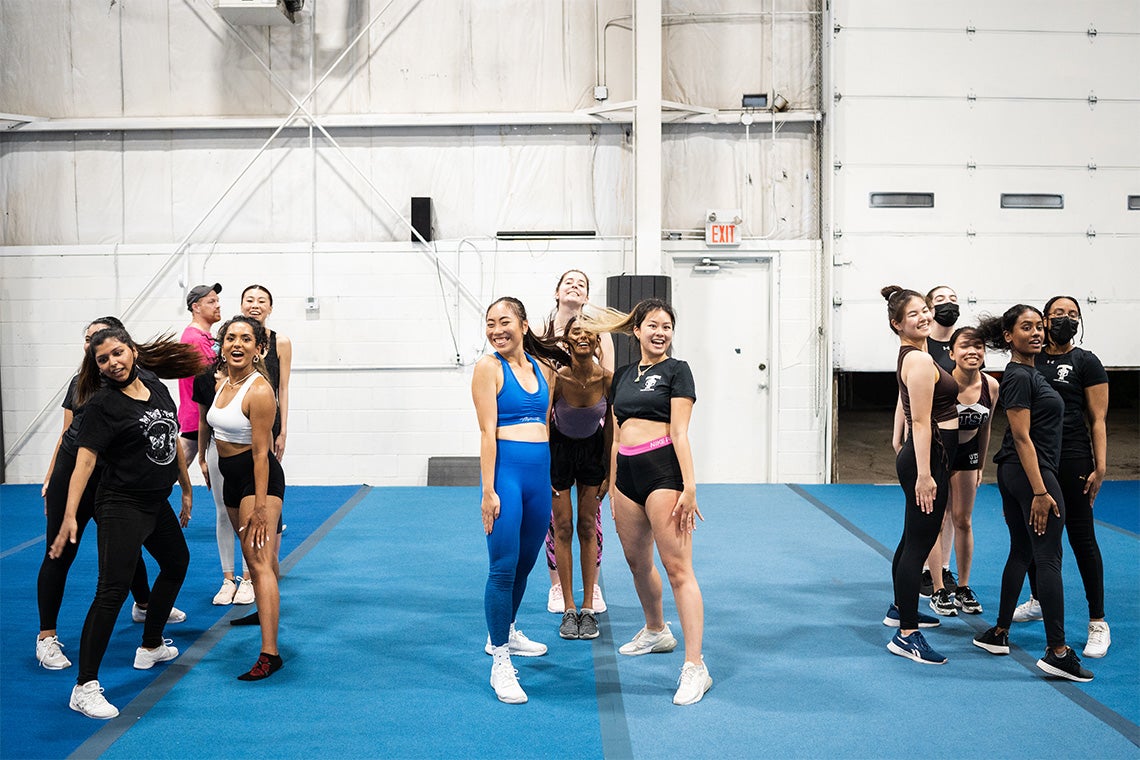 U of T is home to hundreds of community-oriented clubs and student groups, including UTSC Cheer (photo by Geoffrey Vendeville)
On Sept. 8 from 11 a.m. to 12:30 p.m., undergraduate students are invited to attend a virtual workshop called Talking to New People. The session is meant to help students who may be feeling anxious or fearful about making new connections at university. And, on Sept. 12 from 1:30 to 2:30 p.m., a learning strategist will lead a virtual workshop called Planning for the Semester, which will focus on helping students create strategies to manage the semester workload.
For more workshops and events, check out the Student Life calendar.
Another key destination is Hart House, a student centre on the St. George campus that offers programming and clubs ranging from archery and debate to photography and chess – all housed in a beautiful, century-old building.
For Indigenous students, First Nations House at the St. George campus is an important cultural hub. The space offers academic support, opportunities to meet with Elders and traditional teachers for support and guidance, financial aid advising and other services. On Sept. 14, First Nations House will host an Indigenous student orientation from 3 to 5 p.m.
At U of T Mississauga, the Indigenous Centre invites students, staff and faculty to ongoing monthly lunch and learn for an informal chat about Indigenous cultures.
The Indigenous Outreach Program at U of T Scarborough, meanwhile, provides students learning opportunities and resources as well as a chance to meet with Elders and traditional teachers for guidance and support (A dedicated Indigenous Centre is under construction).
Be conscious of online and campus safety
With several scams targeting students, it's more important than ever to safeguard your personal information.
Shannon Howes, director, high risk, community safety and crisis and emergency preparedness at U of T, says students should be aware of scare tactics used in emails, text messages and phone calls.
"Legitimate government organizations and law enforcement agencies will never threaten you in exchange for payment of funds," says Howes.
When contacted by someone, Howes recommends stopping whatever you're doing, taking a breath and evaluating whether what you're being told to do actually makes sense.
"Is this an organization that you normally deal with and is known to you? Is this a person who you actually know in real life? Does what they're asking you to do make sense? If the answer is no, talk to someone you trust about the situation before you take any action."
Howes adds that scammers have ways of changing the call display on a phone to say things like "police" or can create spoof email accounts to trick users into thinking a message is coming from someone who they trust.
"Be aware of receiving offers from people you do not know, jobs you didn't apply for or prizes from contests you didn't enter," she says. "If an offer sounds too good to be true, it usually is."
Students should watch for job scams, rental scams, law enforcement impersonations and phishing scams, Howes says, adding that students who wish to discuss any safety concerns can book an appointment to meet with a community safety case manager at U of T's Community Safety Office.
"The office also has a has a dedicated Fraud Prevention Page on its website with information about different types of frauds and scams, fraud prevention tips, tips for safety on social media and a list of resources and supports available," says Howes.  
Security Matters – U of T's security awareness and education initiative – publishes regular blog posts, news and educational resources including helpful tip sheets.
Also available to U of T students are Phish Bowl, which provides examples of recently reported phishing incidents, and Housing Services – a resource for the St. George campus that provides workshop and assistance to individuals seeking housing or dealing with housing issues.
Safety is a priority across all three U of T campuses. The U of T Campus Safety app features emergency contacts, tips, support services, and a live chat feature that connects users with U of T safety staff in real-time. App users can also use a Mobile Bluelight feature which sends the user's on-campus location to the safety team in case of a crisis. Other features include TravelSafer, which allows safety staff to monitor a user's walk on campus, and Friend Walk, which allows a trusted contact to monitor your walk anywhere in the world.
As well, students and all current members of the U of T community are automatically subscribed to UTAlert – a service that allows the university to send important messages via email and text. 
UTC