'An inclusive space': U of T Scarborough breaks ground on Indigenous House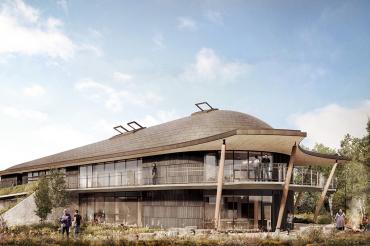 Construction is about to begin on Indigenous House, a new gathering place at the University of Toronto Scarborough that's dedicated to learning about Indigenous culture and ways of knowing.
The 10,700 square foot (994 square metre) building, located on a sloping piece of land south of the Instructional Centre on campus, will overlook the surrounding Highland Creek ravine.
Professor Wisdom Tettey, U of T vice-president and principal of U of T Scarborough, says Indigenous House is a reflection of the university's commitment to addressing the calls to action of the Truth and Reconciliation Commission of Canada.
"Indigenous House will be an iconic building that will bring together our Indigenous and non-Indigenous communities, and will be an inclusive space honouring Indigenous ways of knowledge locally and from across Turtle Island." 
He also praised the work being done by U of T Scarborough's Truth, Reconciliation and Indigenous Initiatives Committee on various initiatives that, in addition to Indigenous House, are examples of the campus upholding and strengthening commitments outlined in its strategic plan Inspiring Inclusive Excellence.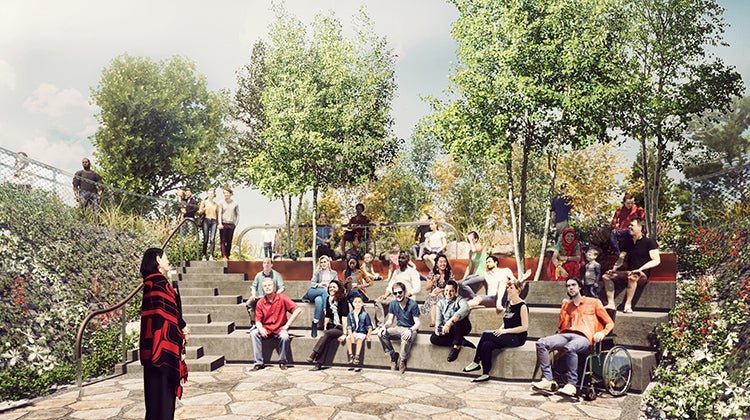 The building will feature a sunken learning garden, as well as edible and pollinator gardens (image courtesy Formline Architecture and LGA Architecture Partners)
Shannon Simpson, U of T's director of Indigenous initiatives, and Michael White, director of U of T's First Nations House, recently performed a ceremony to prepare land for construction. The blessing acknowledged, honoured and paid respects to past, present and future activity on the land.
Plans for the two-storey building include office space for the campus Elder, a large and a small circular gathering space to host ceremonies, and flexible research spaces that will allow faculty to undertake scholarship in areas such as language preservation and revitalization.
It also includes additional office space, a student lounge, library, teaching kitchen and multi-purpose space. Heat sensors inside the building will replace smoke detectors to permit the practice of smudging – a cultural practice involving the burning of sacred plants.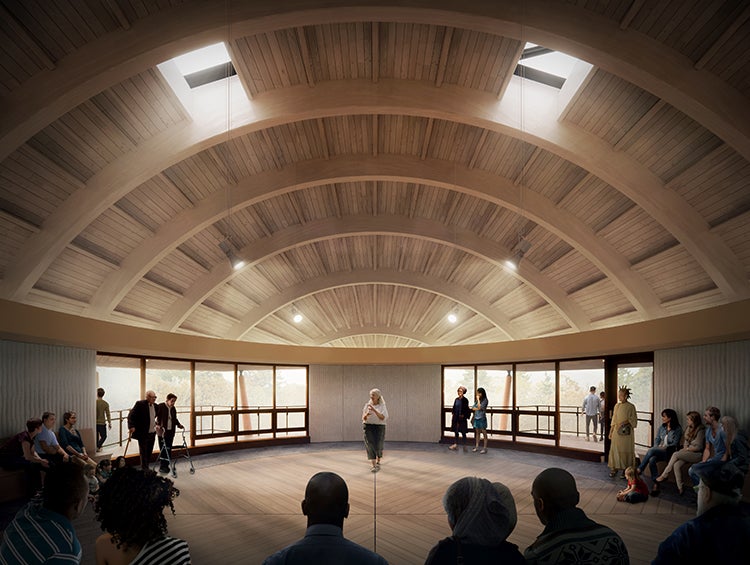 Indigenous House will include a large gathering room to host indoor ceremonies (image courtesy Formline Architecture and LGA Architecture Partners)
The large circular gathering room will open onto an observation deck overlooking a garden with birch, tamarack, and eastern white pine trees, as well as native plants with cultural significance for local Indigenous communities. There will also be a sunken learning garden, as well as edible and pollinator gardens with space for fire and gathering circle activities.
"Historically, Indigenous people haven't found places like this within an institution, a place where they feel like they belong," says Kelly Crawford, assistant director, Indigenous initiatives at U of T Scarborough.
"This building is about getting people to come together. It respects and celebrates an Indigenous worldview."
Taylor Tabobondung, a second-year PhD student in the department of physical and environmental sciences, says he's looking forward to a space where the Indigenous community can gather, share and learn together.
"As a proud Anishinnabek and UTSC student, I am excited to finally have a space that is intended for the practice and acknowledgement of Indigenous cultures," he says. 
Indigenous Elders, knowledge keepers, students, faculty, staff and local Indigenous communities have taken part in a consultation process that included suggested uses for the space and advising the architects on aspects of the building's design.
Alfred Waugh, principal architect at Formline Architecture, the firm designing the building along with LGA Architecture Partners, says the space will be an homage to local Indigenous cultures.
"The building will rise out of the earth intimately integrated with the landscape," says Waugh, a member of the Fond du Lac Denesuline Nation of Saskatchewan.
He says the design is inspired by a traditional winter wigwam and longhouse that used thickly insulated roofs and central campfires built within the foundation that allowed the building to retain heat. Indigenous House takes inspiration from these structures by drawing fresh air from outside and passing it through an underground intake to help cool the space during summer and warm it in winter.
The design also includes a curved glulam diagrid – a type of laminated timber that supports the roof – which resembles the interior of a wigwam. 
Andrew Arifuzzaman, U of T Scarborough's chief administrative officer, says he is excited the campus will offer a space for people to gather and learn about Indigenous cultures and ways of knowing, adding that few such places currently exist in the eastern GTA. 
"This new addition to our campus will serve as a welcoming space to bring together and celebrate Indigenous and non-Indigenous ways of life," he says. 
"It's also a reflection of our campus master plan that envisions spaces that are welcoming and inclusive for all."
UTSC