Iron Chef: Meet the competition
The crème de la crème of student chefs from the University of Toronto and three other universities will compete at U of T in an Iron Chef-style cook-off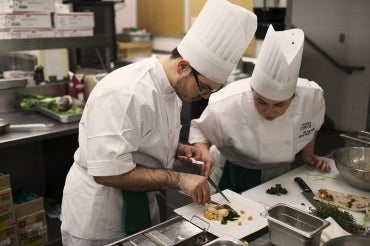 Using a black box of ingredients, the teams will have to prepare an appetizer and main course to impress the judges.
For the first time ever, the University of Toronto is hosting the annual Iron Chef competition. U of T News is following the student chefs chosen to represent the university in the culinary cook-off against the University of Massachusetts Amherst and other schools on Feb. 24–26.
Here's who U of T will face in the competition:
McGill University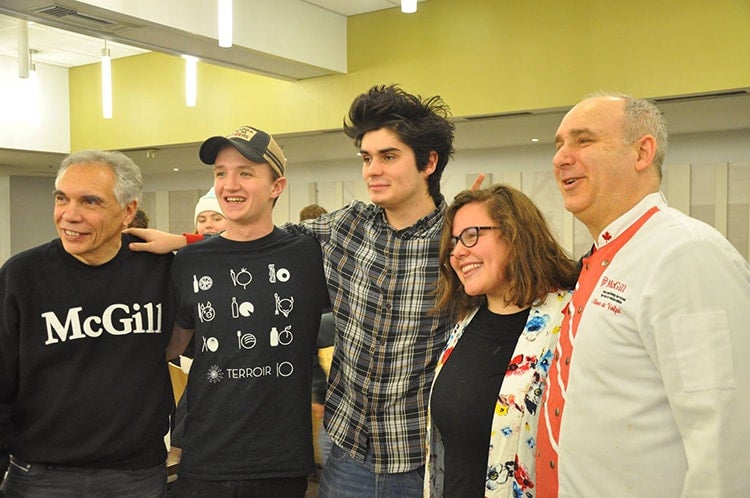 McGill University's executive chef Oliver de Volpi (right) with winners of the Rez War culinary competition between McGill residences (photo courtesy of Oliver de Volpi)
The Iron Chef contest arose from a culinary contest between 10 McGill residences. The competition grew to include other Canadian and American universities in 2014.
"I'm sure we're going to win this year," said McGill's executive chef Oliver de Volpi, "but then I'm sure every year." 
McGill picks its team by holding a preliminary round between the university's residences so the students are all in their first year. They've been training in the residence kitchens since early February.
Typically in the practice sessions, the students prepare the dishes on their own while the university chefs chime in with advice.
The team's chances are good this year, according to de Volpi, because each student is a natural in the kitchen. That said, he expects the competition to be stiff, especially UMass-Amherst.
"I'd like it if one of these Canadian teams takes them to the cleaners," he said.
University of Massachusetts Amherst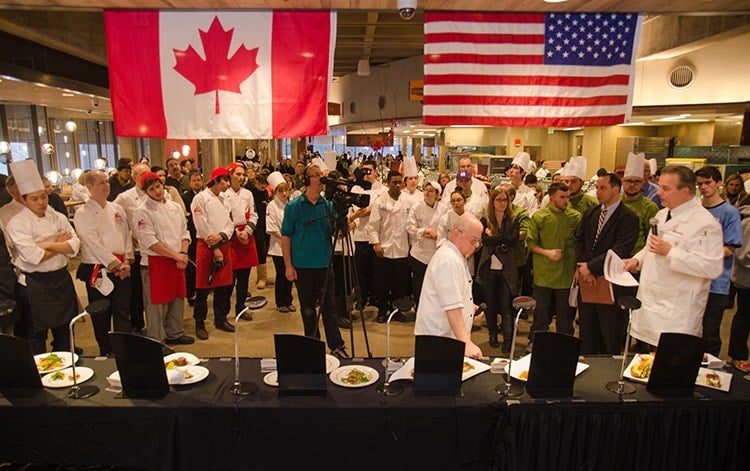 University of Massachusetts Amherst hosted the competition two years ago (photo courtesy of Anthony Jung)
UMass's record speaks for itself. They were champions last year and in 2014, and finished second to Yale when UMass hosted in 2015. UMass also topped a national university ranking last year for best campus food. 
The credo on campus is "healthy, sustainable and delicious," according to the university's Executive Director of Auxiliary Enterprises Ken Toong. 
They pick their Iron Chef team from students in the Hospitality & Tourism Management program and those who work in the dining commons. 
Their coach, Anthony Jung, was described by a colleague as the "Michael Phelps of cooking" because he has won a dozen gold medals in culinary competitions.
The Iron Chef contest gets tougher every year, he said.
"To be honest, all the schools do so well that the difference between gold and silver is really small. It's a crapshoot." 
University of Ottawa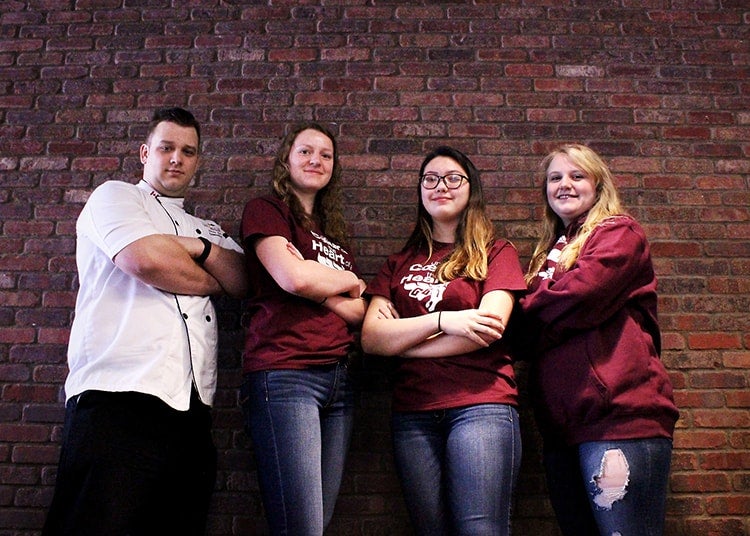 The University of Ottawa Iron Chef team finished second last year. They're back this year and going for gold. From left to right: Nicholas Namespetra, Anna Weber, Courtney Azure and Lindsay Trottier (photo courtesy of Isabelle Mailloux-Pulkinghorn)
The University of Ottawa came close to tasting victory last year, finishing as runner-up to UMass.
After fending off challengers in two qualifying rounds, the same uOttawa students from last year are coming back to Iron Chef for seconds. The university's executive chef Nicholas Namespetra described his team as strong contenders: "They have a great imagination and strong grasp of flavour profiles." 
Courtney Azure, a member of the team and a biomedical sciences student, wished her rivals good luck.
"It's just a competition. It's about having fun, not winning," she said.
But she couldn't resist throwing a little shade: "But, I guess look out because we're a pretty strong team." 
U of T News