Introducing Susan Hill, director of the Centre for Indigenous Studies at U of T
"Our mission goes far beyond an academic one. We've been charged with assisting with institutional change."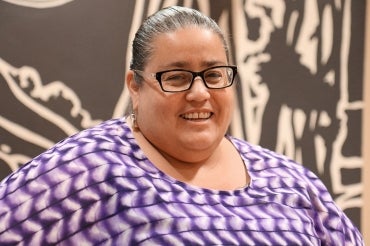 Susan Hill says she's learning about the depth of her responsibility as she takes on her new role as director of  U of T's Centre for Indigenous Studies.
"This institution is crazy – in a good way. It's a very eclectic mix," says Hill, referring to U of T's size, diversity of programs and "highly intellectual" atmosphere.
Hill, who started at U of T on July 1, will be overseeing the administration of the centre, as well as working with the wider university community to help improve Indigenous education across faculties and departments – an initiative that came out of U of T's Truth and Reconcilation report.
First, though, she needs to get to know her new colleagues – and the students.
"I want to get a sense of where it is people aspire to go," she says. "I've got my own ideas about that, but as team leader you've got to know what the team wants, what the team is capable of, and what works in the framework."
Hill joins U of T as it works to build a better relationship with Indigenous people.
She is a Haudenosaunee citizen of the Wolf Clan, Mohawk Nation and resident of Oshwe:ken, Grand River Territory. Hill earned a PhD in Native studies at Trent University after completing a master's in American studies from the State University of New York at Buffalo. Her research focuses on Haudenosaunee land history, Indigenous research methodologies, and ethics and Indigenous education.
Prior to joining U of T, Hill was an associate professor in the department of history and director of First Nations Studies at Western University. A self-described "history geek," her research has focused on land tenure at Six Nations – exploring how Six Nations people held land in the community, what their responsibilities were in the process and how it all connects with traditional stories about what it means to hold the land.

Students gather in Turtle Lounge in the Centre for Indigenous Studies in the North Borden Building (photo by Aaron Mason)
"The Centre for Indigenous Studies is in good hands with Professor Hill," says Keren Rice, who was interim director of the centre and part of the search committee that hired Hill.

"She will be a force in changing the University of Toronto in this time of focused attention on truth and reconciliation and what it means for education at U of T," says Rice.
Growing up in rural Michigan, Hill says she had little connection to other Indigenous people, or her family and home community where she lives now in Six Nations.
"I wouldn't really say I had a sense of what it meant to be a Native person until I went to university. Obviously I knew my family, but in a larger sense of what it meant to be a Native person in larger society, I didn't have that until I went to university," says Hill.
She says she went to university to study architecture, but found a passion for Indigenous history and scholarship that she has remained committed to ever since.
For a long time, she says, the study of Indigenous people and culture was dominated by non-Indigenous scholars – mainly anthropologists and some historians – known as the Iroquoinists. Hill says the political implications and legacy of this research negatively impacted Indigenous communities.
Over the past decade, however, Hill says that academic legacy has begun to shift and evolve.
"I think that the institution has a better understanding of Indigenous scholarship than they did a decade ago," she says. "Certainly the national climate as well has encouraged all institutions to rethink how they do things."
As part of this rethink, Hill says her new department has been tasked with assisting with institutional change as U of T responds to the calls to action from its Truth and Reconciliation steering committee's final report.
One of the new initiatives Hill says she's excited about is a new humanities and social sciences course, "Introduction to Indigenous Truth and Resilience," which has a focus on local lands and peoples and will be taught by Amos Key Jr.
Hill says there will also be two new faculty hires, including one new instructor cross-appointed with the religion department  to help others understand Indigenous world views, starting with creation stories and other aspects of cultural histories. The second instructor will teach Indigenous studies and do outreach in other departments and academic units to help with curriculum development.
"We'll make sure it works for us and for our students and also aligns with the developments in the field," says Hill of these new initiatives. 
Research will be another major focus for the centre: Hill says she wants to expand opportunities for students and faculty to do community-engaged research and work with external partners.
Hill, a strong believer in broadening students' horizons and perspectives, says she's also looking forward to visiting speakers to U of T this fall, including American environmentalist, economist and writer Winona LaDuke and child welfare advocate Cindy Blackstock.
Hill recalls being inspired as an undergrad in Michigan by hearing Wilma Mankiller talk about her experiences as Chief of the Cherokee Nation.
"That opened my eyes to a bigger world," she says.
"That's what university is all about: encouraging the entire community to think about what's happening in other places – even in this place – and the public aspect of the institution."
UTC