New Indigenous studies expert uses song and dance to bring class to life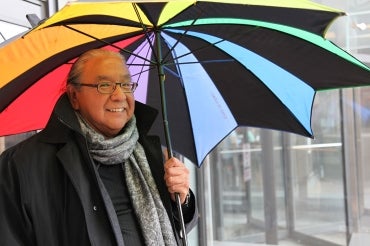 Round and round the students go, dancing in a circle as their instructor leads them in a call and response song. No one gets left behind. 
Amos Key Jr., an assistant professor at the Centre for Indigenous Studies and department of linguistics, just joined the Faculty of Arts & Science last summer. But  already he's developed a reputation among students as someone whose classes you don't want to miss. 
He shows his students some videos of Pow Wow competitions, pointing out his favourite dancer from Saskatchewan and aspects of the dancer's regalia – a golden eagle visor, a bustle made of eagle wings, and a headpiece made of porcupine and deer tail. 
"My people are told that we're dancing for the creator so you want to be as beautiful as you can for him, or her," Key Jr says.
"The class is great," says student Harry Zhang. "The culture is fascinating, and I'm happy to get a chance to learn about Indigenous music." 
Key Jr. is a member of the Mohawk Nation at Six Nations of the Grand River in Brantford, Ont. For more than 30 years, he has been an activist and educator who has been engaged on work to highlight Haudenosaunee peoples in Ontario. 
He also founded the First Nations Language department at the Woodland Cultural Centre in Brantford, where he continues to work today. 
 As a teenager, Key Jr. travelled three hours by bus just to get to and from the high school, from his First Nations community.
"I love education. I love people," he says. "I was highly motivated, even then." 
Key Jr. says he wants to see U of T become a leader in Indigenous research in Canada.  
"I'm encouraging our Centre for Indigenous Studies (CIS) at U of T to become a think tank," he says.
Through data collection and evaluation, he says, he'd like the CIS to keep track of data in order to keep some sort of "barometer for how well Canada is doing in its relationship with the First Peoples of this country." 
Key Jr. says there are three themes he's focusing on in his classes: debunking the idea of a monolithic "culture" as a way to identify Indigenous people, examining the role of colonial and traditional theology, and examining how Canadian law and practice applies to Indigenous people. He tries to keep the class engaging and reflective of Indigenous tradition.
"Our music always includes dance," he says. "We don't go somewhere to see someone sing in a concert. That's rare."
The classes he teaches at U of T include: "Politics and Process of Reconciliation in Canada", "Indigenous Music: Technical and Theoretical Aspects" and "Special Topics in Indigenous Language." 
"Amos Key Jr. has been engaged in work to highlight Haudenosaunee civilizations over a long period," says University Professor Keren Rice, chair of linguistics and interim director of the Centre for Indigenous Studies at U of T. "He is an activist who is highly regarded for the depth and breadth of his knowledge, his creative thinking, his substantial contributions to his communities and his ways of working with people.
"He brings us the wisdom of an Elder, a love of teaching and learning, a sense of humour, and a drive to enrich his world. He brings a remarkable background to the University of Toronto."