Indigenous students to take centre stage in powwow at U of T
Powwows have been a part of Ziigwen Mixemong's life for as long as she can remember – longer, in fact. 
You could say she owes her existence to the tradition since her parents met while organizing a powwow about 20 years ago. She got her first glimpse of one when she was just a few months old.
She was too young to walk, let alone take part in the singing, dancing and drumming. But she will have a central role in the powwow organized by the Indigenous Studies Students' Union at the University of Toronto on Sunday.
She is the membership co-ordinator of ISSU and will be the head female dancer at the event. Organizers are aiming to top last year's powwow, which was the first at the university in decades and drew hundreds of people. 
The theme is once again "Honouring our students," and Mixemong says the event comes at a critical time. Across the country, Indigenous Peoples are struggling with the acquittals of two men in separate cases who were charged in the deaths of 22-year-old Cree man Colten Boushie and 15-year-old Anishinaabe teen Tina Fontaine. Many saw the verdicts as reminders of how the courts continue to fail Indigenous Peoples and of the violence that Indigenous youth face.
"We've just been bombarded by this horrible, horrible news," says Mixemong, a second-year Indigenous Studies and Equity Studies student (seen below, in a photo by Grace Webster).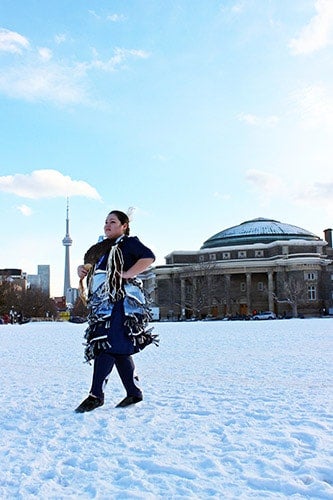 "So many of our youth are dying. Again, the powwow is about honouring our youth, honouring our students, and telling them that they are important."
The verdicts had such an impact on Mixemong, a member of the Potawatomi and L'nu Nations, that she left campus and went straight home. In the following weeks, her spirits have been lifted by volunteer orientation sessions for the powwow, where she has seen non-Indigenous people show interest in First Nations' cultures and teachings.
Her mom Kelly Brownbill led a session on Wednesday, explaining the special roles at a powwow, including the emcee (Bob Goulais), host drum group (Smoke Trail) and guest drums (Old Mush, Young Creek and Charging Horse).
"My mom did Powwow 101," says Mixemong, "but if we reach one person, and they go beyond that to educate themselves more, then we're ending that perpetuation of ignorance.
"That's where reconciliation is going to come from – when people understand."
The arena director is Austin Mixemong, Ziigwen's father. The head male dancer is Amos Key Jr., an assistant professor at the Centre for Indigenous Studies and department of linguistics. Key Jr., a member of the Mohawk Nation at Six Nations of the Grand River in Brantford, Ont., is known for enlivening his classes with powwow videos and music.
The March 11 powwow at U of T will also feature Métis jiggers, Aztec dancers and Inuit drummers and throat singers.
Since organizers anticipate a larger crowd than last year, they are hosting the event in the Goldring Centre for High Performance Sport.
Jennifer Sylvester, a master's student and head of the powwow committee at ISSU, says this year's event is "by students and for students" – and not just those already enrolled at U of T. 
"Young children who come the day of the powwow, they'll say, 'Look at all those Indigenous faces. They did this. I want to be here because I'm represented here," she says.
Sylvester was told by school counsellors before graduating high school that she wasn't fit for university. She came to U of T through the Transitional Year Program, a stepping stone to becoming an undergraduate student. She earned a bachelor's degree while raising her son as a single parent and is now working toward a master's in social justice education at the Ontario Institute for Studies In Education. 
Sylvester says she, too, was deeply disappointed by the verdicts in the Boushie and Fontaine cases. "I felt like we had gone back many years in regards to reconciliation. I feel like a reset button had been pressed," she says.
But all the preparation for the powwow has given her hope, she adds.
If people who attend the powwow learn anything from the experience, it's this, says Mixemong: "I just hope they take away that Indigenous culture is about love and respect, and that's valuable no matter what."
UTC