'We need change': Calls for action after verdict in Tina Fontaine death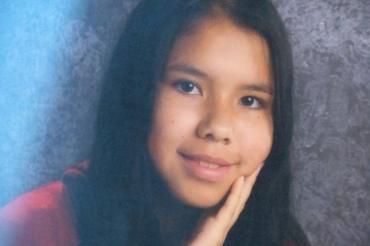 After Raymond Cormier was acquitted in the murder of Indigenous teenager Tina Fontaine, Manitoba Keewatinowi Okimakanak Grand Chief Sheila North said, "the systems, everything that was involved in Tina's life, failed her.
"We've all failed her. We as a nation need to do better for our young people."
Fontaine had been reported missing while in the care of Child and Family Services in Winnipeg more than a week before her body was found in the Red River, wrapped in a duvet cover weighed down with rocks.
Her death in 2014 at the age of 15 sparked a public outcry that helped launch the National Inquiry into Murdered and Missing Indigenous Women and Girls.
"We have a system that trafficks Indigenous children, especially in the cities," said Karyn Recollet, an associate professor of women and gender studies at the University of Toronto.
"We look at Winnipeg, we look at Toronto and we're seeing children being housed in homes that are just not safe."
Police and child welfare services in Winnipeg had contact with Fontaine in the days before her death – and both failed to protect her, Recollet said.
"Even though she was filed as a missing person, each of these systems never really paid much attention to her or what her needs would have been in those moments."
Racialized violence is reaching a dire space, said Recollet.
"It's very scary right now," she said. "I know a lot of us are feeling very scared for our children, a lot of us are feeling very angry. We're just trying to make sense out of that even though it's nonsensical."
Fontaine's death highlighted the terrible situation many Indigenous women and girls face in Canada, said Suzanne Stewart, associate professor at the Dalla Lana School of Public Health and director of the Waakebiness-Bryce Institute for Indigenous Health. Not only do they have less access to services, "they experience racism and discrimination whenever interacting with anything to do with the mental health or social service system," she said.
"[Fontaine] was someone who needed numerous supports in her life and wasn't able to access those because of her identity."
Stewart said she would like to see Indigenous communities have more autonomy regarding child welfare. "When aboriginal communities have control over their own child welfare structures, less children are in care," she said.
Change is necessary to improve the lives of Indigenous Canadians and it has to start with policy, said Stewart.
"Changing the policies and laws to ensure that racism and discrimination and access to equity and justice and health are created and enforced – people aren't going to take up these things on their own," she said. "Slavery of Black people, for example, was socially acceptable and morally acceptable until the law changed and said it was against the law and you can't do it and people's minds started to change."
For Indigenous communities in Canada, Fontaine's death was proof that change is not coming quickly enough, Stewart said.
"People in the Indigenous community feel that the rest of Canadians don't actually care about what happens to Indigenous women who are exploited, abused or murdered," she said.
"It's not part of the fabric of the consciousness or the moral fibre of Canadian society or Canada as a country to care about Indigenous women."
The Cormier acquittal comes almost two weeks after a jury in Saskatchewan acquitted Gerald Stanley of the second-degree murder of Colten Boushie, a 22-year-old Cree man from the Red Pheasant First Nation.
"There is anger in the community regarding the two verdicts," said Jonathan Hamilton-Diabo, director of Indigenous Initiatives at U of T. "There have been vigils throughout the country; however, it seems that the reaction to the Tina Fontaine trial is different. Community members seem to be more determined to make sure that change occurs."
The injustice against Indigenous Peoples needs to stop, said Wendy Phillips, Indigenous Elder at U of T Scarborough. 
"It's with great sadness to send our love and our condolences for Tina Fontaine and her family," said Phillips, adding that she encourages students, staff and faculty to contact Student Life for support. "We need change and the calls to action will need to be addressed."
Students seeking support can also contact First Nations House or visit safety.utoronto.ca.
Out of the tragedies of the deaths of Boushie and Fontaine has come a deeper kinship among Indigenous communities, said Recollet.
"Tina could be any of our daughters, Tina could be any of our nieces," she said. "We're seeing this embodied kinship that's coming out and some of the languages of care we're using to show our love for the family.
"I think the rest of society should really pay attention to that. Those are the decolonial strategies that we're going to need to ensure futurity for Indigenous folks on Turtle Island." 
UTC