#UofTGrad17: Indigenous student leader shares her story to inspire others
"Connecting to my Indigeneity is what really allowed me to soar in my academics"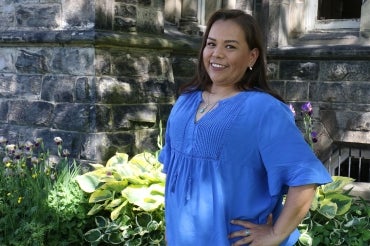 As a teen, Jennifer Sylvester was told by school counsellors that she wasn't cut out for university.
Now as she prepares to graduate from U of T and start her master's degree in the fall, Sylvester says she hopes her story will inspire others.
"Especially Indigenous single mothers who don't think they can do it − I want them to know it can be done," says Sylvester, who will cross the stage at Convocation Hall next week.
When the Indigenous studies major picks up her diploma from Canada's top-ranked university on June 20, she'll have a lot to be proud of, her professors say.
Sylvester has served as president and communications coordinator for the Indigenous Studies Student Union (ISSU). Earlier this year, with the help of her ISSU team, she helped organize a major powwow that drew hundreds to the downtown Toronto campus − the first of its kind at U of T in 20 years. It was a massive undertaking that helped the ISSU win the Arts & Science Student Union's Course Union of the Year Award.

A dancer dazzles in her brilliant regalia at the student-organized powwow at U of T earlier this year (photo by Hannah James)
Sylvester also helped encourage the U of T Bookstore to carry Indigenous Studies hoodies and spoke at the Faculty of Kinesiology & Physical Education's annual She Talks panel about the calls to action from the Truth and Reconciliation Commission's final report.
At the recent First Nations House graduation ceremony, Sylvester was recognized for her work in U of T's Indigenous community.
And she accomplished all of those things while taking a full course load and raising her son as a single parent.
"It's been my fortune to get to know Jennifer this year," said Professor Keren Rice, interim director of the Centre for Indigenous Studies. "Her energy, insight and vision strike me every time I talk with her – she stands out to me as someone truly extraordinary."
For her part, Sylvester says, she never expected to hear such accolades.
Sylvester's home community is Beausoleil First Nation (Gchimnissing), near Georgian Bay. But she grew up in Toronto and attended Catholic school.
She says she often felt like she had to mask her Indigeneity to fit in – even though her mother, the actor and filmmaker Ellen Monague, was very active in the Indigenous arts scene in Canada. Growing up, she says, it wasn't unusual to find big stars like Graham Greene socializing with her parents in the living room.
When it came time for her to graduate from high school, Sylvester says that she was told by school counsellors that she was not cut out for university and would do well to find clerical work.
She found a clerical job in a social work agency and worked her way up to becoming a housing advocate for homeless and recently-housed clients. While she says the work was rewarding and she was supporting herself, she wasn't happy.
"I knew there was something more inside of me that I was meant to do," she said.
Every time she told her mother she wanted to go to university, her mother would keep telling her, "Just do it!"
The demands of her job and not taking care of her health led her to take a stress leave. Then, her mother died. Sylvester sank into depression.
"The doctors said, if you don't change your lifestyle you will die," she said.
It was a warning she took seriously. She enrolled in U of T's Transitional Year Program (TYP) as a stepping stone to becoming an undergrad. After trying different areas of study – English, philosophy – Sylvester found Indigenous studies.
"I could finally see myself reflected in the course material," she said. "That's when I first found myself and my voice on campus," she said.
For the past six years, Sylvester has juggled parenting with academics and other extracurricular activities. She says she spent many nights studying until two or three in the morning while her son slept.
Throughout it all, Sylvester says, she heard her mother's voice. 
"Her voice still sticks in my head and when I hit challenges and roadblocks, I hear my mom saying, 'You can do it, Jen. Just do it.' That sticks with me when people tell me it can't be done."

Jennifer Sylvester (fourth from the left) with the Indigenous Studies Student Union and volunteers at the powwow, held in U of T's Athletic Centre. The student union – only in its second year – won the Arts & Science Student Union's Course Union of the Year Award this year (photo by Hannah James)
Sylvester says she is grateful to the people who supported her though a challenging, hectic and rewarding journey.
They include Rice, Assistant Professor Ryan DeCaire, who taught her about the importance of revitalizing languages, and Thomas Mathien, a lecturer in the department of philosophy and co-director of the Transitional Year Program who was her academic adviser for the first two years. Jonathan Hamilton-Diabo, U of T's director of Indigenous Initiatives, was also there to help support and guide her on next steps, she says.
What's next for Sylvester? She'll be starting a master's program in social justice education at OISE this fall.
"I'm delighted that she will be continuing at U of T next year," said Rice. "I can only imagine all that she will accomplish as she brings her strengths to her graduate program."
Sylvester is already talking about what she'll do after her master's. She's considering law school and would like to pursue a PhD as well. She says it's her dream to teach in the Indigenous studies program one day.
"Although U of T might seem like an unattainable school to get into, once you're in, they're here to help you succeed," she says.
UTC