François-Philippe Champagne (left), minister of innovation, science and industry, and U of T President Meric Gertler (right) speak with C-CL3 lab manager Betty Poon during a tour of the infectious disease research facility (photo by Johnny Guatto)
Science, technology and innovation are vital to addressing urgent challenges such as the COVID-19 pandemic and climate change – and institutions such as the University of Toronto are playing a key role.
That was the message delivered by François-Philippe Champagne, Canada's minister of innovation, science and industry, during a visit to U of T's St. George campus this week.
The visit included a meeting with U of T President Meric Gertler, a look at the massive geoexchange field that's being built on Front Campus as part of the Landmark Project and a tour of U of T's Combined Containment Level 3 (C-CL3) lab, which conducts critical research and validation on various infectious diseases, including COVID-19.
Champagne hailed U of T for generating breakthrough solutions for pressing global challenges, highlighting the pandemic and climate change as two chief concerns. He also praised the university as a wellspring of research and innovation talent that drives economic growth across sectors.
"In the economy of the 21st century, it's all about having a pool of talent to attract investment. I told [President Gertler] that it all starts here at the university: If you want to see where the future starts, it's here – because if we have the talent pool here, we'll be able to find breakthrough solutions and with the breakthrough solutions will come investments," he said, following the tour.
"I've seen today how the leadership, researchers, the professors that I've met and the students are setting the ground for the future. I'm very pleased to be talking with the president and faculty to see how we can accelerate the work we've been doing in order to provide more opportunities."
Champagne added that the federal government is committed to backing Canada's universities in their continued effort to tackle national and global problems, pointing to the most recent federal budget.
"We have made historic investments in genomics, life sciences, artificial intelligence and quantum sciences. I think these technologies will prepare Canada for the economy of the 21st century, which has to be greener, more innovative and has to provide breakthrough solutions – and I want Canada to be at the forefront of these solutions."
President Gertler, for his part, said the pandemic clearly illustrates the critical role that government support plays in helping U of T's researchers and their partners to find solutions to complex problems.
"Federal investments in science and targeted pandemic research have provided crucial support to our researchers, students and hospital partners in their tireless efforts to help Canada respond to and recover from the pandemic," he said.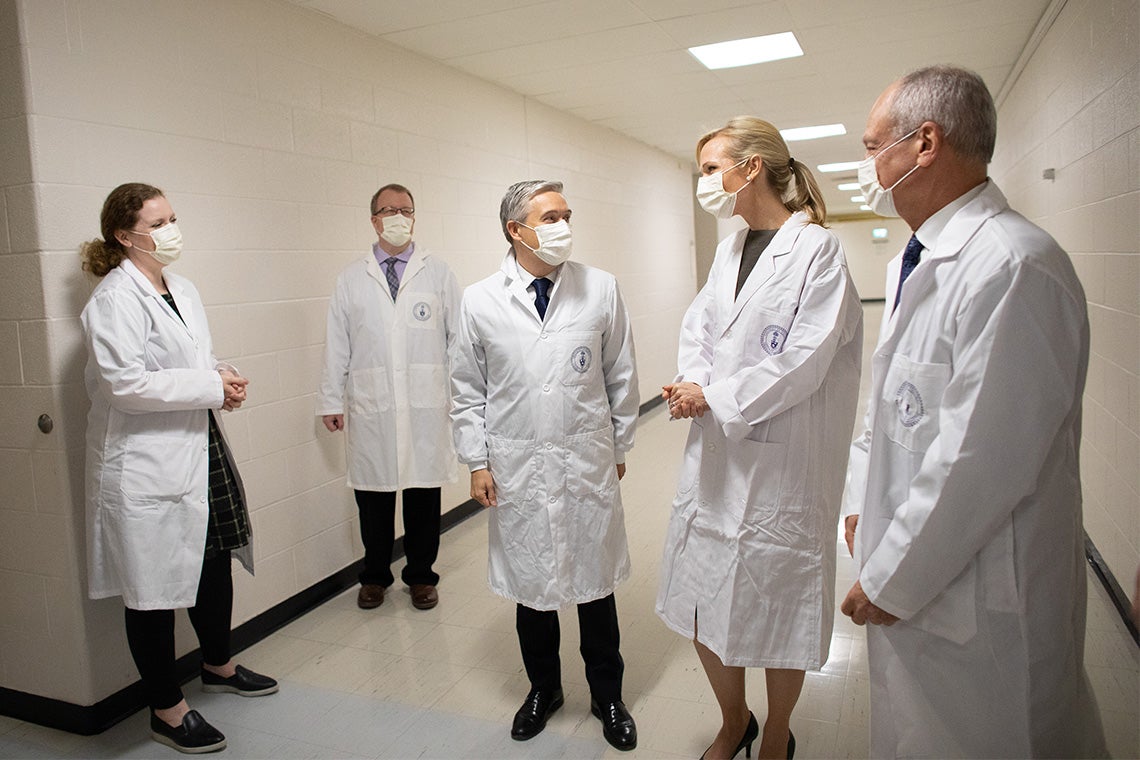 From left to right: Natasha Christie-Holmes, Scott Gray-Owen, François-Philippe Champagne, Christine Allen and Meric Gertler (photo by Johnny Guatto)
President Gertler also briefed the minister on U of T's various climate commitments, which include recently announced plans to divest its $4-billion endowment fund from fossil fuels and create a climate-positive St. George campus by 2050. A key component of the latter effort is the construction of Canada's largest urban geoexchange field under King's College Circle, which will help curb U of T's greenhouse gas emissions by an estimated 15,000 metric tons annually.
"This week's conference in Glasgow provides a key opportunity for world leaders to work together to ensure a sustainable world for future generations," said President Gertler, referring to the ongoing 2021 United Nations Climate Change Conference (COP26). "U of T is a global leader in addressing climate change in every aspect of our research and teaching, campus operations, and investments. We are deploying cutting-edge technologies to make the university achieve a climate-positive campus, while catalyzing innovations that will advance the transition to a green economy.
"We look forward to further collaboration with all our government partners to help Canada meet its climate commitments."
Champagne said that when it comes to climate change, his goal is "to turn our climate change goals into opportunities for Canadian businesses, for students, for researchers [and] for the country."
Following a visit to the geoexchange site, the president and minister made their way to the Medical Sciences Building for a tour of the C-CL3 lab led by Professor Scott Gray-Owen, the facility's director. They were accompanied by Christine Allen, U of T's associate vice-president and vice-provost, strategic initiatives; Patricia Houston, acting dean at the Temerty Faculty of Medicine; and Ayoob Ghalami, senior biosafety officer at the Office of Environmental Health & Safety.
The lab is the only CL3 research facility in the Greater Toronto Area, and one of the few in Canada that were maintained between the SARS outbreak in 2003 and the COVID-19 pandemic. Equipped for safe research on Risk Group 3 pathogens such as the bacterium that causes anthrax, the facility is considered a critical component of Canada's capacity to develop biologics and cell therapies related to infectious disease.
Over the course of the pandemic, the lab has worked closely with government agencies such as the Public Health Agency of Canada and the Bank of Canada, produced viral stocks to support research activities at U of T's partner hospitals as well as universities across Canada, and trained dozens of researchers.
The lab will also serve as a key piece of U of T's new Emerging and Pandemic Infections Consortium (EPIC), a strategic initiative that aims to leverage the momentum of biomedical research collaboration spurred by the pandemic. It will bring together clinicians, scientists, public health experts and engineers from U of T and affiliated hospitals to advance health security and develop Canada's capacity to rapidly respond to future pandemics or other infectious disease threats.
"It's very exciting to showcase the C-CL3 lab to Minister Champagne," said Gray-Owen, a professor in the department of molecular genetics at the Temerty Faculty of Medicine. "The research coming out of this lab is demonstrating why it is important for Canada to maintain and to invest in facilities that can stop the spread of pathogens that pose a threat to human health, our societies and our economies, at home and around the world.
"With renewed investment, the C-CL3 lab can be a catalyst for growing our biomedical and biopharmaceutical industries. We are training a new generation of talent for jobs in these dynamic economic sectors – whether working with industry or discovering new approaches to treat infectious diseases."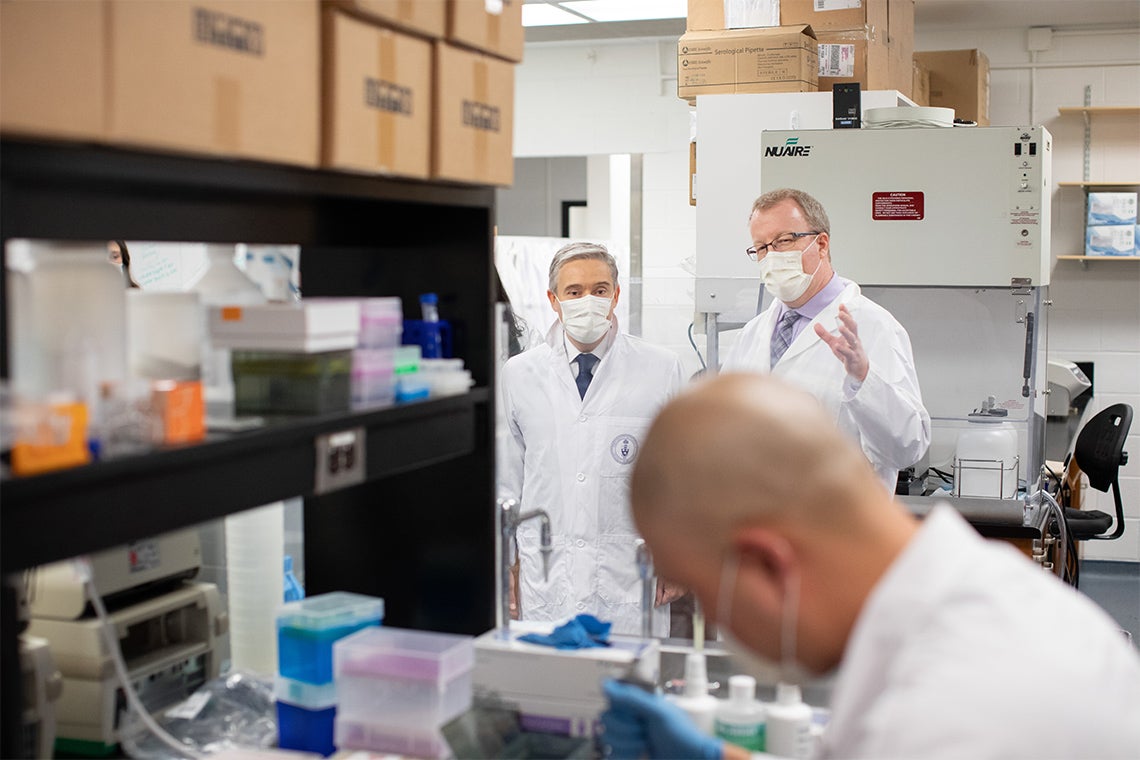 Scott Gray-Owen, a professor in the department of molecular genetics at the Temerty Faculty of Medicine, guides federal Innovation Minister François-Philippe Champagne on a lab tour at U of T (photo by Johnny Guatto)
Gray-Owen described some of the research that was conducted during the pandemic – including studies to understand SARS-CoV-2 transmission, development of diagnostics and therapeutics, and validation of virus deactivation methods to enable the reuse of masks and ventilators. He also outlined the need for expansion of research activities and space.
Future investments in the facilities will be key to expanding capacity, attracting new, world-class research talent and training the researchers who will bolster Canada's preparedness for future emerging infections, according to Allen, a professor in the Leslie Dan Faculty of Pharmacy. The investments would also help establish the C-CL3 facility as a world-class producer and exporter of biologic medicines in the heart of Canada's largest hospital district, she said.
In the long term, Allen said, the C-CL3 lab's mandate is to contribute to EPIC's mission of ensuring that the public health, economic and societal devastation caused by COVID-19 is not repeated in future pandemics.
"Unfortunately, we know that the COVID-19 pandemic will not be the last one the world will face. And infectious diseases remain a threat to people here and around the world," she said. "But Canada now understands how important it is to invest in the science and the labs that can develop homegrown solutions quickly.
Allen added that U of T's Institutional Strategic Initiatives program, which supports collaborative and multi-disciplinary research networks such as EPIC, will continue to spur innovation to address the most pressing challenges of our time.
"U of T researchers and hospital partners scaled up their collaborations during the pandemic and are continuing to grow their relationships and the impact of their research," Allen said. "We have industry partners in sectors such as biopharmaceuticals that are turning discoveries made here into new treatments that will provide made-in-Canada therapeutics, and jobs in the world's most exciting industries."