'I'm just really proud of everyone': Student ambassadors laud Class of 2021's achievements, resilience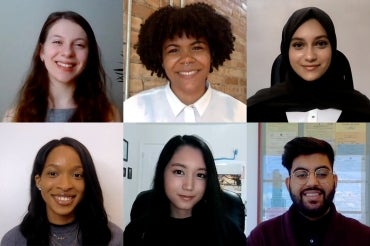 Graduating students representing the Class of 2021 in the University of Toronto's virtual convocation ceremony are encouraging their peers to reflect on the magnitude of their achievements under difficult circumstances.
The student ambassadors, who represent U of T Scarborough, U of T Mississauga and the faculties, colleges and schools across U of T's St. George campus, say the cohort was genuinely tested by the COVID-19 pandemic and yet still managed to go the distance and finish in style.  
"We've had such an interesting experience compared to typical years," says Natasha Djuric, who earned a bachelor's degree in ecology and evolutionary biology.
"We worked really hard, and that we have been able to learn all the material in a different way is super impressive. I'm just really proud of everyone."
Similarly, Rebekah Robinson, who earned a bachelor's degree in history and Russian language and literature, hopes graduates will reflect on their entire U of T experience, rather than dwelling on a difficult final year.
"The memories we've made throughout our program are the ones that are going to carry us," she says.
Djuric and Robinson are among more than two dozen divisional student ambassadors who will deliver short messages on video to their fellow graduates as part of this spring's convocation, held virtually because of ongoing public health guidelines preventing in-person gatherings (read the full list).
The complete virtual ceremony, including each student's message along with a message from their divisional academic leader, will air on the university's convocation hub at 12 p.m. EDT on June 23. More than 15,500 students from 105 different countries will graduate in absentia at the event, including the first-ever cohort of students with bachelor of information degrees from the Faculty of Information. At the end of the video, every graduate's name will scroll across the screen in alphabetical order by division, along with the degree they earned.
Although Djuric and Robinson had little in-person interaction with their classmates this year, they found new ways to connect and support each other.
"A lot of us would study together. We would open up Zoom and just have each other there," Djuric says. "We wouldn't really talk, but it would be nice to look up and feel that someone's there – like you're in a library."
As vital as technology was, for both academics and social life, many students recognized the value of unplugging their devices and simply getting outside. As part of the Hart House Farm Committee, Djuric helped students identify places around Toronto to connect with the outdoors, posting a new spot every week on Instagram.
"I've heard so many students say they've noticed the change of seasons more this year – that they have a new appreciation for nature," she says.
For Jayra Almanzor, a member of the first cohort of bachelor of information graduates, setting a schedule and sticking with it was crucial to academic success – especially with her bedroom suddenly doubling as a lecture hall.
"With online classes, it's easy to fall into the idea that 'I can do this later,'" she says. "You need to set a schedule as if you're attending in-person classes." She also tried to eat well and exercise regularly. "Many people underestimate how much these two things help with your well-being."
To maintain a positive outlook, Robinson says she checked in with friends regularly and planned online events to look forward to, such as watching movies together or playing games. She also worked with Hart House's podcasting team and co-produced a series on living well and what this means to racialized communities.
"It was really cool to be part of the project," says Robinson, who plans to enrol next fall in the journalism program at Columbia University in New York.
Public health restrictions were challenging for everyone but were often especially difficult for international students. Obianuju Nwadike, who is from Nigeria, normally travels abroad each year or hosts her parents in Toronto. Because of quarantine rules, though, she hadn't visited with family in two years.
"It's the longest I've ever gone without seeing them," she says.
Nwadike, who completed a bachelor degree in international development studies and a degree in environmental science, is the divisional student ambassador for U of T Scarborough and will deliver remarks along with William Gough, the campus's vice-principal, academic and dean. She says she coped with the sense of isolation – and the additional mental and emotional challenges the pandemic brought – by "finding moments to be joyful," such as cooking breakfast for her roommates, buying balloons for someone's birthday and taking time to be creative.
"I started painting," she says.
Years from now, Nwadike says, the pandemic will serve as a reminder to this year's graduating class of the resilience they developed, and of what they are able to accomplish in the face of adversity.
"I'm grateful for the experience we've had," she says. "At the end of the day, we're building skills that can translate to our career and everything else we do. It's been a formative year and convocation is a well-deserved achievement."
Mueed Fiaz, the divisional student ambassador for U of T Mississauga, says the Class of 2021 had to be resourceful and willing to adapt during the pandemic. "We had to figure out how to learn in a way we're not used to," says Fiaz, who earned a bachelor's degree in commerce.
Like many students, Fiaz found new avenues to connect with his peers. He mentored a fellow student who was in Mexico. Although they were scheduled to have only four sessions throughout the year, they got along so well, they ended up speaking almost every other week.
"I wouldn't have made this amazing friend if I hadn't done the mentorship," he says.
Recording a message to his peers during virtual convocation gave Fiaz a chance to connect with Alexandra Gillespie, vice-president and principal of U of T Mississauga. He says he was touched when she told him she had heard about his contributions on campus.
"That was pretty amazing," he says. "I felt really honoured."
Roshaneh Jaffer, who graduated with a master's degree in public health, was similarly pleased to have a few minutes with Adalsteinn (Steini) Brown, the dean of the Dalla Lana School of Public Health, when she recorded her message. When she told Brown that she would be returning to the school next fall for a PhD, he advised her to seek him out if she ever needed advice.
"It was so nice that he offered that," she says.
For Jaffer and her classmates, the pandemic has provided a unique insight into the successes and failures of public health measures during a global crisis. What struck Jaffer most, she says, was the importance of social factors such as income, employment and housing in determining health risk.
"A lot of people were saying the pandemic revealed the fault lines in society," she says, noting that such inequalities have always existed and the same is true of less "visible" illnesses such as asthma and diabetes. "We didn't see these inequalities until the pandemic hit."
Jaffer says the opportunity to represent students from the Dalla Lana School of Public Health in the virtual convocation ceremony meant more to her than simply a chance to congratulate her classmates. As a Muslim woman who wears a hijab, she says she hopes her presence in the video will inspire other young, racialized people to consider a career in public health. 
"It's something I would have liked to have seen when I was younger."
---
Here is the full list of divisional student ambassadors who will appear during the virtual spring convocation event: 
Divisional Ambassadors
Jayra Almanzor of the Faculty of Information
Natalie Alvares of the Faculty of Kinesiology & Physical Education
Kennedy Ayoo of the Temerty Faculty of Medicine
Ruvimbo Chidziva of the Munk School of Global Affairs & Public Policy
Adam Da Costa Gomes of St. Michael's College, Faculty of Arts & Science
Natasha Djuric of Woodsworth College, Faculty of Arts & Science
Mueed Fiaz of U of T Mississauga
Laura Gallo of the Faculty of Arts & Science
Roshaneh Jaffer of the Dalla Lana School of Public Health
Kerry-Ann James of University College, Faculty of Arts & Science
Chelsea John-Williams of the Faculty of Applied Science & Engineering
Helen Liu of the Leslie Dan Faculty of Pharmacy
Stephane Martin Demers of the Faculty of Music
Sepi Mortazavi of Victoria College, Faculty of Arts & Science
Robert Nanni of the Faculty of Law
Obianuju Nwadike of U of T Scarborough
Amanda Oprisan of Trinity College, Faculty of Arts & Science
Jasmine Patrick of the Rotman School of Management
Johanna Pokorny of the School of Graduate Studies
Rebekah Robinson of New College, Faculty of Arts & Science
Susie Son of the Faculty of Dentistry
Athena Tassis of the Ontario Institute for Studies in Education (OISE)
Francisca Wiafe-Amoako of Innis College, Faculty of Arts & Science
Zhenxiao Yang of the John H. Daniels Faculty of Architecture, Landscape, and Design
Nalian Youmer of the Factor-Inwentash Faculty of Social Work
Welcome Ambassadors
Hamza Chatila of U of T St. George
Ever Imafidon of U of T Scarborough
Anushka Sokhi of U of T Mississauga
UTC