'I just felt normal again': With U of T's help, international students return to campus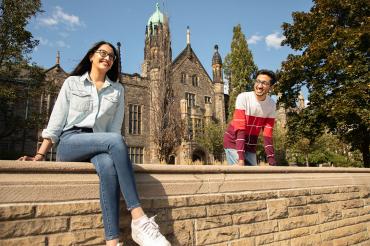 After touching down in Toronto after a 14-hour flight from New Delhi, University of Toronto student Piya Sial was pleased to discover that nearly every detail – from a safe place to quarantine to daily check-ups by health and wellness staff – was taken care of by her university. 
In fact, U of T's support of Sial, a student at Trinity College, began even before she returned to Canada for her fourth and final year of study in mathematical statistics and computer science. Staff helped her formulate a quarantine plan and guided her through the re-entry process. At the arrivals hall at Pearson International Airport, she was greeted by a university representative who escorted her to a shuttle that took her to a downtown hotel, where she would see out her 14-day quarantine.
After checking in, Sial received a welcome package with snacks, detergent, fabric face masks, a digital thermometer and other supplies. During her stay, she received meals at her door and a daily check-up call from university health and wellness staff.
"It was amazing," she told U of T News. "I don't think they could have done anything more."
Sial is one of more than 730 international students at U of T who have arrived on campus safely after going through the required quarantine measures with the university's help. It's all part of a broader plan by the university to facilitate a safe and gradual return to campus with a mix of online and in-person class options, residences with single-room occupancies and a host of virtual and physically distanced activities.
While in quarantine, international students also had opportunities to engage with other students and activities on campus through a host of free virtual programs that ranged from barre, yoga and other fitness classes put on by the division of Sport & Recreation to online board game nights at Hart House and cooking classes at University College. They also had access to My SSP, an on-demand phone counselling service offered in 35 languages, and could make virtual appointments with health and wellness counsellors.
U of T is continuing to support international students arriving throughout the term.   
"We wanted students to feel welcomed and supported throughout their time in quarantine," says Sandy Welsh, U of T's vice-provost, students, "and our Residence Life staff have developed innovative ways for students to connect virtually with one another."
Despite her physical isolation, Sial says she didn't feel alone during her first 14 days back in Canada. She was in close contact with staff from U of T health and wellness, Trinity College and her family back home and she texted back-and-forth with friends – including fellow Trinity student, Shashwat Aggarwal, a third-year student in cognitive science and economics who happened to be quarantining at the same hotel one floor below.
Sial and Aggarwal had previously become fast friends at U of T, bonding over their shared experiences growing up in and around Delhi. In quarantine, they kept in touch, ordered the same meals via Uber Eats and talked about how they would spend their first days of freedom.
Both came back to Toronto to complete their U of T studies in person because they didn't want to pass up opportunities to be involved on campus. Aggarwal was elected a student head at Trinity, while Sial landed a job as a community adviser in her residence.
The pair said they were also hoping that being back at U of T would provide a sense of normality since they would be back among their friends and in familiar surroundings.
Aggarwal, for example, said he took summer courses online while in Delhi and soon began to associate his home with stress.
As for Sial, she said she had to be extra cautious in India to avoid getting her family sick.
"The situation here [in Canada] is much better in comparison to India," she said. "So being able to lead a bit more of a normal life was a major factor for me."
International students represent about 20 per cent of undergraduate students at U of T and they have a significant impact on university life, bringing a variety of ideas and perspectives to classrooms and labs.
"They're an integral part of the global diversity at U of T," says Joseph Wong, the university's interim vice-president, international.
During his 14 days in quarantine, Aggarwal passed the time by familiarizing himself with his responsibilities as a student head, talking with family and friends and playing video games such as League of Legends. He watched Community on Netflix and kept in shape using a jump rope game on his Nintendo Switch.
He didn't feel too lonely, he said, because he's the type of person who likes having alone time. But by the end of the two weeks, he admits he was getting antsy. Like other students going through quarantine, he received a call each morning from university health and wellness staff to make sure he was OK.
"While I wasn't struggling with my mental health, it was reassuring and nice to see that there were people at the university and at your college who knew you were in quarantine and cared about you," he said.
Sial, meantime, used the first few days of quarantine to catch up on sleep and recharge before her job training and courses began. She binged-watched 90s shows on Netflix and did YouTube workouts using small weights she had packed in her suitcase.
One day at the hotel, she spilled boiling water on her hand while making herself tea with the electric kettle.
"I had called up the front desk just asking for an ice pack and I think they informed the residence life person, who checked up on me so much even though it was just a really small, minor thing."
When Sial emerged from quarantine and set foot again on campus for the first time since the spring, she felt confident she had made the right decision coming back to Toronto. Although there are new rules on campus about masking and occupancy in residence, Sial said she felt comforted by being back on her old stomping grounds.
"I just felt normal again after so long of not feeling normal. That's probably the best way I can put it," she said.
Once back at the college, she met with Aggarwal and ordered pizza, which they were finally able to eat together – even if they still had to remain two metres apart.
UTC