From hip-hop to healthy soil: 56 U of T researchers receive Connaught New Researcher Award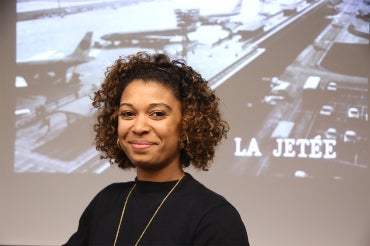 When you think of hip-hop, what comes to mind?
For many, it might be music. But Lauren McLeod Cramer is quick to point out that music is only one part of hip-hop's broad culture – a culture that touches on everything from the way we speak, to the clothes we wear, to matters of race and identity. 
The assistant professor at U of T's Cinema Studies Institute will be exploring hip-hop's global influence even further in a new research project called "A Black Joint: Hip-Hop and the Architecture of Blackness," where she will use architecture to theorize about hip-hop and the points of articulation between the aesthetics of Blackness and visual culture.
"This project is about hip-hop and space," says Cramer, who joined U of T in 2019 after earning her doctorate in communications from Georgia State University. "I realized that when I was talking with students about race and critical race theory, and about Blackness, it was clearer to them when I put it in spatial terms."
"It is easier to understand visually or in 3D. I think of Blackness not as a characteristic of the body but as a way of seeing or experiencing space – from buildings to neighbourhoods."
Cramer is one of 56 winners of the Connaught New Researcher Award, which recognizes assistant professors within the first five years of a tenure-stream academic appointment (see full list below). The awards, part of U of T's commitment to fostering excellence in research and innovation, are designed to help recipients establish a strong research program and increase their competitiveness for external funding.
This year's recipients, who will share $1 million in funding, represent the broad spectrum of research undertaken at U of T in the humanities, life sciences, social sciences and physical sciences and engineering. 
"Lauren McLeod Cramer's research reflects the broad range of scholarship at the University of Toronto and the Connaught New Researcher Award plays a key role in supporting such important and emerging areas of study," says Ted Sargent, vice-president, research and innovation, and strategic initiatives. 
"I want to extend my congratulations to Professor Cramer and all of the other award winners this year. I'm personally looking forward to seeing where this exceptional group of investigators takes their work in the years to come."
As for Cramer, she says that "hip-hop visual culture has grown to include a staggering number of objects: music videos, films, photography, digital art, painting and even architecture."
She says her project will explore the spatial nature of hip-hop through a wide range of objects from different cultural spaces and times, including: the choreography of Beyoncé's "Formation" music video, the subterranean architecture of "the sunken place" in Jordan Peele's 2017 horror film Get Out, Charles Gaines's fine art photography and architect David Adjaye's noted public buildings, including the National Museum of African American History and Culture (part of the Smithsonian Institution in Washington, D.C.). 
Cramer says that once we are past the pandemic and can travel more easily, the Connaught award will enable her to see that architecture first-hand. 
"I was incredibly excited after I was told I had won one of the awards," she says. "I believe that hip-hop allows Blackness to travel through space. Thanks to this funding, I can now map that space."
In response to the protests against anti-Black racism surrounding the most recent incidents of police brutality – including the killing of George Floyd and the shooting of Jacob Blake – Cramer says it's necessary to approach issues "at the appropriate scale" if you want to have a serious conversations about anti-Blackness.
"Racial difference is made and enforced through space: urban planning, environmental action, transportation and the built environment," she says. "So, it is helpful to think about anti-Blackness in the spaces that we occupy, including pop culture.
"That means looking at architectural design, both real – like Adjaye's work – and imagined, such as in in hip-hop music videos, as a way to understand how race is formed. What is particularly interesting to me is how hip-hop visual culture's experimental aesthetics might also show us how Blackness can deform space."
The funding for the Connaught New Researcher Award comes from U of T's Connaught Fund, which was founded in 1972 when the university sold the Connaught Medical Research Laboratories for $29 million. This year, the Connaught New Researchers program has awarded funding to 14 researchers in humanities, nine in life sciences, eight in physical sciences and engineering, and 25 in social sciences. 
---
Here is the full list of winners of the 2020 Connaught New Researcher Award:
Humanities
Mark Campbell, department of arts, culture and media, U of T Scarborough
Urvashi Chakravarty, department of English, U of T Scarborough
Lauren McLeod Cramer, Cinema Studies Institute, Faculty of Arts & Science
Anup Grewal, department of historical and cultural studies, U of T Scarborough
Ellen Lockhart, Faculty of Music
Christian Pfeiffer, department of philosophy, U of T Scarborough
Adrien Rannaud, department of language studies, U of T Mississauga
Anjuli Raza Kolb, department of English and drama, U of T Mississauga
Laura Risk, department of arts, culture and media, U of T Scarborough
Victor Rivas, department of Spanish and Portuguese, Faculty of Arts & Science
Timothy Sayle, department of history, Faculty of Arts & Science
Avery Slater, department of English and drama, U of T Mississauga
Anna Thomas, department of English and drama, U of T Mississauga
Elizabeth Wijaya, department of visual studies, U of T Mississauga
Life Sciences – Social
Amaya Perez-Brumer, Dalla Lana School of Public Health
Nicholas Spence, department of sociology, U of T Scarborough
Life Sciences – Molecular
Scott MacIvor, department of biological sciences, U of T Scarborough
Adam Martin, department of physical and environmental sciences, U of T Scarborough
Heather McFarlane, department of cell and systems biology, Faculty of Arts & Science
Glenn Mott, department of biological sciences, U of T Scarborough
Derek Ng, department of biology, U of T Mississauga
Nicole Novroski, department of anthropology, U of T Mississauga
Scott Yuzwa, department of laboratory medicine and pathobiology, Faculty of Medicine
Physical Sciences
Merve Bodur, department of mechanical and industrial engineering, Faculty of Applied Science & Engineering
Xu Chu, department of Earth sciences, Faculty of Arts & Science
Gwendolyn Eadie, David A. Dunlap department of astronomy and astrophysics, Faculty of Arts & Science
Dan Gregory, department of Earth sciences, Faculty of Arts & Science
Nicolas Papernot, Edward S. Rogers Sr. department of electrical and computer engineering, Faculty of Applied Science & Engineering
Silvana Pesenti, department of statistical sciences, Faculty of Arts & Science
Ting-Kam Leonard Wong, department of computer and mathematical sciences, U of T Scarborough
Masayuki Yano, U of T Institute for Aerospace Studies, Faculty of Applied Science & Engineering
Social Sciences
Elizabeth Acorn, department of political science, U of T Scarborough
Andrea Allen, department of anthropology, Faculty of Arts & Science
Martha Balaguera Cuervo, department of political science, U of T Mississauga
Michael William Best, department of psychology, U of T Scarborough
Waqas Butt, department of anthropology, U of T Scarborough
Laurent Cavenaile, department of management, U of T Scarborough
Nicole Charles, department of historical studies, U of T Mississauga
Akash Chattopadhyay, department of management, U of T Mississauga
Alexandre Corhay, Rotman School of Management
Negin Dahya, Institute of Communication, Culture, Information and Technology, U of T Mississauga
Michelle Daigle, department of geography and planning, Faculty of Arts & Science
Claudia Milena Diaz Rios, Ontario Institute for Studies in Education
Greg Distelhorst, Centre for Industrial Relations & Human Resources, Faculty of Arts & Science
Jim Goldman, department of economics, U of T Mississauga
Cassandra Hartblay, department of anthropology, U of T Scarborough
Christopher Higgins, department of human geography, U of T Scarborough
Janelle Joseph, Faculty of Kinesiology & Physical Education
Arlo Kempf, Ontario Institute for Studies in Education
Fikile Nxumalo, Ontario Institute for Studies in Education
Rachel Ruttan, Rotman School of Management
Jason Spicer, department of geography and planning, Faculty of Arts & Science
Anton Tsoy, department of economics, Faculty of Arts & Science
Mark Wade, Ontario Institute for Studies in Education
Jue Wang, department of geography, geomatics and environment, U of T Mississauga
Jennifer Wemigwans, Ontario Institute for Studies in Education
UTC/Freelance