Health startup Signal 1 AI uses machine learning to save lives: The Globe and Mail, BetaKit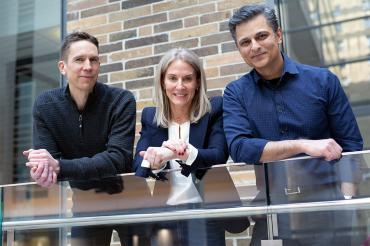 Signal 1 AI Inc., a startup led by CEO Tomi Poutanen, a University of Toronto alumnus and co-founder of the Vector Institute for Artificial Intelligence, has raised $10-million in financing as it looks to commercialize a machine learning tool – developed at Unity Health Toronto – that can predict a patient's risk of death, the Globe and Mail reported.
Poutanen, who once studied under deep learning pioneer and Signal 1 AI investor University Professor Emeritus Geoffrey Hinton, co-founded Signal 1 with Mara Lederman, professor at the Rotman School of Management and academic lead of the CDL Partners Program at the Creative Destruction Lab, according to BetaKit. 
The company's product, CHARTWatch, analyzes commonly collected hospital data to determine which patients are likely to deteriorate. It was originally developed at St. Michael's Hospital by a team led by Signal 1's clinical adviser Muhammad Mamdani, who is vice-president of data science and advanced analytics at Unity Health Toronto and holds cross-appointments at U of T's Leslie Dan Faculty of Pharmacy, Temerty Faculty of Medicine and Dalla Lana School of Public Health. The newspaper said Signal 1 is using the AI engine developed by Poutanen's previous startup Layer 6, which he sold to TD Bank in 2018, to boost CHARTWatch's capabilities.
"There's a lot of hype around AI and health care… but it's justified because there's so much promise," Poutanen told The Globe. "There's so much data flowing through hospitals, but nobody is using it appropriately. Machines can help add value to improve health outcomes."
UTC