Health and safety remain key for fall semester, President Gertler says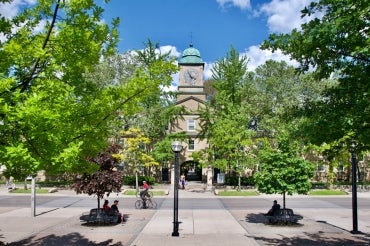 Now that academic divisions have posted their course offerings for fall, students have a clearer picture of what life at the University of Toronto will look like in September – with health and safety of the community remaining the top priority.
Almost all undergraduate courses will have online elements, while one-third of undergraduate courses will also offer in-person opportunities for connection through instruction, tutorials, labs and experiential learning, the university announced today.
"The University's first priority remains the health and safety of our entire community," President Meric Gertler said in an update to faculty, staff and librarians.
"More than 90 per cent of our undergraduate course offerings will feature online (synchronous or asynchronous) delivery," President Gertler said. "At the same time, many of these same courses will offer a significant in-person element – either through 'dual delivery' mode (in which students have the option of enrolling online or in-person), or through in-person classes, labs, tutorials or experiential learning placements.
"At this stage we can report that, overall, at least one-third of our undergraduate courses will have an in-person component. In some divisions, more than half of course offerings will include an in-person option."
Across the three campuses, faculty, librarians, and staff have spent months preparing for a fall term that will combine what the president called "an unyielding commitment to safety" with "the high-quality academic experience for which U of T is so widely respected."
The result, President Gertler said, is "consistent with our earlier commitment to offer a rich mix of learning opportunities and formats, combining online and in-person modes of delivery."
With the province planning to move into Stage Three of its planned reopening, U of T will also be entering a new phase in its response to the pandemic. UTogether 2020: A Roadmap for the University of Toronto sets out many of the processes and protocols U of T is following. Its development has been guided by the staged reopening principles from the Province of Ontario.
Addressing COVID-19's impact on university research labs, President Gertler said many researchers were able to continue their work without interruption since the spring. Labs that were unable to continue have begun reopening, following a process that complies with public health directives, and institutional principles and guidelines.
"I am grateful to our faculty, staff and students who have worked so diligently to ensure a safe, orderly and successful reopening," he added.
Many U of T researchers applied their ingenuity and talent to questions related to COVID-19, whether to develop diagnostic tools, aid vaccine development or produce mathematical models to predict the spread of the disease. U of T created an action fund in May to support high-impact research on COVID-19.
President Gertler also announced in his letter that a new Response and Adaptation Committee – a small and dedicated group led by Professor Vivek Goel – will be taking the reins of the university's operational response from the Incident Leadership Team that steered the university through the challenging first few months of the pandemic.
Goel stepped down from his role as vice-president, research and innovation, and strategic initiatives to devote more time to U of T's COVID-19 response as a special adviser to U of T's vice-president and provost. He was the co-lead with Vice-President and Provost Cheryl Regehr of the incident leadership team.
"On behalf of the entire U of T community, I would like to thank Professor Regehr, Professor Goel and all the members of the ILT for their dedication and exemplary accomplishments in service to the University during this unprecedented time," Gertler wrote.
As the university takes unprecedented steps for a safe and smooth start to the new academic year, President Gertler thanked students, faculty, librarians, staff and students for their "leadership, perseverance and creativity" in the face of extraordinary challenges.
"I am confident that, by continuing to work together, we will ensure a healthy, safe, and successful start to the new academic year in September," he said.
UTC