U of T plans 'gradual, safe return to our campuses' in fall semester with mix of in-person and virtual learning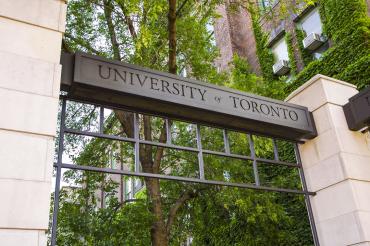 The University of Toronto's fall semester will emphasize a mix of in-person and virtual learning opportunities for students that delivers a world-class academic experience – all while respecting public health measures required by the evolving COVID-19 pandemic.
New and returning students can expect to see smaller, on-campus seminars, classes and labs alongside larger online or remote classes and lectures, said U of T President Meric Gertler in a letter today to the university community. 
Courses are being designed to be flexible and accommodating, making use of the latest technologies and approaches to instruction.
"The University of Toronto is preparing for a gradual, safe return to our campuses, with as much on-campus activity as is practicable, sensible and safe," President Gertler said.
"As the University develops its plans, we are committed first and foremost to the health and safety of our entire community."
U of T's senior leadership team has spent the past several weeks consulting and co-ordinating with principals, deans and chairs from colleges and academic departments across U of T's three campuses to chart a path forward. The plans, which may need to take into account different conditions across U of T's three campuses, focus on three guiding principles: promoting health and safety; advancing academic excellence; and meeting the needs of the U of T community.  
President Gertler said U of T is currently developing guidelines for areas that include research, laboratories, environmental health and safety, student experience, residences, libraries and athletics – and that those guidelines will be shared more broadly in the coming days.
"We do not have all the answers yet, but in the face of a tremendously complex and constantly evolving situation, we will need to be agile and responsive," he said.
Susan McCahan, U of T's vice-provost, academic programs and innovations in undergraduate education, said educational technologists are working closely with professors to help them create engaging and stimulating course materials and assessments for the fall semester.
"We have over 100 staff engaged in educational technology across U of T who are working hard to support our instructors in the development, design and delivery of courses," said McCahan, a professor in the Faculty of Applied Science & Engineering.
She added that U of T faculty members have been deeply engaged in the process, participating in the Online Learning Academy set up by the university as well as programming put on by its teaching centres.
"We recognize that this is a challenging time for our students, faculty and staff," said McCahan.
"Our faculty are applying their extraordinary creativity and energy to re-conceptualize their courses in this new world, and students can expect an exceptional and supportive learning experience as a result."
McCahan said in-person learning is more likely to be an option for smaller classes, tutorials and lab work. For larger course gatherings, physical distancing requirements could mean that regularly scheduled lectures and discussions will have to be conducted virtually, but there will still be opportunities for in-person learning and consultation.
She uses the example of APS111, a first-year engineering design course that she taught last year to a section of 460 students who worked in teams of four during the class.
"I can imagine moving that part of the pedagogy online and facilitating the group work online, and I might use a classroom for office hours and in-person consultations so students can get help while feeling safe in a physically spacious environment," McCahan said. "At the same time, students could synchronously be in the room, following the proceedings during office hours and asking questions.
"So, it's a matter of re-conceptualising my course and using the space differently, not just replicating an in-person course in an online environment."
The same will be true for U of T's research apparatus, which President Gertler said he expects to return to "full force" in the fall. Building on the lessons learned so far, he said the university will adapt on-campus library and laboratory spaces to the requirements of physical distancing while "we continue to leverage the power and possibilities of virtual research and instructional settings where helpful or necessary."
McCahan said different academic divisions and departments are working toward solutions specific to their programs. "It is important that we let our divisions know what resources are going to be available to them, so they can decide how best to make use of those resources to deliver their programs," she said.
While the environment in which fall semester coursework is delivered may not be what first-year students had envisioned, she stressed that it is but one part of a larger university experience.
"This is how you might start your first term, but it's not how your whole university experience is going to be," she said. "This is the first leg of your university journey, and we will support you through it and support you through all your time here."
Similarly, President Gertler said the COVID-19 pandemic underscored the value of U of T's caring and close-knit community and he emphasized the need to continue "to work together, to collaborate, to interact, and to help one another adjust and adapt" as community members return to campuses, classrooms, laboratories and libraries – be it in person or virtually.
"As we look forward to the fall, we know the recovery will take time, resolve, patience and resilience," he wrote. "There may be setbacks and surprises along the way. But in September, as we welcome new and returning students on campus or online, we look forward to resuming the rich, vibrant, and stimulating academic life for which the University of Toronto is so widely recognized."
UTC