The AI revolution spreads its wings in Toronto, and at U of T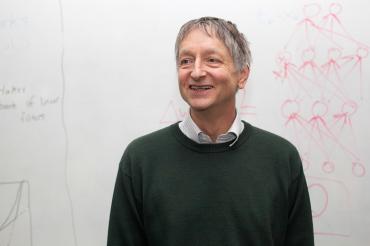 Geoffrey Hinton may feel a bit sheepish about his "godfather" of deep learning moniker, but there's little doubt the University Professor Emeritus at the University of Toronto helped spark a revolution in artificial intelligence, or AI, that could eventually touch everyone on the planet. 
"I feel slightly embarrassed by being called the godfather," Hinton admits in a recent profile published by London's The Daily Telegraph, the first in a three-part series on the explosion of AI research and startups in Toronto.
Hinton's early life – raised in Great Britain, a brief stint as a carpenter, then into academia with a focus on AI – is recounted. So are the years toiling in relative obscurity as he worked on a machine learning approach at U of T that mimics the way human toddlers learn.  
Hinton, who is an engineering fellow at Google and the chief scientific adviser at the newly created Vector Institute, also voices optimism about the impact AI will have on fields like medicine and why the automation of the economy shouldn't be feared.
"In a sensibly organized society, if you improve productivity, there is room for everybody to benefit," he says in the article. "The problem isn't the technology, but the way the benefits are shared out."
That's to say nothing of the benefits provided by AI technologies themselves. In the series' second instalment, the paper details how Frank Rudzicz, a scientist at the Toronto Rehabilitation Institute and an assistant professor at U of T's department of computer science, and his computer science colleague Liam Kaufman are using AI algorithms to examine human speech to better track the health of patients suffering from neurological disorders. 
Their startup, WinterLight Labs, was co-founded with Katie Fraser, who recently received a PhD from the Faculty of Arts & Science, and Maria Yancheva, who completed a master's degree in computer science at U of T.
Rudzicz also talks about the robot he built – named Ludwig – that uses machine learning algorithms to talk to patients and assess their mental health.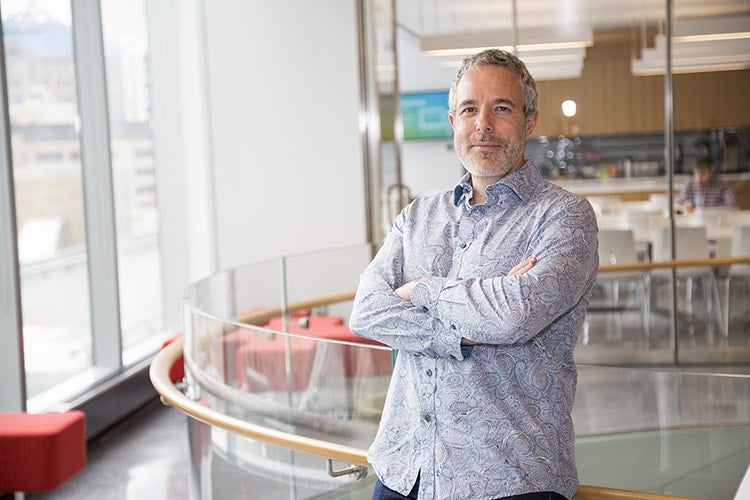 Brendan Frey of U of T's department of electrical & computer engineering, is a co-founder and CEO of Deep Genomics (photo by Johnny Guatto)
The paper also talks to Brendan Frey about his startup Deep Genomics, which uses machine learning techniques to help develop drugs that target the root causes of diseases and disorders, from cystic fibrosis to cancer. 
"The basic fact is no human or group of humans will ever understand how the genome works," says Frey, an engineering professor at U of T with cross-appointments in the department of computer science and the Donnelly Centre for Cellular and Biomolecular Research. He is also a co-founder of the Vector Institute.
"We have an exponentially growing set of data to allow us to peer into cells and read out what is changing," he says. "There is only one solution: artificial intelligence. It's the best technology we have in our systems to understand complex data." 
UTC