Five mental health and wellness developments U of T students need to know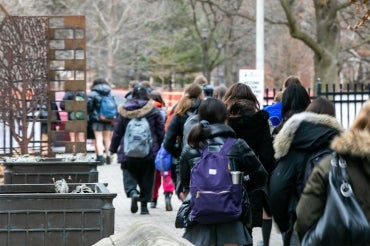 Over the past year, the University of Toronto has taken several significant steps to support mental health and wellness on campus – incorporating feedback from students, staff and faculty – and is planning further improvements following the recent recommendations of the independent Presidential and Provostial Task Force on Student Mental Health.
From new partnerships to 24-7 student support services, here are five recent developments the U of T community needs to know about: 
---
1. U of T My SSP
The university recently rolled out a new text-and-chat helpline service for students that offers free and confidential counselling 24-7. My SSP (short for My Student Support Program) links students with professional counsellors who can help with issues including stress, depression and loneliness. The on-demand service is available over the phone in 35 languages while support scheduled in advance can be accessed in 146 languages.
2. A new partnership with the Centre for Addiction and Mental Health
U of T is now working with the Centre for Addiction and Mental Health, Canada's largest mental health teaching hospital, to harmonize mental health services across the three campuses. CAMH experts will be part of a mental health services re-design team whose goal is to create an "integrated tri-campus" system overseen by a clinical director. The university will also look to leverage expertise at CAMH to create more opportunities for clinical education in student mental health and train the expert clinicians of tomorrow.
3. Drop-in counselling during exam season
Recognizing that the final exam crunch can be a particularly stressful time for students, the university last year made drop-in counselling available at Robarts Library during the spring and fall exam seasons. That's in addition to the many other exam season supports available on all three campuses, including Mindful Moments sessions, therapy dogs and de-stressing walks. 
4.  A new initiative to improve the atmosphere in labs
U of T launched a healthy labs initiative at the end of last year to improve the atmosphere in some university laboratories. The university recently appointed Reinhart Reithmeier, a professor of biochemistry, to identify best practices in lab management, develop a healthy labs charter and outline strategies for delivering healthy lab programming on each campus. 
5. Advocacy for government support
While U of T has taken steps to improve its own mental health and wellness supports, the university also recognizes that the issue cuts across society and therefore requires a collaborative response from universities, hospitals, governments and other actors. Last fall, U of T President Meric Gertler supported a motion at Toronto city council to urge the federal government to invest $300 million per year "to address Toronto's mental health and addiction crises." 
"The magnitude of these problems requires multiple partners working together so that solutions can be found," President Gertler wrote.
UTC